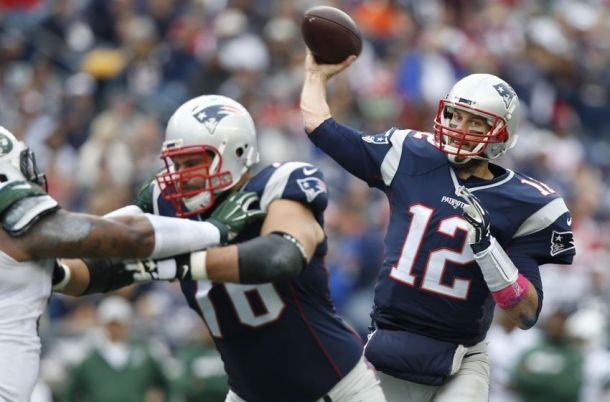 In the inaugural version of VAVEL USA's 2015 NFL Power Rankings, a panel of staff writers and contributors were polled and the results form the Top 12 entering Week 8. With five still-undefeated teams, the top of the charts is crammed with talent and controversy over who holds the top spot in the league.
Here are the pre-Week 8 power rankings, as voted on by VAVEL NFL's writers.
---
#1 - New England Patriots (6-0)
Led by a resurgent Tom Brady following the exemption of his four-game DeflateGate suspension, coach Bill Belichick and the defending Super Bowl champs are 6-0, fresh off a strong win over AFC East rivals New York (the Jets). As for Mr. Brady, the veteran quarterback has already eclipsed 2,000 passing yards and has a touchdown-to-interception ratio of 16:1.
#2 - Tie - Cincinnati Bengals (6-0) / Green Bay Packers (6-0)
After five Wild Card Round losses in the last six years, four straight coming into the 2015 season, Andy Dalton and the Bengals claimed their legitimacy for a run in the AFC with a 27-24 victory over the Seattle Seahawks in Week 5. They face AFC North foes Pittsburgh in Week 8 coming off a bye week.
Aaron Rodgers and the Packers have not unexpectedly dominated this season, however their six victories have all been of relatively close margins. In addition to defeating the entire NFC West already, Green Bay's passing offense had dominated, scoring 15 touchdowns already this season. Coming off a Week 7 bye as well, the Pack have a tough matchup this week with fellow undefeated team the Broncos in a game that will be played in Denver.
#4 - Carolina Panthers (6-0)
After winning the NFC South with a sub-.500 mark to end last season, the Panthers avenged their playoff loss to Seattle with a comeback from 17-behind to beat the Hawks. Carolina took down the Philadelphia Eagles last week, and Cam Newton has 13 total TDs this season. Cornerback Josh Norman has emerged as a top defensive-back in the league in addition, right now tied atop the NFL with four interceptions this season.
#5 - Denver Broncos (6-0)
Who would have thought the Broncos could go undefeated through six contests with Peyton Manning throwing 10 interceptions and just seven touchdowns? It sure hasn't been pretty, but Denver has pulled out one-possession wins in all of their games but a 24-12 win over the Lions in Week 3. Facing also-undefeated Green Bay this Sunday, the Broncos will face the ultimate test in Week 8 and are likely to find themselves 6-1 after hosting Aaron Rodgers & Company.
#6 - Atlanta Falcons (6-1)
Led by a breakout start to the season for running back Devonta Freeman, Atlanta has surprised many with their offensive firepower. Freeman leads the league in rushing yards, Julio Jones ranks second in the league in reception yards, and quarterback Matt Ryan is fourth in the league passing with just over 2,000 yards. The defense has been a bit of a liability, ranking 20th in total yards given up, but overall this Falcons team has looked like the real deal.
#7 - Arizona Cardinals (5-2)
The Cardinals have simply beaten who they are supposed to in 2015, but that certainly doesn't take away from the manner in which they've performed against lower-level opponents. Three times has Arizona surpassed 40 points through seven games, and receivers Larry Fitzgerald and John Brown are both in the top 15 for receiving yards. Fitz is also tied for the league-lead of six receptions for TDs. Meanwhile, running back Chris Johnson ranks second in rushing yards.
#8 - New York Jets (4-2)
The Jets have been a bit of a shock to most this season, putting together the second-ranking defense thus far (top run D, fourth pass D) and developing a sustainable run game with Chris Ivory and Zac Stacy. QB Ryan Fitzpatrick has found a second wind in the NFL, right now tied for ninth in the league with 11 passing scores, six of which have gone to Eric Decker. The off-season signings have proven very worthy for New York, and now the Jets are again a legitimate contender to challenge the Patriots in the AFC East. They did suffer their second loss of the season last week to New England.
#9 - Pittsburgh Steelers (4-3)
The Steelers, despite losing Ben Roethlisberger early on, have found themselves over .500 after seven games, with wins over the Cardinals, 49ers, Rams, and Chargers. Le'Veon Bell is fifth in the league rushing, Antonio Brown is fourth in receiving, and the defense has given up 131 points, good for the tenth spot in the league. With a matchup versus Cincy in Week 8, Pittsburgh has its chance to hand the Bengals their first loss and gain a bit on their rivals in the AFC North.
#10 - Minnesota Vikings (4-2)
The ol' Vikes, led by Adrian Peterson and standout rookie receiver Stefon Diggs, have fought to become the second-place team in the NFC North, a division with much less competition than expected and played out in previous seasons. Minnesota takes on Matt Forte and the Bears in Week 8, a game that should be an easy divisional victory.
#11 - Seattle Seahawks (3-4)
The 'Hawks have had another slow and disappointing start to their season, but after starting 2-4, the Legion of Boom held the rival San Francisco 49ers to three points in a 20-3 blowout. Seattle has allowed 13 total points over the course of their three wins, and considering three of their four losses have been to undefeated teams, the other away at a Rams team they lost to in St. Louis last season, the 'Hawks' record has portrayed possibly a false impression of this 2015 team which has not changed all too much from their Super Bowl squads of the last two seasons. Russell Wilson and Marshawn Lynch are still rocking it on offense, and Richard Sherman, Earl Thomas, and the Legion have Seattle back at the top of the defensive rankings.
#12 - St. Louis Rams (3-3)
After defeating the Seahawks in Week 1, the Rams suffered tough losses in three of their next four games. However, the one game they did win was against divisional opponent Arizona, putting St. Louis at 2-0 in the NFC West. After a win against the Browns last week, the Rams sit at .500 and look to see even more solid production from rookie running back Todd Gurley.