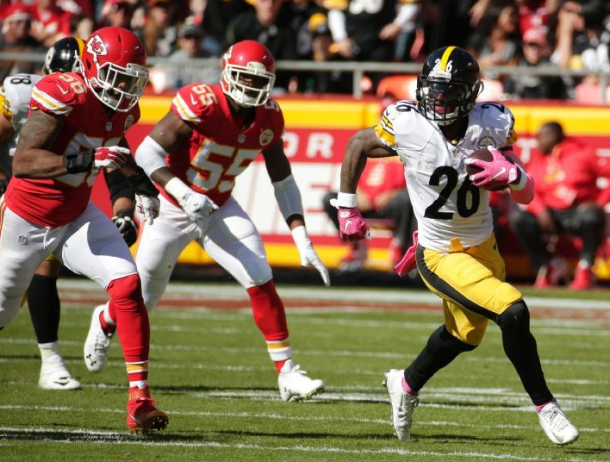 Finally, the Pittsburgh Steelers will get to play a game with their high-powered offense at full strength. Well, that is if you don't consider their two best offensive linemen Kelvin Beachum and Maurkice Pouncey, both of whom could miss the remainder of the season. Still, this will be the first game all season that Ben Roethlisberger, Le'Veon Bell, Antonio Brown, and Martavis Bryant will get a chance to play together. That could definitely spell bad news for the Cincinnati Bengals defense.
The Bengals rush defense is towards the middle of the pack in the league, which likely could result in a big day for Bell. Last year, he absolutely destroyed Cincinnati, gaining 335 total yards and three touchdowns in two games. The latter of the two games was even cut short for Bell as he suffered a knee injury, but he still put up absurd numbers. If the Bengals cannot find a way to stop Bell, there is no reason Mike Tomlin and Todd Haley shouldn't "Ring the Bell" a lot on Sunday.
With Roethlisberger returning from a knee injury that sidelined him for four weeks, he could likely be a little rusty. However, it is hard to imagine Roethlisberger throwing for under 188 yards, which was the average per game during his absence. Cincinnai's defense is definitely vulnerable against talented receivers like Brown and Bryant, as well as Markus Wheaton. If the Steelers decide to rely on Bell frequently, it could definitely set up some play action deep balls to any of the three receivers. Alejandro Villanueva is an X-factor in this game, as the tackle will have his hands full with Carlos Dunlap and Michael Johnson. If Villanueva struggles, it could really weaken the passing game.
The Steelers shouldn't have major problems stopping Cincinnati's running backs Jeremy Hill and Gio Bernard in this one. It is worth note that Stephon Tuitt will miss his second straight game with a strained knee. Tuitt has played very well alongside Cam Heyward, who has been on another level this season. Cam Thomas will step in for Tuitt, and that is definitely a downgrade. However, between Heyward, Steve McClendon, big Dan McCullers and (finally) a fully healthy Ryan Shazier, the front seven should be alright.
It is a pretty good assumption to make that Pittsburgh's secondary will not find as much success as the front seven. Andy Dalton has been on another level this season, and the Steelers don't really have anyone who will fair well against A.J. Green. With William Gay's health in question, we might finally see Brandon Boykin get significant playing time, who is arguably the best corner on the team. His presence could definitely provide a spark for the defense. Still, Dalton, Green and Tyler Eifert could have a field day.
This is a hard game to predict a score. It does, though, seem safe to predict that this game is going be a high-scoring shoot-out. With Big Ben's return, the Steelers offense will finally be back to their normal ways. If the defense can play like they have the past few weeks (not great, but getting there), the Steelers offense should be able to score enough points. Still, it is difficult to pick a favorite.