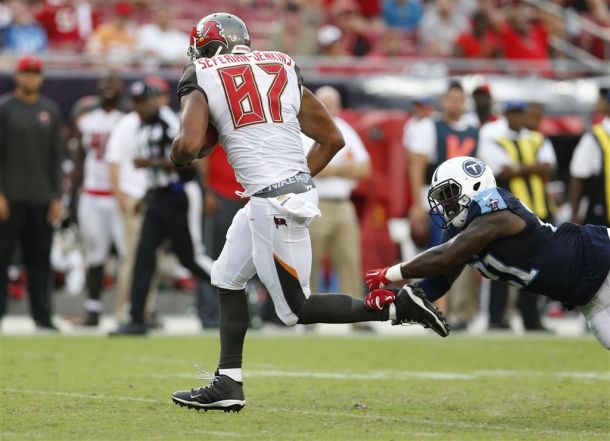 Former NFL tight end Tony Gonzalez played 17 seasons for the Kansas City Chiefs and Atlanta Falcons. During his 17 seasons, Gonzalez was selected to 14 Pro Bowls and currently holds career NFL records for receptions (1,325), receiving yards (15,127), and touchdowns (111). So when the soon-to-be Hall of Famer discusses tight ends, we listen.
Now a member of CBS, Gonzalez discussed tight ends and believes that Tampa Bay Buccaneers tight end Austin Seferian-Jenkins is on the verge of exploding onto the scene in the NFL.
"He's my number one young guy," Gonzalez told Sporting News. "He's working with a quarterback that is still learning his way, but I think the sky is the limit. He's 6-6, 260 pounds, can run like the wind and catches the ball outside the framework of his body."
Gonzalez believes that with the right quarterback, Seferian-Jenkins could reach supertstar status like the New England Patriots tight end Rob Gronkowski and Seattle Seahawks tight end Jimmy Graham.
"I really believe, and nothing against Gronkowski, but if you put (Seferian-Jenkins) with one of these great quarterbacks like a Tom Brady or Drew Brees, he'd be putting up those numbers," Gonzalez said. "As Jameis Winston evolves, I think Seferian-Jenkins will evolve, too. Within three years he'll be a top five tight end in the league."
The comparisons do not stop there.
Current Bucs' offensive coordinator Dick Koetter, former coach of Gonzalez with Atlanta, believes that Seferian-Jenkins has the potential to mirror the soon-to-be Hall of Famer himself.
Unlike Gonzalez, who missed two entire games in his entire 17-year career, Seferian-Jenkins has failed to stay healthy. Seferian-Jenkins missed nearly half (seven games) of the 2014 season with a back issue. Now this season, after suffering a shoulder strain in Week 2, has yet to play in a game since.
With the ongoing evolution of tight ends, Gonzalez likes the direction the position is heading.
"Being that tall and that athletic, it's such as mismatch. There is nothing you can do about it. There is no 6-5, 250 pound defensive back running down the field with you. They don't exist. Even if you're faster or quicker than me, I'm still 6-6 and can jump high. These quarterbacks are just taking advantage of it. I love it."
The tight end has evolved into such a valuable and pivotal position in NFL offenses that it is almost essential to have a dynamic tight end who can not only block, but be able to catch the ball as well.