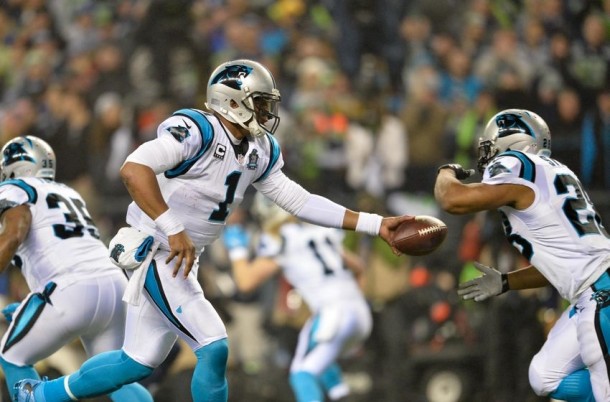 The 1972 Miami Dolphins are the only team in NFL history to go undefeated, famously celebrating every year when the last unbeaten team falls.
With three teams currently 8-0 in 2015, the celebrations could be on hold for awhile.
Don Shula, the '72 Dolphins coach, went on the record in support of his son Mike's team the Carolina Panthers to go 19-0.
"That would make me so proud if that happened," Shula told Scott Fowler of The Charlotte Observer, referring to the Panthers' slim possibility of going 19-0. "I'd love to see the Panthers do it. I'm rooting them on, that's for sure."
Shula's son, Mike Shula, who is currently the offensive coordinator for the Panthers, has done an exceptional job running a offense without much of a prolific deep receiving threat. Instead, Shula was able to construct an offense around the team's strengths: running the football and Cam Newton.
"That's a unique guy -- 6-5, 250 pounds, and can run faster than anybody and throw better than anybody," Shula said of Newton . "He's just the complete package. They've got him working as a field general now, understanding what quarterback position is all about."
The Panthers are averaging 28.5 points per game in 2015 - fourth in the NFL - and posses the top rushing offense in the NFL. The Panthers also set a franchise record for points (228) in the team's first eight games this season.
When we think of the Panthers we automatically think of their stout defense, led by Pro Bowl linebacker Luke Kuechly and cornerback Josh Newman. Quietly though, Carolina's offense has been dominant with Newton at the helm. Newton is without their leading receiver Kelvin Benjamin (ACL), but have been getting major contributions from wide receiver Ted Ginn Jr. and tight end Greg Olsen.
Carolina is finding ways to win and certainly deserving of their 8-0 record. Critics continue to discount their legitimacy as a perennial Super Bowl contending team and Carolina probably doesn't care what everybody thinks. This team is for real and although 19-0 is certainly not impossible, Carolina has been bending and eventually will break and lose a game.
If there's any team that Shula should be choosing, it's the New England Patriots. Yes, those Patriots. The team that was a David Tyree catch away from joining Shula's Dolphins as the second undefeated team in NFL history.