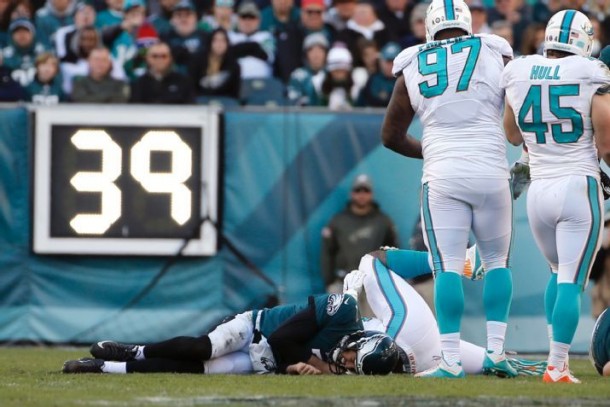 Don't ask Philadelphia Eagles quarterback Sam Bradford about his touchdown pass to wide receiver Josh Huff in the first quarter of his team's 20-19 loss to the Miami Dolphins Sunday afternoon.
He doesn't remember.
The often-injured Bradford sustained his first pair of significant injuries in the defeat, suffering both a concussion and an AC joint sprain to his non-throwing shoulder after enduring a vicious strip-sack in the third quarter.
The University of Oklahoma product appeared significantly rattled after taking the hit from Dolphins linebacker Chris McCain, immediately being transported to the locker room for further testing.
While the initial concern focused around the injured shoulder, the biggest hurdle standing in the way of Bradford starting the 4-5 Eagles' matchup against the Jameis Winston-led 4-5 Tampa Bay Buccaneers will be the concussion.
Philadelphia radio personality Howard Eskin reported after the game that Bradford iterated that he was having trouble remembering what had occurred in the first half of Sunday's contest, a telling signal that the head injury may be more critical than originally suspected.
The 28-year-old has started each of the Eagles nine games thus far in 2015 after being acquired by the club in the offseason. He has completed 63 percent of his passes for 2,061 yards, 10 touchdowns, and 10 interceptions.
Bradford's injury history over the course of his career has been well documented. Since being drafted first overall by the St. Louis Rams in the 2010 draft, he has suffered a dire high ankle sprain (2011) which caused him to miss five games and torn his left ACL twice, cutting his 2013 and 2014 seasons short.
If Bradford is unable to clear concussion protocol prior to next week's contest, backup Mark Sanchez will get the nod.
The USC product supplanted his starter in the third quarter of the loss to Miami, completing 14 of his 23 pass attempts for 156 yards and a costly interception to Dolphins safety Rashad Jones on a 2nd-and-goal from the Miami nine-yard line with 4:32 remaining in the game and Philadelphia trailing 20-19.