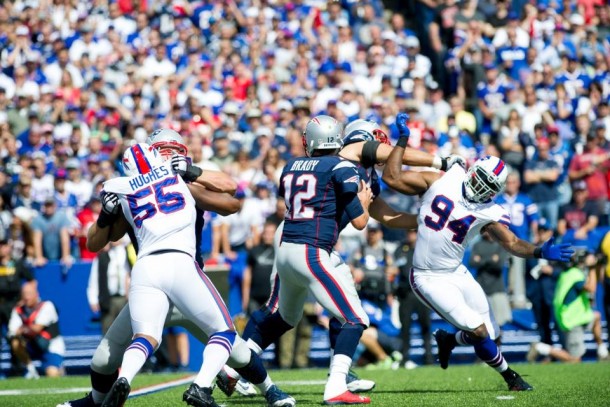 Monday night all eyes will be on the AFC East. The Buffalo Bills travel to New England to play the Patriots for the second time this season. The first meeting was in Week 2 of the season and led to the Bills first loss. Tom Brady had 466 yards, the most passing yards of any quarterback against the Bills, while making a mockery of the Bills defense. The final score of that meeting in Orchard Park was 40-32 (and could have been much worse).
The Patriots are still dominate and still haven't lost a game headed into Week 11. The Bills now have four losses and are clinging onto hope for a wild card playoff berth. The Patriots are coming off a down to the wire win against the New York Giants, and the Bills also won big against another AFC East opponent the New York Jets on Thursday night. Both teams have momentum going in but the Patriots are still a hefty favorite to win on Monday night.
Among the differences from Week 2 to Week 11, the Patriots have several key injuries. One of Tom Brady's favorite targets, wide receiver Julian Edelman, is out as well as running back Dion Lewis. The Patriots also have some offensive lineman out with injuries. However, the Patriots still have Brady's number one guy, tight end Rob Gronkowski and receiver Danny Amendola to pick up the slack to name a few. Bill Belichick thrives when the cards are stacked against him so the injuries may not be as large of a factor as it would be for other teams.
On the Buffalo Bills side, one key injury is defensive tackle Kyle Williams who remains out with a knee injury. Other than that, compared to earlier in the season, the Buffalo Bills are healthy. The Bills statistically do better with quarterback Tyrod Taylor, wide receiver Sammy Watkins and running back LeSean McCoy in the game. All are expected to play on Monday Night.
The New England Patriots have beaten the Buffalo Bills 24 times in the teams' last 27 meetings. Rex Ryan even admitted the Patriots will win the AFC East. He is right, they will. Statistically, there is basically no chance they won't even if the Bills win on Monday. Despite the statistics, the Buffalo Bills have a lot to prove Monday. The Patriots have little to lose but an undefeated season. What remains to be seen is if the Bills can do what they have rarely done against the Patriots in years past: win.