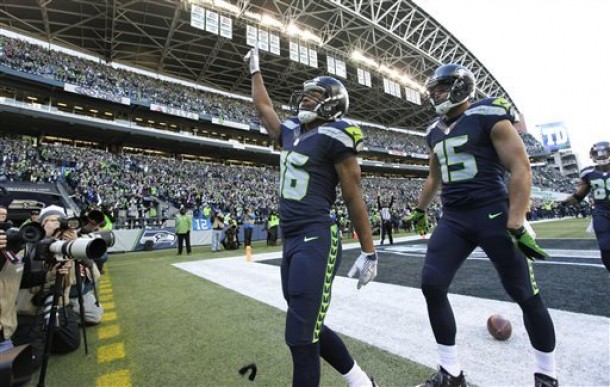 After the Seattle Seahawks lost to the Arizona Cardinals at home in Week 10, the team's record sat at 4-5. Seattle was staring up at the Cardinals in the standings and in need of a win to start a potential turnaround.
As it turns out, playing against the San Francisco 49ers was exactly what the Hawks needed.
Seattle's offense started things off with a bang as Russell Wilson led a six play, 61-yard drive for a score on the team's first possession. The scoring drive took just under three minutes and was capped off by a 24-yard touchdown pass that Wilson threw to rookie receiver Tyler Lockett.
Lockett had a significant impact on the game, catching four passes for 48 yards and two scores. While the first-year receiver had one of the best games of his young career, he was outdone by fellow rookie Thomas Rawls.
Starting in place of Marshawn Lynch, who missed the game due to an abdomen injury, Rawls ran all over San Francisco's defense. The Central Michigan graduate racked up a staggering 209 rushing yards on only 30 carries. The running back also contributed in the passing game. The rookie added three catches for 46 yards. In addition to the 255 total yards from scrimmage, Rawls also added two touchdowns, one through the air and one on the ground.
Wilson also had a strong day. The Seahawks' quarterback completed 24 of 29 passes for 260 yards and three touchdowns. He also chipped in with 30 yards on nine carries while only taking two sacks.
While Rawls and Wilson excelled when rushing the ball, the Niners struggled mightily. Seattle's defense was all over the ground game, holding San Francisco's starting running back Shaun Draughn to 37 yards on 12 carries. Quarterback Blaine Gabbert managed 22 yards on four carries, but that was all for the 49ers' rushing attack.
After the win, the Seahawks move to 5-5. In the team's hunt for a third consecutive Super Bowl appearance, Seattle moved a game back of the Atlanta Falcons for the NFC's final playoff spot.
Hawks' fans will likely be hoping that this is that start of something more for Seattle. During the last two years, the Seahawks have gone on big runs to close out seasons. In 2013, the Hawks won seven of nine to finish things out. Last season, Seattle claimed victories in nine of the team's final 10 games.
Next Up:
Now at 5-5, the Seahawks will stay in the Pacific Northwest next weekend for a Week 12 matchup against the Pittsburgh Steelers at CenturyLink Field. Both the Hawks and the Steelers will enter the game as second-place teams in the NFC West and AFC North respectively. The 3-7 49ers return to the Bay Area to host the Cardinals in Week 13.