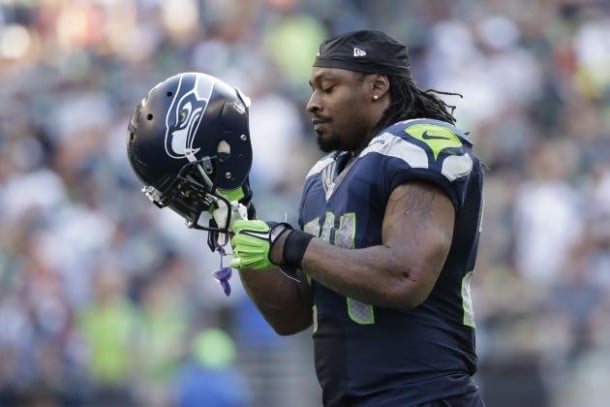 Per the Seattle Seahawks' official website, running back Marshawn Lynch will miss at least three games after undergoing sports hernia surgery. Head coach Pete Carroll was quoted by the Hawks' website as saying that "there is hope for a three to four week recovery." The site also mentioned that "the club will keep Lynch on its 53-man active roster with the hope that he'll return late in the season."
So far in 2015, Lynch has run the ball 111 times for 417 yards and three scores. The running back has also chipped in with 13 catches for 80 yards in the passing game.
'Beast Mode' has only topped 100 yards in one game this season. That came in a Week 7 win in the Bay Area against the San Francisco 49ers. During that contest Lynch ran for 122 yards and a touchdown on only 27 carries.
In the other six games that he's played in, Lynch has failed to reach the 75-yard plateau. The closest he came was in a Week 1 overtime loss to the St. Louis Rams when he totaled 73 rushing yards, and in a Week 8 win away to Dallas when he ran for 71 yards.
Seattle will now prepare for temporary life without Lynch. Undrafted running back Thomas Rawls will step in and start. Rawls had outgained 'Beast Mode' on the ground. The rookie has accumulated 101 carries for 604 yards on a sparkling 6.0 yards per carry. Rawls has also scored two rushing touchdowns. In addition to his numbers on the ground, the running back has added six catches for 54 yards and a score.
Rawls has done most of his damage in four games when Lynch has been limited, or hasn't played. 530 of the undrafted rookie's 604 rushing yards have come in those four games. In the team's last game, Rawls ran all over the Niners to the tune of 209 yards and a score.
The Seahawks' upcoming schedule affords Rawls the opportunity for some big games. If Lynch does miss four weeks, his backup will play against the Pittsburgh Steelers, Minnesota Vikings, Baltimore Ravens and Cleveland Browns. Pittsburgh ranks fifth in the league in terms of the fewest rushing yards allowed, but of the remaining three, only Baltimore is in the top 12. In fact, Cleveland has allowed the most rushing yards in the NFL.
Should Lynch miss the rest of the season, Rawls will also face the St. Louis Rams (16th in rushing yards allowed) and Arizona Cardinals (6th in rushing yards allowed).
The Hawks' official site did quote Carroll as saying that Lynch "had the surgery and he's going to stay back east for a few days. The doctor said it went well."
Fans will be hoping Lynch has a quick and successful recovery, but the team is in good hands with Thomas Rawls.