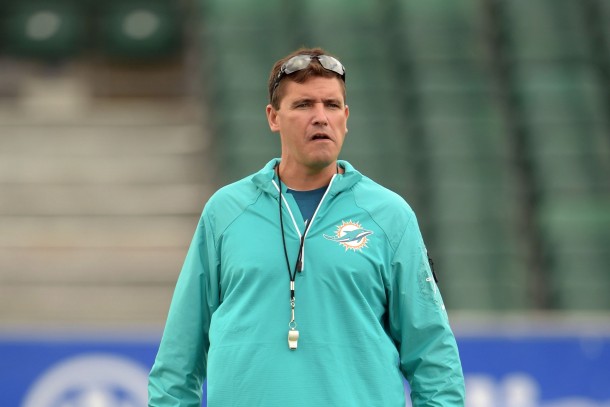 The Miami Dolphins have parted ways with offensive coordinator Bill Lazor, the team confirmed Monday morning after initial reports by Sports Illustrated.
Lazor's firing comes a day after Miami's frustrating 38-20 loss to the New York Jets in Week 12, in which quarterback Ryan Tannehill threw 58 pass attempts. A week prior, against the Dallas Cowboys, the offense ran the ball just 14 times, including three rushes by Tannehill himself.
The Dolphins fired head coach Joe Philbin and defensive coordinator Kevin Coyle earlier in the year after a poor 1-3 start. While the offense saw a combined 82 points over interim head coach Dan Campbell's first two games, it has since regressed and not been able to surpass 20 points in any of Miami's last five matchups. The team has lost four of their last five games and sits at the cellar of the AFC East with a record of 4-7.
Lazor, 43, joined the team as OC in 2014 after holding previous roles with the Philadelphia Eagles, Seattle Seahawks, and Washington Huskies as quarterbacks coach.
Current Dolphins quarterbacks coach Zac Taylor will be taking over playcalling duties under Campbell while the organization searches for a new coordinator. Taylor, 32, will remain in his current role as quarterbacks coach rather than receive a promotion in Lazor's place.
Taylor was hired from Texas A&M as an assistant back in 2012, and was promoted to QBs coach in 2013. He played for Nebraska at quarterback in 2006. In addition, assistant Phil McGeoghan has been promoted to wide receivers coach in Miami. McGeoghan joined the team in February of 2012.
Miami is currently ranked 27th in scoring offense and 26th in yards allocated this 2015 NFL season.
The Dolphins host the injury-plagued Baltimore Ravens next week in Miami for a 1:00 PM EST kickoff.