 The Carolina Panthers are now in a class of their own this season after the Denver Broncos provided the Panthers with a perfect ending to the Thanksgiving weekend.
Denver, led by Brock Osweiler for the second game running, handed the New England Patriots their first loss of the 2015 NFL season, meaning the Panthers are the last remaining undefeated team in the league this season.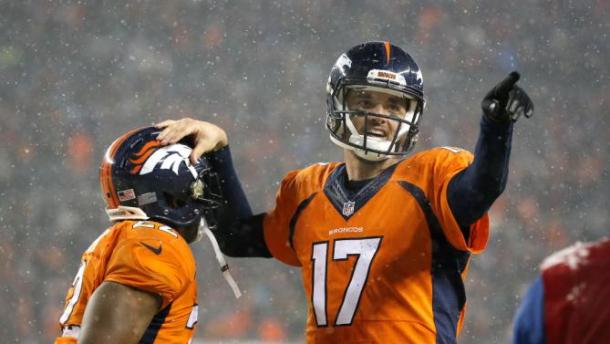 Blow for Patriots as they lose first of season
Tom Brady lost yet another one of his trusted targets, but this time he also lost a game, as Rob Gronkowski injured his knee with less than three minutes left and was carted off.
Osweiler threw a 3-yard touchdown pass to Bubba Caldwell with 1:09 left to put his side 24-21 up, but Brady needed only five plays to drive 51-yards down the field so that Stephen Gostkowski could kick a 47-yard field goal to send the game into overtime.
However, after New England won the coin toss, Denver forced a three-and-out and, on third-an-1 from the New England 48-yard line, C.J. Anderson raced around the left side of the field and into the end zone for the win.
Carolina moves to 11-0 after Dallas win on Thanksgiving
The Panthers are now sitting comfortably in the NFC South, holding a five-game advantage over second-place Atlanta Falcons, after their dominant 33-14 victory over the Dallas Cowboys in their Thanksgiving debut.
Luke Kuechly and Kurt Coleman returned two of Tony Romo's three interceptions for touchdowns, and Cam Newton ran for the Panthers' only offensive score as their winning streak stretched to 15 regular-season games.
Can the Panthers go unbeaten in the regular season?
Four of their final five games come against teams from their division, and next up for the Panthers are the New Orleans Saints, who lost 24-6 on the road to the Houston Texans on Sunday, in week 13 at the Mercedes-Benz Superdome.
Newton and his side definitely have the chance to go unbeaten for the rest of the regular-season given their opponents for the final five games of the season.
They still have to play the Falcons twice before the season ends, in week 14 and 16, which is never easy, but if they play the way they have been, they shouldn't worry that much given their stop-start season.
As for the remaining two games, one comes in the form of the New York Giants, who lost to the Washington Redskins in week 12 and the other is the final game of the regular-season at home to a rejuvenated Tampa Bay Buccaneers side, led by young quarterback Jameis Winston.