 Cleveland Browns quarterback Josh McCown will miss the rest of the season after fracturing his collarbone during his sides 33-27 loss to the Baltimore Ravens on Monday night.
However, it is still unclear whether Johnny Manziel will once again step in and take the reins of the Browns' offence, after being demoted to third string quarterback on Sunday.
How did the injury come about in the game?
McCown suffered the injury in the third quarter, and while he returned for a short period in the fourth quarter, it was backup Austin Davis who led the Browns' comeback and a shot at a game-winning field goal.
The quarterback had thrown for 212 yards and a touchdown before the injury occurred after he was hit hard by Timmy Jernigan, and it was visible straight away that he was in serious pain.
In his eight games this season, McCown completed 186 of 292 passes for 2,109-yards, with 12 touchdowns and four interceptions and his final quarterback rating was 93.3.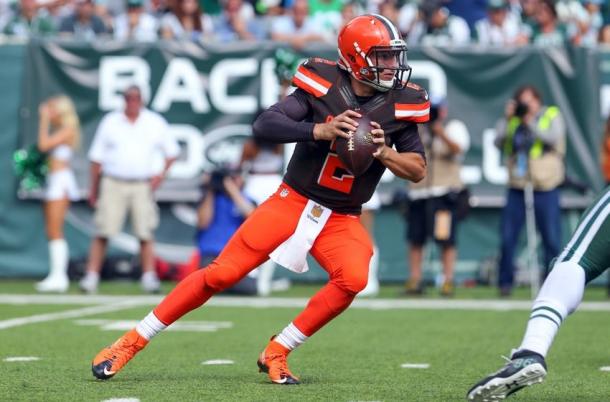 McCown out, next Man(ziel) in?
The question that is on everyone's mind is whether it is Davis or Manziel that will come in as starter. McCown had already missed four games this season with concussion, shoulder and rib injuries, and prior to this injury, Manziel was able to take over the starting role.
Davis was signed earlier in the season after he was cut by the St. Louis Rams; he was 7-of-10 with 77 passing yards, completing six consecutive passes, including a 42-yard touchdown pass to Travis Benjamin.
Pettine gives update on situation
Head coach Mike Pettine refused to discuss whether it will be Davis or Manziel starting against the Cincinnati Bengals on Sunday and heaped praise on McCown.
He told Browns.com; "I cannot say enough positive things about Josh McCown, what he's done for this football team and what he means to this football team."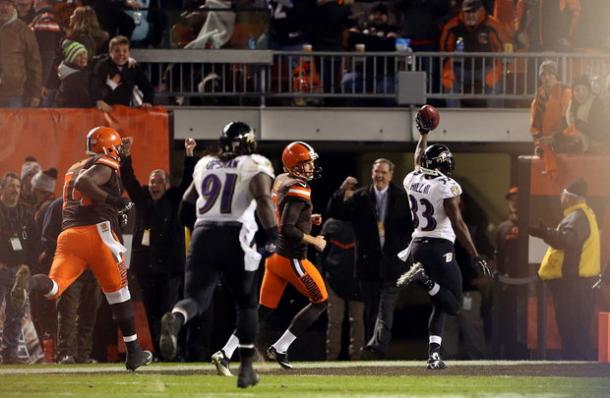 Ravens overcome Browns in surreal circumstances
The season of injury upon injury finally included a break when the Ravens produced a moment of magic in the final three seconds of the game to seal a remarkable win on the road.
After Matt Schaub's pass was intercepted, and the Browns moved past the Baltimore 35-yard line, Travis Coons had the chance to kick a field goal to hand Cleveland their third win of the season.
Brent Urban blocked Coons' attempt and Will Hill returned it 64-yards for a kick six, giving the Ravens a stunning 33-27 win over a depleted Browns side, that lost their sixth-straight game.
John Harbaugh's side looked out of the playoff picture three weeks ago, but now at 4-7, a wildcard spot isn't too out of reach with five games left. As for the Browns, at 2-9, their season is over.