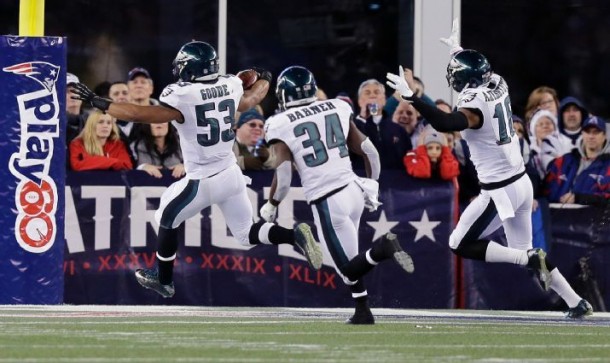 Entering their contest with the New England Patriots (10-2) as immense underdogs, the scuffling Philadelphia Eagles (5-7) needed nothing short of a miracle to keep their divisional title hopes alive after dropping their previous three contests.
Philadelphia received just that, becoming the third team in NFL history to record a blocked punt for a touchdown, an interception for a touchdown and a punt return for a touchdown in a thrilling 35-28 beating of the Patriots at Gillette Stadium, handing New England quarterback Tom Brady a second consecutive loss for just the fifth time in his legendary career.
The Eagles, trailing 14-0 in the second quarter, rattled off 35 unanswered points in stunning fashion, the first time the Patriots have allowed that many unanswered points since a loss to the New York Jets in September of 1993.
The game also marked the first time in Patriots history that the squad has blown 14 point leads in two consecutive losses, as the team committed a series of unforced errors that New England fans are unaccustomed to witnessing.
With the win, Philadelphia now slides into second place in the NFC East after the New York Giants fell this afternoon to the New York Jets, 0.5 games behind the first-place Washington Redskins (5-6) who will challenge the 3-8 Dallas Cowboys on Monday night.
Brady, dealing with an undermanned receiving corps which did not include favorite targets Julian Edelman nor Rob Gronkowski, finished 29-of-56 for 312 yards, three touchdowns and two costly interceptions, including one in the red zone in the third quarter that was returned 99 yards by Eagles safety Malcolm Jenkins for the go-ahead score.
Running back James White caught 10 passes for 115 yards and a score while receiver Danny Amendola garnered seven receptions for 62 yards and tight end Scott Chandler caught four balls for 61 yards and a touchdown for New England.
Running back LeGarrette Blount rushed 13 times for 54 yards as the Patriots fell to the 3rd-seed in the AFC behind the surging Cincinnati Bengals (No. 1) and Denver Broncos (No. 2).
Playmaker Darren Sproles lead the way for Philadelphia, garnering a game-high 66 yards on 15 carries, catching four passes for 34 yards and returning five punts for 115 yards, including an 83-yard punt return touchdown in the third quarter.
Quarterback Sam Bradford, playing his first game in three weeks after suffering both a concussion and a shoulder sprain, went 14-for-24 for 120 yards and a pair of touchdowns.
The Patriots jumped out to an early 14-0 lead, as a ten-play, 80-yard drive led to a four-yard touchdown connection between Brady and White with 14:54 remaining and an eight-play, 80-yard possession on the team's ensuing drive concluded in an 11-yard touchdown catch by Amendola with 7:47 left in the half.
However, instead of opting for a customary kickoff after their second touchdown, the Patriots chose to pooch punt the ball on their subsequent kickoff, giving the Eagles possession on their own 41-yard line to begin their next drive.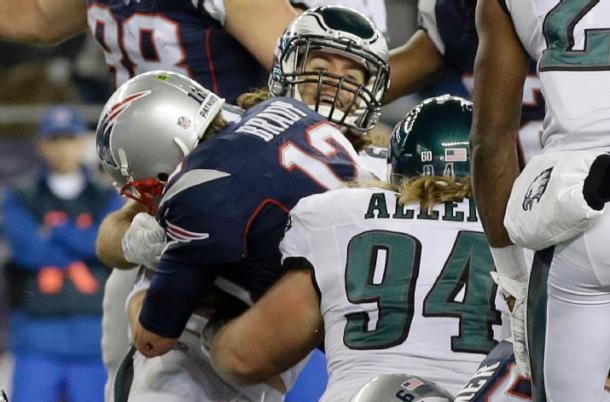 Philadelphia capitalized on this opportunity, driving 59 yards in eight plays in a drive which ended in a five-yard touchdown catch by tight end Zach Ertz to slice their deficit in half with 4:04 remaining in the half.
Later in the quarter, as an attempted two-minute drill to end the first half failed, the Patriots set up for a harmless punt with eight seconds left, looking to enter the locker room with a 14-7 advantage.
However, punter Ryan Allen's kick was blocked, with the Eagles' Najee Goode returning the loose ball 24 yards into the end zone to tie the game at 14 and begin the flurry of madness for the Eagles.
On their second possession of the second half, the Patriots marched down to the PHI five-yard line. However, Brady attempted to thread the needle on a third-down pass attempt to a double-covered Amendola over the middle at the one-yard line, his pass tipped and intercepted by Jenkins.
Instead of simply covering up the ball and folding to the turf, Jenkins took off down the sideline, speeding by the outstretched arms of Brady and taking it to paydirt for a 99-yard score with 7:26 left in the third quarter.
Once the subsequent Patriots possession sputtered out, more madness ensued. Sproles received the ensuing Allen punt at the PHI 17-yard line, eluding defenders and racing up the sidelines for an 83-yard touchdown to give the Eagles a 28-14 advantage with with 4:18 remaining in the third quarter.
Philadelphia's run of success would not cease, as, on his next possession, Brady lifted up a deep ball to wide receiver Brandon LaFell, the ball sailing into the arms of much-maligned Eagles cornerback Byron Maxwell in the end zone for an interception.
The Eagles then raced 80 yards down the field in 12 plays, with Bradford hitting wideout Jordan Matthews on a 10-yard touchdown pass with 11:09 left in the game to give Philadelphia a commanding 35-14 lead, sending some Patriots fans filing for the exits.
Those fans would live to regret their premature exodus, as Brady mounted a comeback, beginning with a seven-play 71-yard drive which lasted just 2:18, concluding in a 14-yard touchdown catch by Chandler with 5:27 left.
Patriots head coach Bill Belichick opted for an onside kick on the ensuing kickoff, and it worked to perfection, setting New England up at their own 44-yard line.
Brady then marched his team 56 yards down the field in 2:27, rushing it in himself for a one-yard touchdown to cut the deficit to 35-28 with three minutes remaining.
The Eagles knocked the subsequent onside kick out of bounds before Bradford connected with receiver Riley Cooper on a crucial 14-yard pass on 3rd-and-11 from the NE 47-yard line to give Philadelphia a fresh set of downs with 2:49 remaining and the Patriots out of timeouts, appearing to end any chance of a New England comeback.
However, Philadelphia running back Kenjon Barner proceeded to be stripped by Patriots outside linebacker Jaime Collins on a third-down carry with 1:05 remaining, recovered by defensive tackle Malcom Brown to set New England up at their own 25-yard line with one last shot at redemption.
Brady hit White for 12 yards up the middle on a third-down pass to move his team to NE 37-yard line with 35 ticks remaining, however, drops by LaFell over the middle, Amendola along the sideline, and the killer, a fourth-down incompletion by Keshawn Martin over the middle, sealed the upset loss.