The Pittsburgh Steelers hosted the Indianapolis Colts in a game that had huge playoff implications for both teams. Pittsburgh was the team that came to play, in a big way, winning the game by a score of 45-10. It was their high-powered offense that got the job done, but the defense definitely stepped up huge as well.
Roethlisberger On Fire
Ben Roethlisberger, in case you haven't taken notice, is one of the best quarterbacks in the NFL. Tonight, he proved just that, as he threw for 364 yards and four touchdowns (could have easily been 388 and five touchdowns had Martavis Bryant not dropped an easy touchdown pass). He most definitely was not perfect in this game, as he did miss some easy throws and only completed 24 of his 39 pass attempts. Still, it's hard to nitpick a performance as good as this one. Roethlisberger continues to put this injured team on his back in a big way.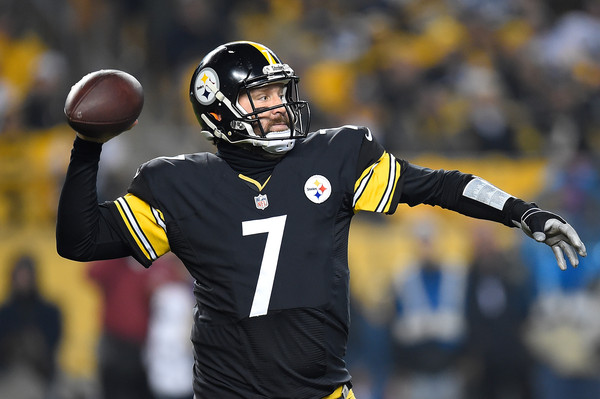 Antonio Brown Is Too Good
Antonio Brown is the best receiver in the NFL and tonight's performance definitely supports that statement. Brown finished the game with 118 yards and two touchdowns on eight catches. That, however, wasn't even the best part of the evening for Brown. To add to his performance, the All-Pro receiver returned a punt 71 yards to the house, a return that he ended with an interesting celebration. But in all seriousness, Antonio Brown continues to be a matchup nightmare for opposing defenses, and he has definitely played a huge part in Big Ben's success.
Finally, A Strong Running Attack
For whatever reason, DeAngelo Williams wasn't seeing many carries in recent weeks. The offense was getting one dimensional and it was way too predictable for opposing defenses. Tonight, a lot of people expected Roethlisberger to throw the ball 60 times. No one thought that Williams would carry the ball 26 times. He did though, and he racked up 134 yards in the process. On top of that, Williams caught five balls for 31 yards and continued his excellence when it comes to picking up blitzes. It was great to see the offense utilize Williams again, and he definitely made the most of his opportunity.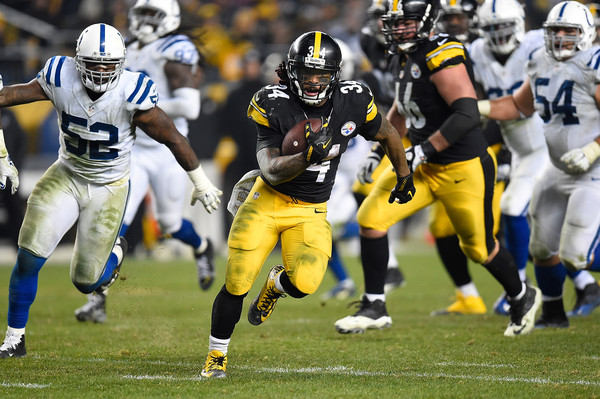 Secondary Came To Play
Last week, the secondary was the reason the Steelers lost. There's just no other way to put it. That was scary coming in to this week, as the Matt Hasselbeck-led Colts passing attack seemed to be pretty good so far this year. Well, the secondary wasn't having any of that, as they held Hasselbeck to just 169 yards and a touchdown while they intercepted him twice. Brandon Boykin, who fans have been begging to see all year, came in and played very well as a slot corner. He even had an interception early in the game. Antwon Blake did a pretty good job on T.Y. Hilton. Safety Will Allen made a strong contribution, specifically in run support. It was a team effort for the secondary and they definitely silenced some critics.
Front Seven Looked Dominant
The front seven of the Steelers has played extremely well all season and they continued that trend tonight. James Harrison turned back the clock in a big way, as he totaled three sacks (one of which was a strip sack) and two more tackles for loss. He was very close to intercepting Charlie Whitehurst late in the game, too. As a whole, the team sacked Hasselbeck and Whitehurst five times, and they were hurried and hit numerous times. If the front seven can continue to play with this much energy, it will take some pressure off of the still shaky secondary.
Special Teams Blunders
Jacoby Jones was one Steeler who did not look very good tonight. He tried to return the opening kickoff from nine yards in his own end zone, and he barely got to the ten yard line before he fumbled and gave the ball to the Colts. Later in the first half, he muffed a punt and was extremely lucky to recover it, as it went through the hands of two Colts players. In the second half, Jones was not back to return punts or kicks. Chris Boswell missed a field goal, which is something he hasn't done much of this season. This part of the game has been bad all year for the Steelers, and it will need to improve down the final stretch of the season.
Conclusion
This was a very good win for the Steelers, one that moves them in to a three way tie for the two wild card spots in the AFC (though they are on the outside looking in due to the tiebreaker). Still, this could be a big momentum booster heading in to next week's division showdown with the Cincinnati Bengals. If both the offense and defense come to play like this next week, the Steelers could find themselves coming out on top.