 With the 2016 NFL Combine exactly 10 days away, the stars begin to align for teams picking in the first round (which, again, will not include the New England Patriots).
1. Tennessee Titans select Laremy Tunsil, OL, Ole Miss
After spending their 2016 second overall pick on the quarterback of the future, Marcus Mariota, the Titans will turn to investing in protecting one of the most sacked players in the league. Interim turned new head coach Mike Mularkey will likely continue the initiatives implemented by Ken Whisenhunt by prioritizing the running game and protecting the quarterback on offense. Laremy Tunsil has be pre-ordained as the defacto top left tackle based on both his push in the run game and his balance and savvy against pass rushers.
2. Cleveland Browns select Carson Wentz, QB, North Dakota State
Inarguably the worst kept secret in the 2016 draft is the need for the Browns to draft yet another quarterback. The Johnny Manziel disaster pick of two seasons ago will suggest the Browns will go with the most prudent choice at the top of the draft. The 6'5" 233 lbs. rocket-armed former North Dakota State Bison signal caller not only fits the mold of a franchise quarterback physically, but is also more prepared mechanically, mentally, and leadership-wise than his Division1-AA roots may suggest.
3. San Diego Chargers select DeForest Buckner, DL, Oregon
The Chargers have invested heavily into their defensive line in recent drafts while only getting marginal returns. Kendall Reyes (who is scheduled to become a free agent) and Corey Liuget (who signed a $50 million contract last season) both failed to meet expectations in 2015. The 6'7", 290 lbs. DeForest Buckner excels in stopping the run and is not only a perfect fit for the Chargers' 3-4 defense, but he also fills an immediate need for a team who ranked 27th in rush defense by surrendering over 125 yards a game.
4. Dallas Cowboys select Joey Bosa, DL, Ohio State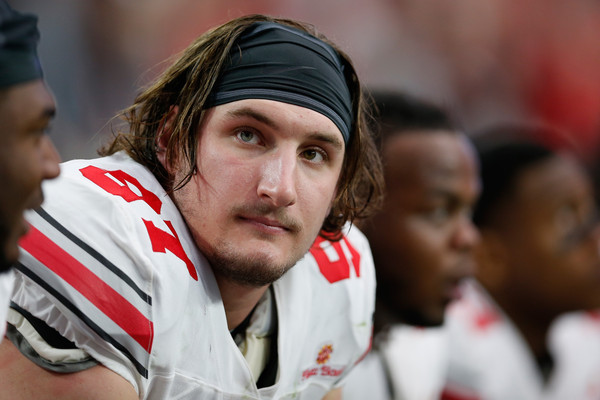 As tempting it may be to draft Tony Romo's eventual replacement early in the first round, the prudent-proven house of Jones may instead look to give the defense a significant talent boost. With the (deservedly) maligned Greg Hardy likely black-listed for his off-field transgressions, a glaring need for an edge rusher persists for a team that has hovered around 30 sacks over the past two seasons. Joey Bosa, is viewed by many (deservedly so) as the draft's best overall player due to his well developed pass-rush ability, incredible strength, a overall refinement as a football player.
5. Jacksonville Jaguars select Ronnie Stanley, OL, Notre Dame
While Blake Bortles, Allen Robinson, and others are establishing a solid young foundation in Jacksonville, the team is still haunted by 2013 2nd overall selection, Luke Joekel, who isn't the franchise left tackle he was drafted to be. The team again has a copious amount of cap space to sign free agents, however owner Shahid Kahn may see more bang for his buck on the defensive side of the ball, this year. Former "Golden Domer," Ronnie Stanley, would help fix a long standing problem along the offensive line while also contributing to Bortles' development
6. Baltimore Ravens select Jalen Ramsey, DB, Florida State
Top-10 selections in the draft aren't commonplace for Ravens G.M. Ozzie Newsome who hasn't picked this high since the team took running back Jamal Lewis in 2000. The Ravens franchise has been at its best when the defense is at its best so it won't be surprising to see the team bolster their 24th ranked defense based on points allowed. Corner and safety stick out as positional needs for Baltimore and former Florida State defensive back Jalen Ramsey is so good that he projects as the draft's best player at two positions: corner and safety.
7. San Francisco 49ers select Jared Goff, QB, California
Chip Kelly's west coast migration lands him in a bit of a fixer-upper. With bridges rumored to be burned between Colin Kaepernick and the 49ers brass and Blaine Gabbert not offering a realistic answer as a season long starter, the first order of business is to land a franchise quarterback. Jared Goff of Cal Berkeley is not only a locally sourced solution (something San Franciscans can appreciate), but perhaps the best pure passer in the draft who played in a Chip Kelly-style offense in college.
8. Miami Dolphins select Ezekiel Elliot, RB, Ohio State
Last year, Todd Gurley legitimized running backs taken in the top-10 with his breakout rookie season. With the Dolphins projected to lose their starting running-back in free agency due to limited cap room, an early round selection may be the best way to go. Ezekiel Elliott is a jack-of-all-trades back who (alongside his outstanding running ability) shows the rare ability to block and catch out of the backfield, which will help the team get the most out of incumbent starting quarterback, Ryan Tannehill.
9. Tampa Bay Buccaneers select Noah Spence, DL/LB, Eastern Kentucky
Despite the offensive resurgence led by last year's number one overall pick, Jameis Winston, there is a lot of work to be done on defense to counteract the divisional presence of league MVP, Cam Newton. Former Ohio State and Eastern Kentucky product Noah Spence has crept up as possible the draft's best edge rusher--a position re-legitimized by Von Miller and the Super Bowl champion Denver Broncos--after a stellar Senior Bowl performance.
10. New York Giants select Laquon Treadwell, WR, Ole Miss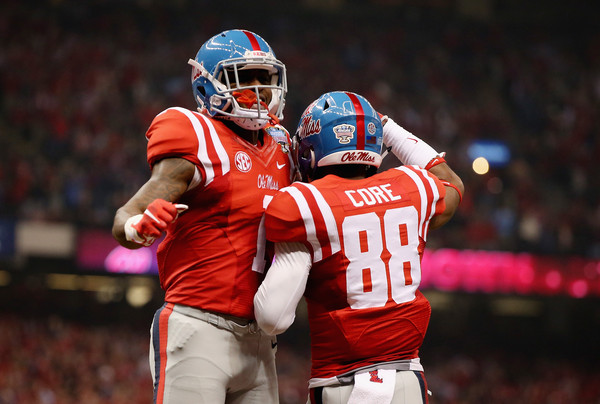 The winds of change are undoubtedly blowing in New York this year as a tepid 2015 season saw 2-time Super Bowl champion Head Coach Tom Coughlin pack his bags in the offseason. New Head Coach Ben McAdoo and G.M. Jerry Reese may work to reform the roster in an offensive minded image. Laquon Treadwell is seen by many as the best receiver in this class and would immediately provide balance to the field opposite the hyper-talented Odell Beckham.
11. Chicago Bears select Myles Jack, LB, UCLA
With a new coaching staff in 2015, which included former 49ers defensive coordinator, Greg Roman, the Bears were clearly a team in transition. One of the toughest transitions to make for new coordinators is fitting an old regime's players to a new system, and that. Despite an early season ACL tear, Myles Jack of UCLA projects to be back before the start of the NFL season and is of the same do-it-all lineage of former Roman pupils: Patrick Willis and NaVorro Bowman.
12. New Orleans Saints select A'Shawn Robinson, DL, Alabama
For the second year in a row the New Orleans Saints ranked among the bottom 5 worst rush defenses in the league. As the nucleus of a high-powered National Championship winning Alabama defense, A'Shawn Robinson is expected to be the first interior defensive lineman selected. His ability to both stifle the run game to occupy blockers and his raw potential to split double teams to get to the quarterback makes him an attractive option for the Saints.
13. Philadelphia Eagles select Vernon Hargreaves III, DB, Florida
With a new coaching regime in town following the ousting of Chip Kelly, the team can now move forward reworking their identity. Despite the signing of Byron Maxwell a season ago, cornerback remains an urgent need for the Eagles. 2015 Jim Thorpe finalist Vernon Hargreaves III has made it a career to achieve infamous notoriety among college receivers. His ability in press coverage and impressive ball skills give him a distinct NFL edge.
14. Oakland Raiders select Robert Nkemdiche, DL, Ole Miss
Don't look now but the Raiders are quickly surging to relevancy once again in the NFL. Consecutive quality draft classes have played a big part in the silver & black's resurgence and G.M. Reggie McKenzie and crew won't be letting up soon. Despite legitimate off-field question marks, Robert Nkemdiche is nearly unanimously considered an elite talent due to his incredible strength, quickness, and explosion in the backfield. It doesn't hurt that the Raiders were also able to accommodate embattled defensive maestro, Aldon Smith, as well.
15. Los Angeles Rams select Paxton Lynch, QB, Memphis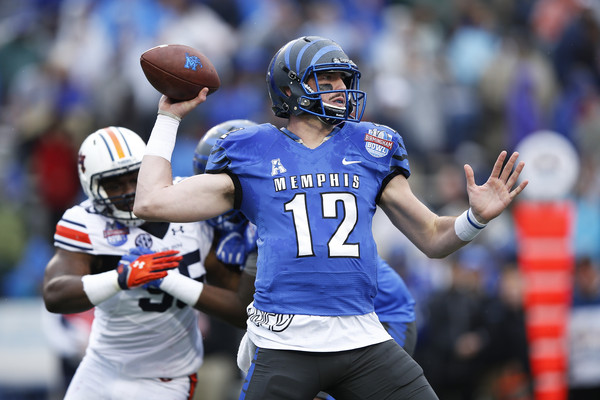 Of all teams picking in the first round, the newly appointed Los Angeles Rams stand the most to gain if the chips fall just right for them to pick one of the top-3 passers. Paxton Lynch has flirted with "best in class" projections before his performance leveled off in the second half of the collegiate season. For a team in desperate need for any bit of competency and consistency at the quarterback position, Lynch's raw talent may present the best opportunity to finally bring the team the postseason birth the roster desperately deserves.
16. Detroit Lions select Mackensie Alexander, DB, Clemson
The Detroit Lions have undergone a stark offseason facelift so far in the early offseason. With Calvin Johnson leaning toward retirement and long-time perimeter stalwart Reshean Mathis already committed the cabana life-style, the Lions will have a lot of work to do in rebuilding the roster for 2016. In likeness with the outgoing Mathis, Clemson's Mackensie Alexander has built a strong reputation for his persistent week-by-week studying of opposing receivers and relentless on-field competitiveness.
17. Atlanta Falcons select Shaq Lawson, DL, Clemson
As modern NFL defenses compile pass rushers and scheme ways to get the quarterback, the Thomas Dimitroff built Falcons have been 28th or worst in total sacks for the past 4 seasons. Last year's first round pick Vic Beasley was a move in the right direction for the birds, but the process can't stop there if the team doesn't want to repeat last year's embarrassing sack output of 19. Shaq Lawson in an NFL ready pass rusher whose quickness and toughness gave the pro-quality Crimson Tide offensive line fits.
18. Indianapolis Colts select Jack Conklin, OL, Michigan State
The Colts put all their cards on the table last season and went bust by way of injuries and counting on late-career stars on the decline. With Andrew Luck scheduled to make a triumphant return in 2016, the team is best served focusing on protecting their franchise player from further lacerating his internal organs. Jack Conklin is the "best of the rest" when it comes to offensive tackles, but the 3-year starter from Michigan State is far from a consolation prize.
19. Buffalo Bills select Emmanuel Ogbah, DL/LB, Oklahoma State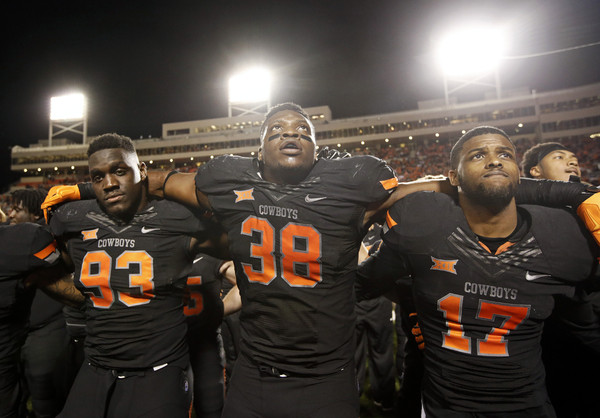 One of the most surprising outcomes of the 2015 season was the feeble performance from the Rex Ryan and Marcell Dareus led defense of the Buffalo Bills. With big-name free agent signee from 2012, Mario Williams, a likely cap casualty, the team will need to move forward in finding a younger replacement. Emmanuel Ogbah may be a less-refined commodity compared to Joey Bosa, but his 13 sacks in 2015 prove he's more Ezekiel Ansah or JPP than Vernon Gholston.
20. New York Jets select Reggie Ragland, LB, Alabama
What became immediately clear for the 2015 Jets is that the team is in a "win now" mentality. With linebacker David Harris entering the twilight of his career and Demario Davis set to enter free agency, the team would be smart to be preemptive addressing one of the most important components of Todd Bowles 3-4 defenses. Reggie Ragland comes from a prestigious lineage of Alabama linebackers that have been refined by the heat of the Tuscaloosa sun and the anvil and hammer that is Nick Saban.
21. Washington Redskins select Andrew Billings, DL, Baylor
Few thought before the season that the Redskins wouldn't be in the position to: 1) draft a top quarterback and 2) the position of needing one. Kirk Cousins' emergence will allow the team to address a defense in need. Coming from a college more known for offensive inclination makes the success of Baylor defensive tackle Andrew Billings all the more impressive. An active participant in the interior, Billings is the "drop anchor" type defensive tackle the Redskins need to shore up their run defense.
22. Houston Texans select Kenneth Dixon, RB, Louisiana Tech
As the first round wanes, best player available gives way to need as playoff teams search for the magic stardust that will vault their team to the next round or even the Super Bowl. The Houston Texans were rumored to select then Wisconsin running-back, Melvin Gordon, in the first round before San Diego moved ahead of them. The explosive, shifty, and versatile Kenneth Dixon has been on of the best kept secrets in the draft process so far hidden away at Louisiana Tech, and maybe the Texans would like to keep it that way until late April.
23. Minnesota Vikings select Michael Thomas, WR, Ohio State
When the Vikings were on the board last season picking 11th overall, there was a lot of speculation on whether the team would go with cornerback Trae Waynes or receiver and former Bridgewater teammate, DeVante Parker. The team eschewed Parker for Waynes, but a need still persists on the perimeter. 4th round selection Stefon Diggs is part of the long-term solution, but the 6'3" Michael Thomas provides Bridgewater with a larger target that will hopefully make the team more efficient in the red zone.
24. Cincinnati Bengals select Josh Doctson, WR, Texas Christian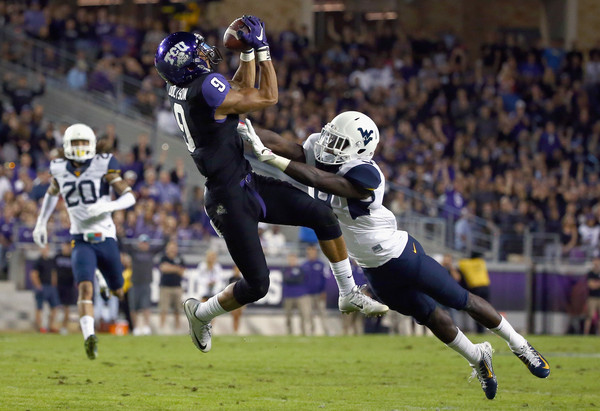 Few teams will envy the offseason agenda the Bengals have which include the possible secession or receivers Marvin Jones and Mohamed Sanu. If both happen to depart in free agency (and none are brought in replacement) then a gaping hole at receiver will need to be addressed in the draft. Former Horned Frog Josh Docston's 14 leaping scores in 2015 would make him a potent addition alongside perennial Pro Bowler A.J. Green, and could quickly challenge the duo in Pittsburgh as the best in the league.
25. Pittsburgh Steelers select Eli Apple, DB, Ohio State
If one thing can be learned from the Steelers' 2015 campaign, it would be there is stark disparity that exists between their offensive and defensive talent. Only remnants remain from defenses of years past as the team squeezes every last drop of 37 year old James Harrison. The biggest need in the Steelers defense remain at cornerback, though, and Ohio State's Eli Apple possesses one of the best physical frames fo any corner in the draft standing at a listed 6'1" and 200 lbs. at only 20 years old.
26. Seattle Seahawks select Jason Spriggs, OL, Indiana
Like many teams facing the offseason in 2016, the Seattle Seahawks will have to make a number of hard decisions that will color what the team does to supplement its roster in the draft. With former oft-injured first round pick Russell Okung staring free agency in the face, the Seahawks will need to address protecting one of the least protected passes in the league in Russell Wilson. Spriggs had one of the season's best performances on top-5 lock Joey Bosa and highlighted his movement skills and strength during the Senior Bowl.
27. Green Bay Packers select Jaylon Smith, LB, Notre Dame
Despite being known for imposing their will on offense, the Packers made their living stifling teams with defense in 2015. As the team welcomes back Jordy Nelson in 2016, the team may want to focus on piling onto a strength of the previous season. Before the disastrous late season knee injury, linebacker Jaylon Smith was viewed by most as a top-10 shoe-in, and his additional would allow Clay Matthews to flex back out to his natural habitat of rushing the passer from the edge.
28. Kansas City Chiefs select Taylor Decker, OL, Ohio State
A surprising mid-season surge propelled the Chiefs to compete in the divisional round of the playoffs. Although the team came up short, they achieved a large part of the season without their best player on offense, Jamaal Charles, who was sidelined with an ACL tear in week 5. Offensive line remains a group need with free agents-a-plenty scheduled to hit the open market. Taylor Decker is a flexible and able-bodied offensive line that fits the athletic mold head coach Andy Reid has coveted in the past.
29. Arizona Cardinals select Kevin Dodd, DL, Clemson
Maybe one of the more impressive feats in recent league history has been the Arizona Cardinal's consistent defensive quality despite not having an essential pass rusher off the edge. Although the team hasn't had the luxury of picking high in the draft before, a name like Kevin Dodd would be a Godsend toward the back end of the first round. Dodd played more than sidekick to teammate Shaq Lawson, and was legitimately awesome all season long despite a 3 sack outburst during the National Championship game.
XX. New England Patriots - FORFEIT
31. Carolina Panthers select William Jackson III, DB, Houston
Coming off a Super Bowl loss in which the offensive tackles amounted little more than turnstiles to Von Miller and DeMarcus Ware, Panthers fans would be in right mind to clamor for virtually any leftover offensive tackle in the first round. Instead of overreacting to a comparatively bad night for both Michael Oher and Mike Remmers, cornerback remains a more glaring need for the Panthers. William Jackson III arguably matches any corner in the draft talent-wise, but also possesses the length and ball skills reminiscent of his potential future teammate, Josh Norman.
32. Denver Broncos select Cody Whitehair, OL, Kansas State
Lost in the Broncos' Super Bowl victory is the patchwork offensive line the team fielded whose best player was 35 year old Evan Mathis. Even if the team re-signs the standout guard and the injured Ryan Clady returns to form in 2016, needs persist all along the offensive line. Cody Whitehair's playing style is befitting of a Gary Kubiak designed blocking scheme which highlights athletic and aware guard play.