 Roddy White's historic career in Atlanta came to an end today with the Atlanta Falcons releasing the wide receiver after 11 seasons.
The veteran is not expected to retire and will now test the market for a new team for the first time in his career.
White's Release a Surprise
White had two years remaining on his current deal before the Falcons unexpectedly cut ties with the franchise great. The move came as a huge surprise to both fans and White himself who told the Atlanta Journal Constitution last week, "It would be a tragedy if I had to leave."
A Falcons Great
The 34-year old is the franchise leader in receiving yards with 10,863, touchdowns with 63 and receptions with 808 over his 11 seasons in Atlanta. Roddy White has been a fan-favorite in Atlanta for years and his was consistently productive until he saw a drop off last season. Offensive Coordinator Kyle Shanahan's offense limited White to just 43 catches and one score all season.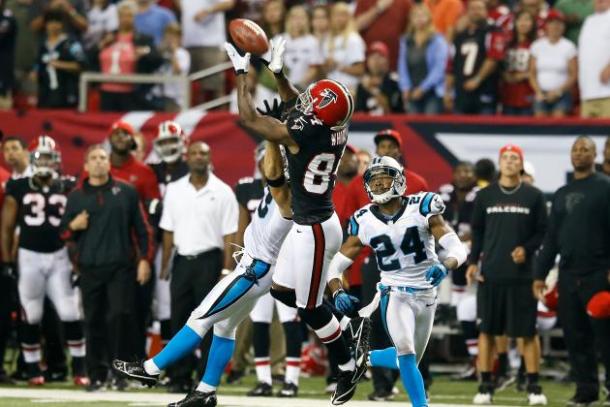 White came close to a Super Bowl a appearance with the team who drafted him back in 2005 but the Falcons fell short in the 2012 NFC Championship.
Roddy White's contract meant he was expected to make $2.75 million in 2016 and his release is expected to save the Falcons $2.45 million against their salary cap, bringing them to $33 million in total.
White, who will no doubt go into the team's Ring of Honor, is now in search of a new team and could reunite with former coaches Mike Smith and Dirk Koetter in Tampa Bay. Heading into the latter stages of his career, White remains a good player and would help any team as both a player and mentor to younger receivers.
The fans and organization in Atlanta will sorely miss their great receiver, one who has made so many memorable plays over the years. Falcons head coach Dan Quinn told the AJC, "Roddy is one of the best competitors around and warriors I have ever been around...He was one of the first players I reached out to when I was hired here and I want to thank him for his professionalism and leadership."
(quotes via AJC.com)