 Out with Roddy White – in with the younger, more promising Mohamed Sanu.
The Atlanta Falcons have made their move to bulk back up at wide receiver this offseason, signing former-Cincinnati Bengals wideout Sanu to a five-year contract Thursday worth $32.5 million, a deal confirmed by the team.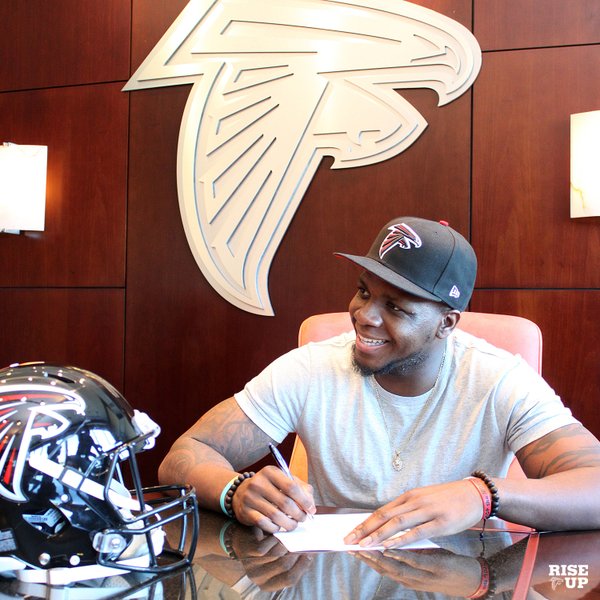 "Thankful and blessed to be an Atlanta Falcon," tweeted out Sanu. "Will forever be grateful to the Bengals."
A Risky, Yet Promising Commitment For Atlanta
Sanu, 26, will most likely compete as the Falcons' number two receiver across the field from Julio Jones, a steep commitment from a very desperate team after Atlanta recently cut White, who had been a very solid long-term option for the birds over his tenure with the team.
Drafted out of Rutgers in the third round of the 2012 NFL Draft, Sanu is an athletic, 6'2" gadget player across the field on offense. He suffered from persistent injuries in Cincinnati, but his best season came in 2014 – when he made 56 receptions for 790 yards and five touchdowns – while Bengals number two Marvin Jones was out for the season.
Jones just this week signed on to a $40 million contract with the Detroit Lions, with whom he'll try to replace some of the production formerly provided by retired future-Hall of Famer Calvin Johnson.
Sanu did struggle producing consistently on the field for the Bengals over his four seasons, often going unseen for long stretches and additionally having ball-dropping trouble at times. He has shown his versatility in both the NFL and at Rutgers, making catches all over the field – and also throwing a few trick-play touchdown passes.
He'll be lining up in three-receiver sets alongside Jones and Leonard Hankerson in Kyle Shanahan's offense, one that showed flare early last season with the explosive rushing game of DeVonta Freeman and the dominant aerial attack with Jones down the field.