 Maybe Jermaine Kearse didn't give the Seattle Seahawks a hometown discount, but he sure is back in Seattle despite concerns he'd leave for greener pastures.
Kearse, a Seattle native who played at the University of Washington but went undrafted, re-signed with the Seahawks on Thursday, agreeing to terms on a three-year, $13.5 million contract with the team. It seems as though he quickly gleaned free agency was not for him, returning to the Seahawks just about 24 hours into the open market period.
Undrafted Kearse Now Flying High As Dependable Starter
The 6'1", 209-pound wideout proved himself early into his undrafted NFL career, making 36 starts in his first four seasons of play in the Emerald City and catching 10 career touchdowns for the Seahawks. Kearse is a physical, athletic receiver who can not just catch passes, but also make some moves in the open field and fill a key role in Seattle's special teams sets.
Instead of heading elsewhere to become a third-option receiver, Kearse has decided to sign on to the mutually practical deal to stay at CenturyLink Field, where he'll continue to play out his career in front of a true home crowd and provide value to the Seahawks he holds nowhere else.
Kearse, 26, posted career highs of 49 receptions, 685 yards, and five scorers last season, and with just eight drops over the past three seasons combined, he is one of the more reliable sets of hands in the league.
He also has made some big plays under pressure, including a breathtaking touchdown in Seattle's Super Bowl victory over the Denver Broncos in 2014. On the play, Kearse spun through four defenders in a matter of just a second before trotting into the endzone with a lead-stretching score for the 'Hawks.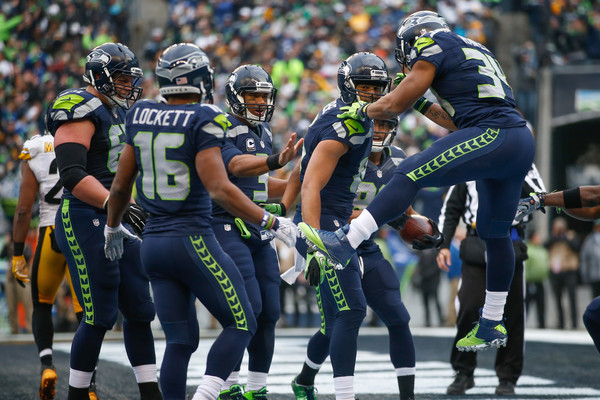 With the receiving core back and productive as ever, especially with tight end Jimmy Graham expected to return healthy in 2016, all the stellar Seahawks offense has to worry about at the skill positions is whether or not Thomas Rawls can fill the role left by retired bruiser 'Beast Mode' Marshawn Lynch.
But nobody else is "Russell Wilson, bro," so the 'Hawks should be in good shape – now they just need to improve on one of the league's worst O-lines from the first half of the 2015 season.