 The Seattle Seahawks continued to spend in free agency, bringing in offensive lineman J'Marcus Webb on a reported two-year deal.
The NFL Network's Ian Rapoport, broke the news, which was later confirmed by the team and Webb himself. Rapoport tweeted that "#Seahawks are signing OL J'Marcus Webb to a 2-yr, $6.25M deal with $2.5M guaranteed, per @cameragryl. Webb's pumped & driving to sign it now."
The Seahawks official Twitter account tweeted about the signing, confirming the move. Webb would later tweet a picture featuring a Seahawks logo and the words, "Keep Calm and Go Boom!" confirming the deal himself.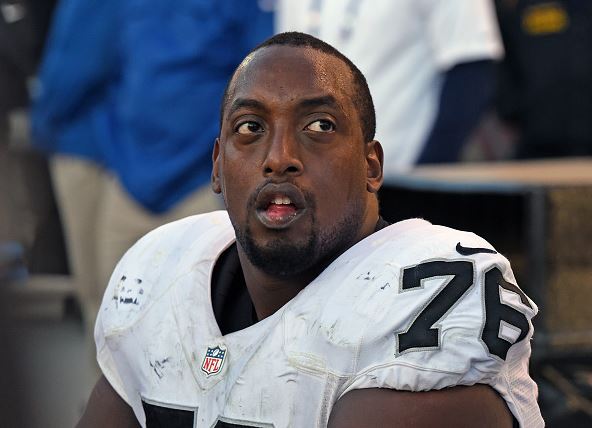 Listed as 6'7", Webb has been in the league since 2010, when he was drafted in the seventh round of the 2010 NFL Draft by the Chicago Bears. In his rookie year, the lineman would go on to see action in 14 games—he started 12 of them. During that inaugural campaign, Webb was flagged for 10 penalties.
The 27-year-old would remain with the Bears through the 2012 season, starting 44 of a possible 46 games. Following that stint, he spent two years with Chicago's division rivals, the Minnesota Vikings. Webb spent two seasons as a backup with the Vikings before spending the 2015 campaign with the Oakland Raiders. The offensive lineman returned to the starting lineup with the silver and black, making 16 starts. During those games, he was only called for six penalties. Of the six penalties, only four were for holding.
Pete Carroll and company obviously see something in Webb, as the team reportedly gave him a multi-year contract.
End of Okung's time in Seattle?
Webb's signing, along with the deal to bring in fellow tackle Bradley Sowell, could potentially spell the end of Russell Okung in Seattle. Of course, Okung could still return. However, Seattle now has some depth to build upon and move forward with a group consisting of Webb, Sowell, Gary Gilliam and Kona Schwenke.