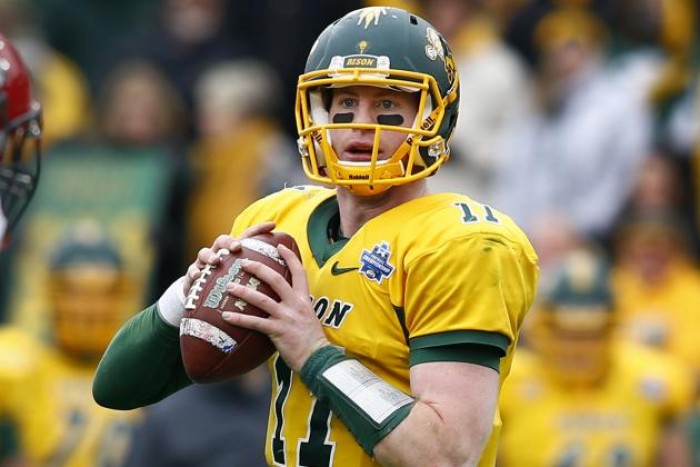 With the last slew of free agents being signed in the past week, the free agent pool is dwindling, which means the 2016 NFL Draft may just be the last chance teams have to improve themselves. However, for some teams who has not done an adequate job this offseason thus far have put an immense amount of pressure on themselves. If some teams do not dramatically improve their roster in the draft, it will certainly cost a slew of jobs throughout the NFL.
If you are a team like the Indianapolis Colts who have a litany of problems on defense, and protecting franchise quarterback Andrew Luck, you would think they would have addressed one, if not both, of those issues. They have not. The Denver Broncos have still not addressed their quarterback issues, and no, this writer is still not accepting the notion that Mark Sanchez is their quarterback. And for the Cleveland Browns, who have had one of their quietest of off-seasons, have placed immense pressure on the franchise in this draft. Most notably the 2nd pick of the draft.
Bearing any blockbuster trades with the Tennessee Titans, the Browns should be able to select their future quarterback. Carson Wentz's stock continues to rise, getting high praise from former head coach and ESPN analyst Jon Gruden who referred to Wentz as one of the 'best QB prospects in years". Wentz has the size, the arm strength, and many believe, the mental makeup to be an impact player in the NFL. It seems Wentz would be the perfect fit for the Browns who have not had a franchise quarterback since the 1980s.
However, it's the Browns, and the reason why they have not had a franchise quarterback since the Reagan administration…well because it's the Browns. And if they mess it up again this year, it will be just heart-breaking season in Cleveland.
Round 1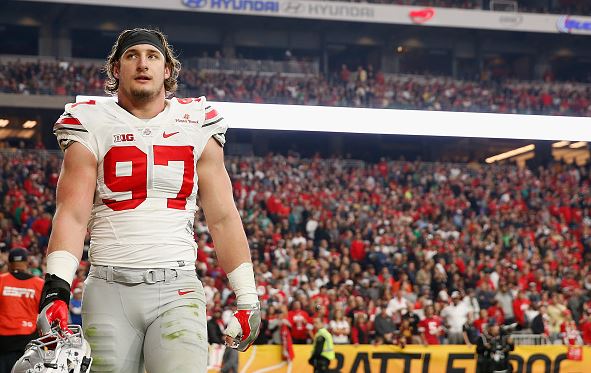 1) Tennessee: Joey Bosa, DE, Ohio State
2) Cleveland: Carson Wentz, QB, ND State
3) San Diego: Laremy Tunsil, OT, Ole Miss
4) Dallas: Jalen Ramsey, CB, Florida State
5) Jacksonville: Ronnie Staley, OT, Notre Dame
6) Baltimore: La'Quon Treadwell, WR, Ole Miss
7) Los Angeles: Jared Goff, QB, California (Trade)
8) Miami: Myles Jack, OLB, UCLA
9) Tampa Bay: Taylor Decker, OT, Ohio State
10) New York G: Sheldon Rankins, DT, Louisville
11) Chicago: A'Shawn Robinson, DT, Alabama
12) New Orleans: Vernon Hargreaves, CB, Florida
13) Philadelphia: Josh Doctson, WR, TCU
14) Oakland: DeForest Buckner, DE, Oregon
15) Denver: Paxton Lynch, QB, Memphis (Trade)
16) Detroit: Robert Nkemdiche, DE, Ole Miss
17) Atlanta: Kendall Fuller, CB, Virginia Tech
18)Indianapolis:MacKenzie Alexander, CB, Clemson
19) Buffalo: Emmanual Ogbah, DE, Oklahoma State
20) New York J: Jack Conklin, OT, Michigan State
21) Washington: Ezekiel Elliott, RB, Ohio State
22) Houston: Adolphus Thompson, DT, Ohio State
23) Minnesota: Michael Thomas, WR, Ohio State
24) Cincinnati: Darron Lee, LB, Ohio State
25) Pittsburgh: Andrew Billings, DT, Baylor
26) Seattle: Kevin Dodd, DE, Clemson
27) Green Bay: Reggie Ragland, LB, Alabama
28) Kansas City: Max Turek, C, USC
29) Arizona: Shaq Lawson, DE, Clemson
29) San Francisco: Tyler Boyd, WR, Pittsburgh (Trade)
30) Carolina: Jarren Reed, DT, Alabama
Trades
Los Angeles trades their 1st pick (15th overall), 1st pick (2017), 4th round (2016), 4th (2017) to San Francisco for their 1st pick (2nd overall), 5th round (2017)
Denver trades their 1st pick (30th overall), 1st pick (2017) to San Francisco for their 1st pick (15th overall)
Round 2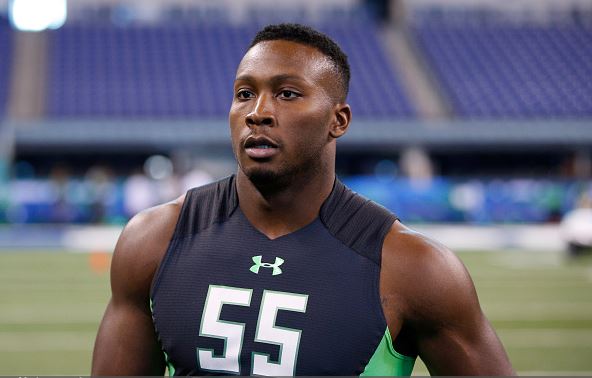 32) Cleveland: Noah Spence, DE, Eastern Kentucky
33) Tennessee: Shon Coleman, OT, Auburn
34) Dallas: Leonard Floyd, LB, Georgia
35) San Diego: Vadal Alexander, G, LSU
36) Baltimore: Su'a Cravens, S/LB, USC
37) San Francisco: Eli Apple, CB Ohio State
38) Jacksonville: Shawn Oakman, DE, Baylor
39) Tampa Bay: Vonn Bell, S, Ohio State
40) New York G: Germain Ifredi, G/T, Texas A&M
41) Chicago Bears: Corey Coleman, WR, Baylor
42) Miami Dolphins: Jason Spriggs, OT, Indiana
43) Los Angeles: Keanu Neal, S, Florida
44) Oakland: Vernon Butler, DT, Louisiana Tech
45) Los Angeles: Kenny Lawler, WR, California
46) Detroit: Jonathan Bullard, DE, Florida
47) New Orleans: Denver Kirkland, G/OT, Arkansas
48) Indianapolis: Kenny Clark, DT, UCLA
49) Buffalo: Shilique Calhoun, DE/OLB, Michigan State
50) Atlanta: Braxton Miller, WR, Ohio State
51) New York J: Derrick Henry, RB, Alabama
52) Houston: Kentrell Brothers, LB, Missouri
53) Washington: William Fuller, WR, Notre Dame
54) Minnesota: Austin Johnson, DE/DT, Penn State
55) Cincinnati: Sheldon Day, DT, Notre Dame
56) Seattle: Maliek Collins, DT, Nebraska
57) Green Bay: Nick Martin, G/C, Notre Dame
58) Pittsburgh: Austin Hooper, TE, Indiana
59) Kansas City: Christian Hackenberg, QB, Penn State
60) New England: Jaylon Smith, OLB, Notre Dame
61) New England: Alex Collins, RB, Arkansas
62) Denver: Hunter Henry, TE, Arkansas
63) Carolina: Malcolm Mitchell, WR, Georgia