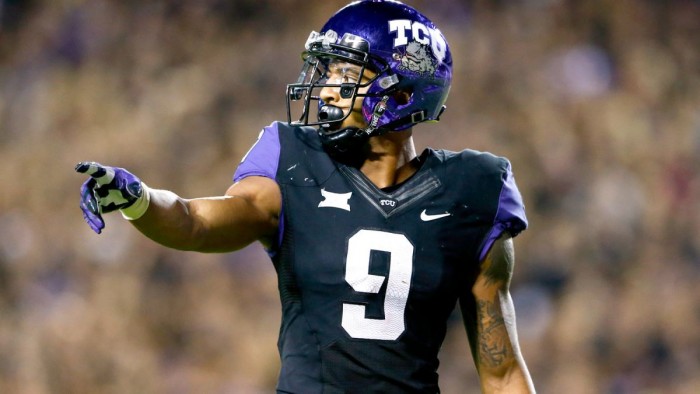 There has been some debating as to who is the top wideout in the 2016 Draft class. Corey Coleman (Baylor), Laquon Treadwell (Ole Miss), Josh Doctson (Texas Christian), and Michael Thomas (Ohio State) have all been considered to be the top receiver in the class.
As for what order they'll be taken in, it seems as though no one is even close to agreeing with each other. In a mock released Feb. 2 by PFF, Doctson went seventh overall (one pick behind Treadwell) to the San Francisco 49ers. In contrast, a Jan. 30 mock written by Bleacher Report columnist Chris Roling didn't even have Doctson selected in the first round at all.
The inconsistency between mock drafts has been the only thing staying consistent. No one will know who is best until a few years into their careers; it's all just speculation -- for now. Here's my take on the best receivers in the draft.
Corey Coleman, Baylor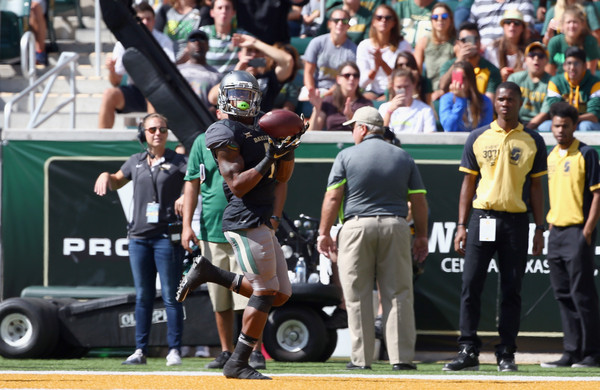 Coleman is a 5'11, 190 lb receiver who took part in one of the most productive offenses in college football. The declared college junior runs a sub-4.4 40 yd dash, and has a recorded 40.5" vertical. Those numbers earned him the title, "College Football's Most Freakish Athlete." His athleticism and size reminds me a lot of Antonio Brown.
Just like Brown, Coleman is extremely elusive in the open field. Due to his speed, he can take advantage of short, comeback routes in one-on-one coverage as the corner has to play the deep ball -- whether it be a post, corner, or nine route -- every time. If not, they're asking to get burnt.
One knock on Coleman is his effort. In plays not designed for him, he'll take it off; he isn't a very interested blocker in the run game and won't sell distraction routes. That should change in the NFL, but for now, it's a nuisance.
Another problem of Coleman's is body catching. While body catching has become very common among wide receivers in both the college and pro leagues, it can be an indicator of a lack of confidence in the players' hands, or just laziness. For Coleman, it's probably laziness and/or lack of focus. He can make some of the hardest catches look silly, but embarrass himself dropping a ball on a wide open crossing pattern. Courtesy of Reception Perception, Coleman dropped 8.6% of his targets, which is a high mark, especially for a high profile wideout.
What has been alarming to some has been the lack of production towards the end of Baylor's season. In their final four regular season games, Coleman recorded just 185 yds and not one touchdown, and three of those four games were losses. However, it's worth noting that in those games, Baylor played with backups Jerrod Stidham, Chris Johnson, and receiver-turned-quarterback (out of desperation) Lynx Hawthorne. As we've seen in the NFL with top receivers such as Antonio Brown, losing the starting quarterback really upsets their rhythm.
Coleman will be a top wideout in the draft, and a lock for the first round. But are the other guys better than he is?
Laquon Treadwell, Ole Miss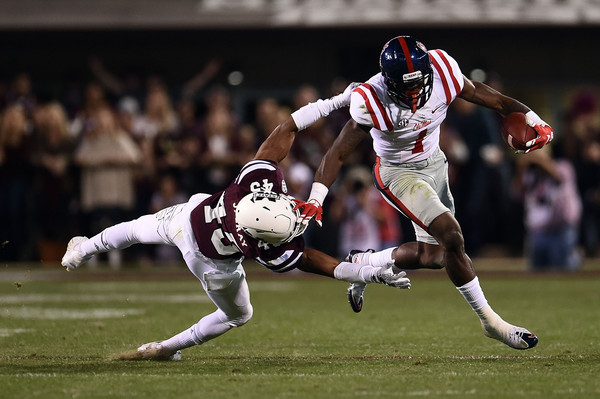 Treadwell is a much larger and more physical wideout in comparison to Coleman. Listed at 6'2, 210 lbs, the Ole Miss product was more of a possession receiver last year, being a force in Ole Miss' vertical passing attack.
Treadwell lacks the sprinter speed others in this class might have, but he makes up for it in other areas. He's a fluid athlete with phenomenal hands, and has a great on-field feel for the game. Unfortunately, from a coaching standpoint, there's still a lot to teach Treadwell. He wasn't asked to run a full tree at Ole Miss, and that is evident by his route running percentiles. Treadwell ran three routes (slant, curl, and vertical) more than 20% each of his total routes. He also had four routes (dig, corner, out, and flat) he ran under 3% of the time. Those numbers might not mean anything, but it's something to speculate, and might be hurting Treadwell's draft stock.
Statistically, Treadwell is the one of the absolute best receiver in double coverage. According to Reception Perception, Treadwell had a 75% success rate in double coverage. And this is possible because of his previously mentioned hand strength. He rises over the defensive back because of his size and jumping ability, and can finish the play by using his soft hands to guide in the ball. Treadwell isn't much of a body catcher, which is a good sign for
Unlike Coleman, Treadwell shows much more effort offensively. Even when he poses as a decoy, the wideout blocks on every play, and looks like he enjoys it, too. Treadwell also sells out on just about every route, no matter the design.
His consensus pro comparison has been Alshon Jeffery, but with his pro day, it has been "knocked" to a lesser Anquan Boldin. Even if he lives up to that, he'll still be an extraordinary receiver. Treadwell looks like a contender for a first round pick selection, though his pro day hurt his stock.
Josh Doctson, TCU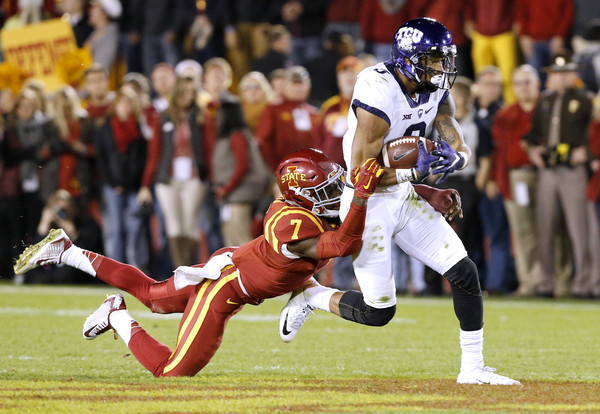 Doctson might be the most underrated receiver in this draft.
What many love most about Doctson is his size. The prospect is a big, stringy wideout who'll need to add muscle for the pro game. BUT, he's a 6'4 kid with a 41" vertical, meaning he can get up and make the spectacular catch, even over bigger defensive backs. His athleticism is something the front office of teams are absolutely drooling over, and it's clear to see why.
Not only does he have the size and jumping ability to make plays, but he also has the speed to create separation on downfield routes. The prospect had 4.5 sec forty yard dash time, ranking in the top ten among all other wide receiver participants. That combination of size and speed is what gives him an edge over guys like Treadwell, Coleman, etc.
Another thing I've noticed with Doctson is his ability to make catches in traffic. He has excellent focus, and while skinny, doesn't allow contact to bother him. Along with those two traits are his soft hands, which allowed him to post a 78.5% success rate versus all coverage last year at TCU, a remarkable number when compared to other top prospects. (Once again, thanks to Reception Perception for the data). He also had the contested catch numbers -- an 85% conversion rate in 20 attempts.
As a person, he's a good locker room guy and leader. The future NFL wideout makes all the right moves on and off the field. He's the "nicest" guy on the list, on top of being one of the best talent-wise -- that could also help his draft stock. In fact, the only thing that's a concern is his wrist injury he sustained last November. Injuries scare teams who are in need of long-term production, and if they don't take a warning, it can burn them. (See: Robert Griffin, III).
Aside from that, however, it seems as though Doctson could be the best prospect in the draft. Only time will tell.
Michael Thomas, Ohio State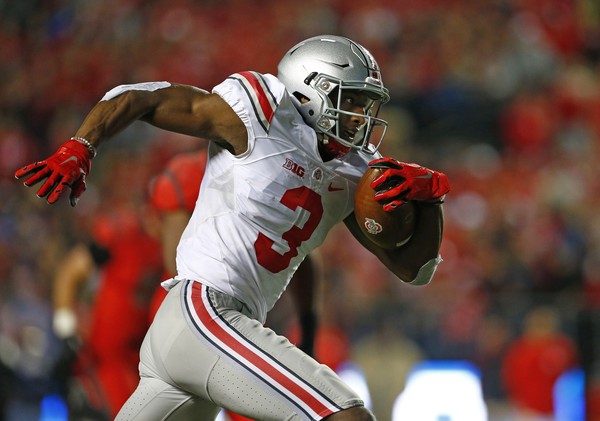 Thomas may have been overshadowed by Braxton Miller's very publicized position change, but there is no doubt he was the better of the two.
Thomas was the star receiving on a team whose focus was mostly on rushing the ball. In total, only 325 passes were attempted by Ohio State quarterbacks in the 2015 season, which isn't a large number in comparison to the numbers of the other star prospects (517 thrown by TCU, 489 thrown by Ole Miss, and 389 thrown by Baylor). What might've also hindered the passing game was the inconsistency at quarterback, with both Cardale Jones and JT Barrett swapping out a lot.
Thomas showed a little problem in terms of catching the ball last year. He dropped 7.5% of his targets last year, which is better than that of both Coleman (8.6%) and Treadwell (9.5%), but still very large in comparison to Doctson's trim 3.4%. Even then, most of those drops are due to focus issues, which should be eliminated as he matures as a player in the next level.
The athleticism of Thomas has been docked by many scouts, but it's still decent enough to make due. His 35" vertical is actually better than Treadwell's and Fuller's verticals, and his 40 yd dash time (4.52) is the same as Treadwell's best. Thomas' bench reps (18) is third in the class, showing his strength. So, by addition, it's obvious that Thomas is more athletic than Treadwell and even with Fuller, since they're both strong in different areas.
From a scouting perspective, Thomas checks out on the eye test. The future draft selection is a good route runner who has strong hands and can put those hands to use. His routes are crisp, and he was able to get open fairly easily at the college level -- he still has routes to learn, though, but he should learn them well. His drops, which was mentioned earlier, were mainly due to focus issues. If he can fix those, scouts will be drooling over him.
Potential is typically a pretty criticized attribute, but for those who have watched Thomas, they've seen flashes of an NFL team's future go-to receiver. At other times, he looks merely average. But he has time to hone his skills with professional coaching (though having Urban Meyer as his former coach definitely helps), and once he does that, he'll be a heck of a receiver. Look for Thomas to be a late first round pick.
The Final Verdict:
The pick is Josh Doctson. He has the least amount of holes of all of the receivers listed, and his combination of size, speed, and hand strength is too enticing to pass up. If the draft were today, Doctson would be the first receiver off the board.