 With NFL free agency in the rear view mirror for most NFL teams, the 2016 NFL draft will be the next significant checkpoint before the start of OTAs. Things have changed considerably since pre-free agency as players like Brock Osweiler, Kelech Osemele, Olivier Vernon have all set new benchmarks for premier players heading into their second contracts. With the advent of big money signings comes the shifting roster priorities for teams preparing for the draft. Even as the free market period heads into its twilight, draft projections remain fluid and subject to change at a moment's notice.
Enter the meat of mock draft season.
Mock drafts are often (and probably should be) taken with a grain of salt, but they can offer an interesting look at what an "outsider" believes fans' favorite teams will do. This mock draft has taken team draft tendancies, scheme, rumors, and need into account to paint the most accurate possible picture of what will happen on draft day. The projections below spans four rounds to to offer context to how the teams can leverage depth at certain positions and capitilize on scarcity at others.
First Round
1. Tennessee Titans select Jalen Ramsey, DB, Florida State
Smart money has had Ole Miss' Laremy Tunsil being the first overall pick for the better part of winter, but with the change in seasons brings a change strategy. The Tennessee Titans invested heavily on a left tackle in Taylor Lewan in 2014, and while doubling up on protecting Marcus Mariota may be enticing, the choice may be ill-advised considering volatility of picking a tackle high in the draft. Playing in a division hosting Blake Bortles, Andrew Luck, and now Brock Osweiler for the next decade, countering the competition with a stand out defensive back like Jalen Ramsey makes a lot of sense.
2. Cleveland Browns select Carson Wentz, QB, North Dakota State
In the wake of signing Robert Griffin and Carson Wentz' pro day, the Cleveland Browns find themselves seeing a fork in the road as the draft approaches. While some may call drafting the best available player regardless of position the prudent choice, the Browns must do everything in their power to secure a franchise signal caller. Carson Wentz' meteoric rise in the NFL draft intelligentsia was further legitimized by his distinguished combine performance and stellar pro day.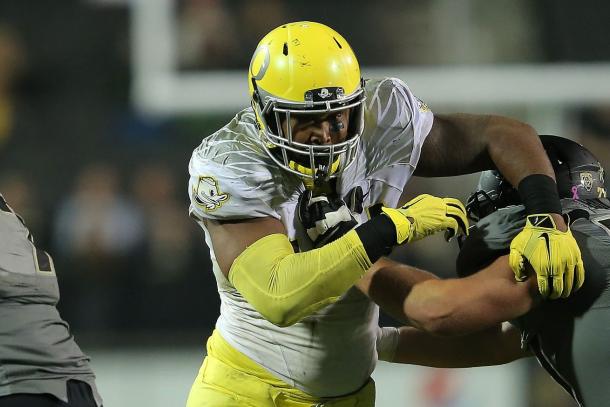 3. San Diego Chargers select DeForest Buckner, DL, Oregon
It's very rare for a team with an entrenched franchise quarterback to be picking within the top five in the NFL draft. Of course, San Diego's problems stem primarily on the defensive side on the ball and not with Philip Rivers. For a team tied for second (with New Orleans) in yards allowed per rush, some help will be needed to help a maligned defensive front. DeForest Buckner made a name for himself in college football for imposing his will in the run game, while also offering pass rush potential from the 5-technique position.
4. Dallas Cowboys select Jared Goff, QB, California
Even if Jerry Jones proclaims his Dallas Cowboys won't be taking a quarterback at four overall, it doesn't mean his team will not. After all, if Jerry got his way, Johnny Manziel may be backing up Tony Romo instead of rookie All-Pro Zach Martin protecting him. At 35 years old and plagued with injuries, Romo continues to hold the Cowboys hostage every time he predictably gets hurt. Jared Goff entered the offseason as the draft's best quarterback in many evaluators' minds, so taking him as the eventual successor to Romo (which may come sooner than later) would be both logical and necessary.
5. Jacksonville Jaguars select Myles Jack LB, UCLA
The ripples of the Jacksonville Jaguars' splash signings in free agency can still be felt as far south as Miami. With Malik Jackson and Tashaun Gipson brought in to help the league's second worst (to, again, New Orleans) defense based on points allowed, the team's agenda is clear. Coming off his pro day where Myles Jack was admittedly at about 80%, teams are salivating to see him run his 40 yard dash on April 1st. Pairing Jack with 2014 5th round pick Telvin Smith will make for easily one of the league's most athletic and potent second level units.
6. Baltimore Ravens select Laremy Tunsil, OL, Ole Miss
For a team relatively unfamiliar picking in the top ten, the Baltimore Ravens find themselves with an opportunity to ensure they won't be seeing the top of the draft for many years to come. The Ravens played their hand this offseason when they did everything in their power to retain standout guard, Kelechi Osemele (losing him to the cash rich Raiders), and would leap at a chance to replace his immense talent. While not a career guard, Laremy Tunsil is among the contemporary draft era's most complete offensive lineman who can eventually place the incumbent at left tackle, Eugene Monroe.
7. San Francisco 49ers select Jack Conklin, OL, Michigan State
Ask most analysts just a couple years ago which teams had the brightest future, and many would have returned with the answer: the San Francisco 49ers. This year, the 49ers are seemingly in perpetual turmoil headlined by their disgruntled franchise quarterback, Colin Kaepernick. Considering the stalemate that exists between Kaepernick and the front office, the team bust press on improving other areas of the roster. There's little not to like about Jack Conklin's fit with the 49ers. While playing the majority of his career at Michigan State at left tackle, Conklin possesses the skills and temperament befitting of an elite left guard.
8. Philadelphia Eagles select Ezekiel Elliott, RB, Ohio State
It was a full on fire sale this March for the Philadelphia Eagles. Spring cleaning brought about the departure of Chip Kelly additions Kiko Alonso, Byron Maxwell, and DeMarco Murray. While many perceive the moves as addition by subtraction, Eagles G.M. Howie Roseman tips his hand at who he'd like to add via the draft. Working off of Roseman's conclusion that the NFL's best running backs come via high draft picks, no player better fits that description than Ezekiel Elliott. Elliott is a jack of all trades running back who offers himself as both a willing blocker and pass catcher, along with his notable running ability.
9. Tampa Bay Buccaneers select Joey Bosa, DE, Ohio State
In many respects, the Tampa Bay Buccaneers have more to be proud of than what their top ten draft spot may suggest. They have answered the question at quarterback and have surrounded him with more than enough weapons for him to succeed. What is arguably more important for a young quarterback than offensive firepower, is defensive firepower. One of the best players at keeping the other team off the field over the past two collegiate seasons was Ohio State's Joey Bosa. Despite not meeting the prescribed double digit sack goal in 2015, Bosa remained as one of the most disruptive 4-3 defensive ends in all of college football.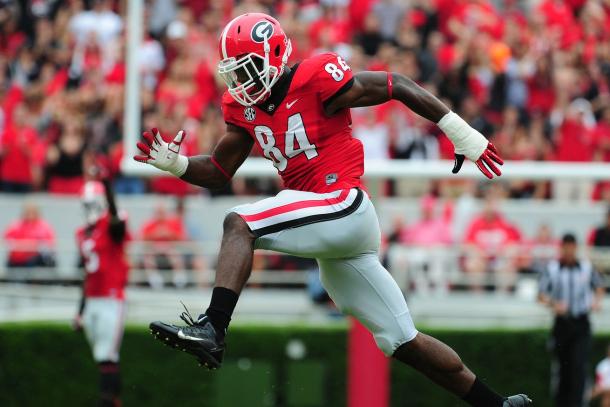 10. New York Giants select Leonard Floyd, DE/OLB, Georgia
Desperation can often cause people to do uncharacteristic things. Even if pre-free agency budget of the New York Giants seemed ample, few predicted the shock and awe G.M. Jerry Reese produced. While paying Olivier Vernon more guaranteed money than J.J. Watt may seem illogical, what seems clear is that Mr. Reese is starting to feel the heat from owner John Mara. While the Giants have been linebacker averse in the draft previously, Leonard Floyd is worthy of a change of heart. Although billed as a rush linebacker, Floyd is better suited to play off the ball and on the strong side of Steve Spagnoulo's attacking defense.
11. Chicago Bears select A'Shawn Robinson, DL, Alabama
Like the Jaguars, the Chicago Bears have made several investments to improve a disappointing 2015 defense. Several key additions to the front seven - including two new inside linebackres in Danny Trevathan and Jerell Freeman - have moved the Bears closer to their heritage of defensive dominiance. A'Shawn Robinson (who just turned 21 in March) was crux of Alabama's championship defense in 2015 and can solidify a front three consisting of last year's 2nd round pick, Eddie Goldman, and free agent signee, Akiem Hicks.
12. New Orleans Saints select Shaq Lawson, DE, Clemson
If the parentheticals included in San Diego's and Jacksonville's blurbs weren't enough of a hint, the New Orleans Saints have serious issues on defense. To further emphasize that point, the Saints ranked second in total yards allowed, passing yards allowed, rushing yards allowed, and last in points allowed. Unsurprisingly, the best prescription to this defensive hemorrhaging comes in the form of taking the best defensive player available. Rain or shine, injured or healthy, Shaq Lawson was a constant force for the national champion runners up Clemson Tigers, amassing 12.5 sacks and 24.5 tackles for loss on the year.
13. Miami Dolphins select Vernon Hargreaves III, DB, Florida
For better or worse, the Dolphins have been active participants in free agency. A trade with the Eagles landed them a corner and linebacker (both positions of need) and saw them move back six spots in the draft. More than a cap casualty was corner Brent Grimes, 32, who saw himself cut to rid the team of the plague that was his wife, Miko. If fate aligns with this mock draft, the Dolphins could replace Grimes with Vernon Hargreaves, who alongside Byron Maxwell, can continue the tradition of a strong defensive backfield in Miami.
14. Oakland Raiders select Vonn Bell, DB, Ohio State
With nearly $80 million to spend in free agency, few were surprised to see the Oakland Raiders scoop up some very notable free agents. Perhaps more surprising (although it shouldn't be to anyone paying attention) was the high grade of savvy involved in each signing. With the Raiders with considerably less needs than they had at the end of the regular season, the team can hone in on shoring up a secondary which won't have the retiring future Hall of Famer, Charles Woodson, to lean on. Vonn Bell projects as the drafts lone single high free safeties, and even if it may take a couple years for him to match the performance of a nearly 40 year old Woodson, it wouldn't be a bad bet to see him get there.
15. Los Angeles Rams select Laquon Treadwell, WR, Ole Miss
Perhaps the most haunting words to any or old Los Angeles Rams fans was uttered recently by Rams G.M. Les Snead when he said: "[Keenum is] our starting quarterback." While it may not be a complete sign of resignation to the former University of Houston record holder, it appears the team is not feeling bound to select a quarterback in the first round. Perhaps the best alternative to a quarterback in first round would be to set the stage to draft one in the second. Not since the Greatest Show on Turf days have the Rams seen a wide receiver talent as good as Laquon Treadwell, who would make whomever's taking snaps from center job a lot easier.
16. Detroit Lions select Ronnie Stanley, OL, Notre Dame
2015 was sleepy season for the Detroit Lions. The team lulled the nation to sleep with a 1-7 start before finishing 7-9. A late season surge fueled by the unfortunately named mid-season offensive coordinator, Jim Bob Cooter, propelled optimism into the fanbase as the team went on to win their final three games. With Calvin Johnson heading into retirement, the roster looks to shift into a more physical demeanor on offense. Ronnie Stanley is a "drop anchor" style left tackle who made a name for himself as a collegiate athlete by giving the nation's best pass rushers all they could handle.
17. Atlanta Falcons select Sheldon Rankins, DL, Louisville
If every team has an opposite in the league, perhaps no team diametrically opposes the Detroit Lions' season than the Atlanta Falcons. A 6-1 start somehow deteriorated into a 2-7 record in the second half of the year. Despite 2015 first round pick Vic Beasley's promising start and finish to the year, the team still lacks the ability to consistently disrupt the passer. In a draft which offers so few edge pass rushing elements, Sheldon Rankins' interior pass rushing presence offers the team the best overall option during the second half of the draft.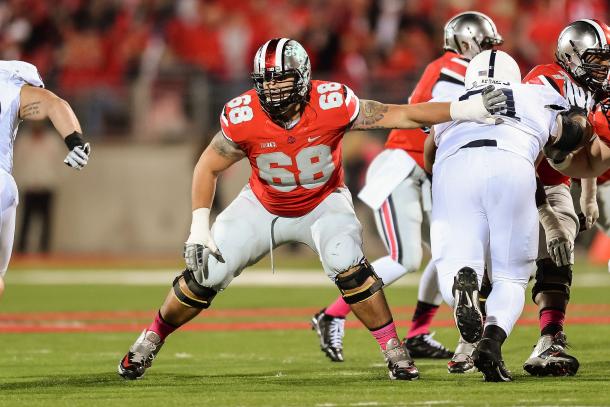 18. Indianapolis Colts select Taylor Decker, OL, Ohio State
Even though the Indianapolis Colts are only a season removed from competing to represent the AFC in the Super Bowl, this draft presents an opportunity for a quick reset after a disappointing 2015 campaign. A healthy Andrew Luck is only a positive if he's able to stay that way and that wasn't the case last season. After improving every year since starting at right tackle during his sophomore year, Taylor Decker offers a player whose experience and talent is only eclipsed by his proven leadership and exposure to winning at Ohio State
19. Buffalo Bills select Kevin Dodd, DE, Clemson
There is not no excuse for the lesser of the Ryans, Rob, to underperform as an assistant coach. Hired by his brother Rex in January, the 2016 Buffalo Bills defense has seemingly too much Ryan influence to fail. Perhaps even more influential than the Ryan family reunion going on in the team facility is the departure of defensive end Mario Williams. With holes to fill on the defensive line, Clemson's Kevin Dodd made his impactful debut as a college star in 2016. Playing opposite Shaq Lawson, Dodd's numbers are nearly identical to his teammate's, being responsible for 12.5 sacks and 24 tackles for loss.
20. New York Jets select Noah Spence, DE/OLB, Eastern Kentucky
The New York Jets are part of a love triangle. Like most young adult inspired romances, the result is often predictable and satisfying. With Ryan Fitzpatrick and the Jets pairing nearly a foregone conclusion, the Jets won't feel forcibly compelled to draft a quarterback late in the first round. Noah Spence's draft stock has probably emulated a Wall Street share better than any other player in the draft. While the Senior Bowl was good to Spence, his combine performance didn't do him any favors. The Jets have been looking for a capable pass rusher since the departure of John Abraham and Spence would be a great fit to fill that role.
21. Washington Redskins select Reggie Ragland, LB, Alabama
Riding off of the momentum of last season's playoff berth, the Washington Redskins find themselves in the recently unfamiliar place of building a team off of success and not failure. Defensively, the Redskins have a wealth of young pass rushing talent, but are without a nucleus to command the middle linebacker position. Reggie Ragland was the ringleader of an Alabama defense inundated with NFL talent, and his ability to diagnose and react to offensive plays will propel Washington's defense to the next level.
22. Houston Texans select Andrew Billings, DL, Baylor
On the surface there may be little to do with comedy director Steven Brill's 2004 throwaway film Without a Paddle and the Houston Texans 2015 season. In fact, there may be no relation at all beyond the title of the movie. The Houston Texans made it quite far Without a Quarterback and their defense was a big part of that journey. Building upon a strength may be the best thing to do with the rising team and adding a dose of Andrew Billings could do wonders. Billings, who can play either nose or 3-technique, led the 2015 Baylor Bears in both sacks and tackles for loss.
23. Minnesota Vikings select Michael Thomas, WR, Ohio State
Coming off of the end of 2014, many expected sophomore quarterback, Teddy Bridgewater, to ascend into the upper crust of NFL signal callers. While the team experienced collective success, some interpreted Bridgewater's 2015 season as a regression from his rookie season. At least part of Bridgewater's stagnation centers around the lack of development within his receiving corps. While less of a brand name than Braxton Miller, Michael Thomas was the purer and more talented receiving threat of the 2015 Ohio State Buckeyes. A pairing of Thomas and last year breakout star, Stefon Diggs, will give Teddy Bridgewater the weapons he needs for him to take the next step.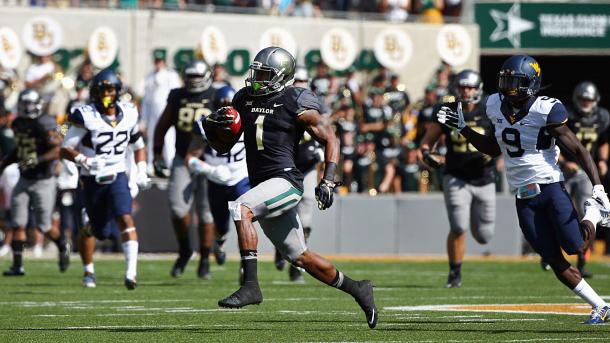 24. Cincinnati Bengals select Corey Coleman, WR, Baylor
Even though the Cincinnati Bengals were able to retain a sizeable fraction of the free agent class this offseason, perhaps the biggest losses incurred were across franchise receiver, A.J. Green. With both Mohamed Sanu and Marvin Jones playing for other teams next season, the cupboard is close to bare at number two receiver. While one player is not two, Corey Coleman might eclipse both Sanu and Jones in terms of talent. Catching 74 passes for 20 touchdowns and over 1,300 yards in 2015, there's little doubt Coleman can't replicate those results in the NFL - after all, Baylor is the new wide receiver "U".
25. Pittsburgh Steelers select William Jackson III, DB, Houston
Like the Colorado River carving up the Grand Canyon, the Pittsburgh Steelers have seen their defense eroded over the course of time. The most urgent casualty of the deterioration is the defensive backfield. The Steelers ranked 3rd worst in the NFL in pass yards per game and the team hasn't made any strides to improve in free agency. It happens to be a good year for the Steelers to pick late in a corner rich draft and Houston's William Jackson may be the draft's best. The lengthy and speedy corner shows the innate ability to challenge receivers for every catch and is arguably the most adept in the draft at taking the ball away from the offense.
26. Seattle Seahawks select Jason Spriggs, OL, Indiana
In perhaps an unsurprising development, the Seattle Seahawks were significantly weakened by other teams via free agency. With both Russell Okung, and to lesser significance, J.R. Sweezy, gone, the team will need to hit the reset button on their offensive line. Not a bad place to begin the rebuilding process would be to draft Indiana's Jason Spriggs. Although not as technically skilled as his contemporaries, Spriggs possesses the athletic traits the Seahawks covet. If years past are anything to go off of, the Seahawks have no trouble molding players into exactly what they need.
27. Green Bay Packers select Darron Lee, LB, Ohio State
Like a bird of prey circling overhead, the Green Bay Packers remain seemingly dormant as they observe the cacophony of free agency occuring below. G.M. Ted Thompson has mastered the art of building through the draft and his mastery will need to be at full bore come April 28th. The team has made no secret of the desire to move Clay Matthews back to outside linebacker, so acquiring a capable middle linebacker will be a priority. Darron Lee proved to be more than simply an athlete during his redshirt sophomore year in Columbus. Playing under 230 lbs., the Buckeye linebacker collected 4.5 sacks and 66 total tackles in 2015.
28. Kansas City Chiefs select Eli Apple, DB, Ohio State
If history serves as a prophet in any form, the 2016 Kansas City Chiefs may be picking closer to the top of the NFL draft than the bottom. More pragmatic minds may give pause to that prediction, though, as the Andy Reid led Chiefs look poised for consistency. After returning a handful of key contributors in free agency, the Chiefs will have to contend losing one of their biggest fish in Sean Smith. At 6'1" and just under 200 lbs., Eli Apple shares much with the departing cornerback and proved to carry the athleticism to match, bazing to a 4.4 flat 40 during the scouting combine.
29. Arizona Cardinals select Jarran Reed, DL, Alabama
Not the ones often to make headlines, the Arizona Cardinals made waves late in the free agency cycle not by making a key signing, but by trading with the New England Patriots. The highlight of the trade, pass rusher Chandler Jones, gives the Cardinals much more flexibility on draft day. A team with Super Bowl aspirations like the Cardinals can stand to build upon a strength in the draft. Alabama's Jarran Reed was the unsung hero of his college defense. Pairing his hard nosed style with Calais Campbell and Frostee Rucker makes for cocktail more powerful than cactus tequila.
XX. New England Patriots - FORFEIT
30. Carolina Panthers select Emmanuel Ogbah, DE, Oklahoma State
With the bad taste of Super Bowl 50 still on the tongues of the Carolina Panthers, the team will focus on building on the successes of a banner year. With defensive ends Jared Allen riding off into the sunset and Charles Johnson returning in a reduced role, defensive edges will have a younger face in 2016. Despite impressive production in college, Emmanuel Ogbah has not gained traction as a slam dunk prospect due to tepid game tape. The combine helped changed the perception on Ogbah, who roared to a 4.63 40 yard dash at over 270 lbs., but he remains a likely value pick for teams picking at the end of round one.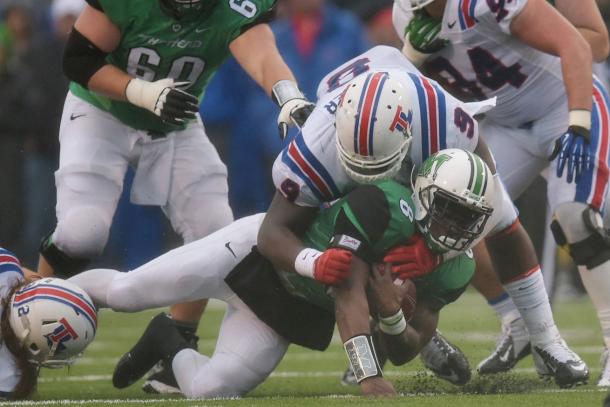 31. Denver Broncos select Vernon Butler, DL, Louisiana Tech
Perhaps no team draws a line in the sand quite like John Elway's Denver Broncos. Refusing to submit to the desires of Brock Osweiler, Peyton Manning, Malik Jackson, and Danny Trevathan has seemingly created a deluge of holes on both sides of the ball, but the core of the reason the team hoisted the Lombardi trophy at the end of the 2015-16 season remains in tact. With the majority of the unit retained, the Broncos will look to draft and replace positions when appropriate. Vernon Butler carried over his unblockable reputation into the Senior Bowl after harassing C-USA competition for four straight seasons.
Second Round
32. Cleveland Browns select Josh Doctson, WR, Texas Christian
33. Tennessee Titans select Germain Ifedi, OL, Texas A&M
34. Dallas Cowboys select Robert Nkemdiche, DL, Ole Miss
35. San Diego Chargers select Ryan Kelly, OL, Alabama
36. Baltimore Ravens select Jonathan Bullard, DL, Florida
37. San Francisco 49ers select Paxton Lynch, QB, Memphis
38. Jacksonville Jaguars select Xavien Howard, DB, Baylor
39. Tampa Bay Buccaneers select Mackensie Alexander, DB, Clemson
40. New York Giants select Sterling Shepard, WR, Oklahoma
41. Chicago Bears select Darian Thompson, DB, Boise State
42. Miami Dolphins select Joshua Garnett, OL, Stanford
43. Los Angeles Rams select Connor Cook, QB, Michigan State
44. Oakland Raiders select Joshua Perry, LB, Ohio State
45. Los Angeles Rams select Cody Whitehair, OL, Kansas State
46. Detroit Lions select Shilique Calhoun, DE, Michigan State
47. New Orleans Saints select Chris Jones, DL, Mississippi State
48. Indianapolis Colts select Kamalei Correa, DE/LB, Boise State
49. Buffalo Bills select Jaylon Smith, LB, Notre Dame
50. Atlanta Falcons select Su'a Cravens, S/LB, Southern California
51. New York Jets select Le'Raven Clark, OL, Texas Tech
52. Houston Texans select Will Fuller, WR, Notre Dame
53. Washington Redskins select Kenny Clark, DL, UCLA
54. Minnesota Vikings select Karl Joseph, DB, West Virginia
55. Cincinnati Bengals select Austin Johnson, DL, Penn State
56. Seattle Seahawks select Alex McCalister, DE/LB, Florida
57. Green Bay Packers select Devon Cajuste, WR/TE, Stanford
58. Pittsburgh Steelers select Keanu Neal, DB, Florida
59. Kansas City Chiefs select Braxton Miller, WR, Ohio State
60. New England Patriots select Derrick Henry, RB, Alabama
61. New England Patriots select Mike Thomas, WR, Southern Miss
62. Carolina Panthers select Jalen Mills, DB, Louisiana State
63. Denver Broncos select Christian Westerman, OL, Arizona State
Third Round
64. Tennessee Titans select Deion Jones, LB, Louisiana State
65. Cleveland Browns select Vadal Alexander, OL, Louisiana State
66. San Diego Chargers select Jerell Adams, TE, South Carolina
67. Dallas Cowboys select Alex Collins, RB, Arkansas
68. San Francisco 49ers select Artie Burns, DB, Miami
69. Miami Dolphins select Kenneth Dixon, RB, Louisiana Tech
70. Jacksonville Jaguars select Nick Martin, OL, Notre Dame
71. Baltimore Ravens select Kyler Fackrell, DE/LB, Utah State
72. Chicago Bears select Devontae Booker, RB, Arkansas
73. Tampa Bay Buccaneers select Pharoh Cooper, WR, South Carolina
74. New York Giants select Jonathan Williams, RB, Arkansas
75. Oakland Raiders select Maliek Collins, DL, Nebraska
76. Los Angeles Rams select Rashard Robinson, DB, Louisiana State
77. Philadelphia Eagles select Landon Turner, OL, North Carolina
78. New Orleans Saints select Kentrell Brothers, LB, Missouri
79. Philadelphia Eagles select Tyler Boyd, WR, Pittsburgh
80. Buffalo Bills select Keyarris Garrett, WR, Tulsa
81. Atlanta Falcons select Hunter Henry, TE, Arkansas
82. Indianapolis Colts select Kendall Fuller, DB, Virginia Tech
83. New York Jets select Jack Allen, OL, Michigan State
84. Washington Redskins select Miles Killebrew, DB, Southern Utah
85. Houston Texans select Isaac Seumalo, OL, Oregon State
86. Minnesota Vikings select Thomas Duarte, TE, UCLA
87. Cincinnati Bengals select Scooby Wright III, LB, Arizona
88. Green Bay Packers select Hassan Ridgeway, DL, Texas
89. Pittsburgh Steelers select Jordan Jenkins, DE/LB, Georgia
90. Seattle Seahawks select Connor McGovern, OL, Missouri
XX. Kansas City Chiefs - FORFEIT
91. New England Patriots select Carl Nassib, DE/LB, Penn State
92. Arizona Cardinals select Cardale Jones, QB, Ohio State
93. Carolina Panthers select Kenyan Drake, RB, Alabama
94. Denver Broncos select Christian Hackenberg, QB, Penn State
*95. Detroit Lions select Charles Tapper, DE/LB, Oklahoma
*96. New England Patriots select KieVarae Russell, DB, Notre Dame
*97. Seattle Seahawks select Paul Perkins, RB, UCLA
*98. Denver Broncos select Dominique Alexander, LB, Oklahoma
Fourth Round
99. Cleveland Browns select Austin Hooper, TE, Stanford
100. Philadelphia Eagles select Harlan Miller, DB, Southeastern Louisiana
101. Dallas Cowboys select Adolphus Washington, DL, Ohio State
102. San Diego Chargers select Terrance Smith, LB, Florida State
103. Jacksonville Jaguars select Javon Hargrave, DL, South Carolina
104. Baltimore Ravens select Will Redmond, DB, Mississippi State
105. San Francisco 49ers select Charone Peake, WR, Clemson
106. Chicago Bears select D.J. White, DB, Georgia Tech
107. Miami Dolphins select De'Vondre Campbell, LB, Minnesota
108. Tampa Bay Buccaneers select Sean Davis, DB, Maryland
109. New York Giants select B.J. Goodson, LB, Clemson
110. Los Angeles Rams select Nick Vigil, LB, Utah State
111. Detroit Lions select Graham Glasgow, OL, Michigan
112. New Orleans Saints select Leonte Carroo, WR, Rutgers
1113. Tennessee Titans select Dean Lowry, DL, Northwestern
114. Oakland Raiders select Jordan Howard, RB, Indiana
115. Atlanta Falcons select Jeremy Cash, S/LB, Duke
116. Indianapolis Colts select Blake Martinez, LB, Stanford
117. Buffalo Bills select Kevin Hogan, QB, Stanford
118. New York Jets select Jacoby Brissett, QB, North Carolina State
119. Houston Texans select Nick Vannett, TE, Ohio State
120. Washington Redskins select Jay Lee, WR, Baylor
121. Minnesota Vikings select Travis Feeney, LB, Washington
122. Cincinnati Bengals select Justin Simmons, DB, Boston College
123. Pittsburgh Steelers select D.J. Reader, DL, Clemson
124. Seattle Seahawks select Max Tuerk, OL, Southern California
125. Green Bay Packers select Shon Coleman, OL, Auburn
126. Kansas City Chiefs select Dak Prescott, QB, Mississippi State
127. Chicago Bears select Brandon Allen, QB, Arkansas
128. Arizona Cardinals select Evan Boehm, OL, Missouri
129. Carolina Panthers select Jerald Hawkins, OL, Louisiana State
130. Baltimore Ravens select Eric Murray, DB, Minnesota
*131. Green Bay Packers select Aaron Wallace, LB, UCLA
*132. San Francisco 49ers select Bronson Kaufusi, DL, Brigham Young
*133 Baltimore Ravens select Keith Marshall, RB, Georgia
*134 Baltimore Ravens select Yannick Ngakoue, LB, Maryland
*135. Denver Broncos select C.J. Procise, RB, Notre Dame
*136. Dallas Cowboys select Tajae Sharpe, WR, Massachusetts
*137. Cleveland Browns select Shawn Oakman, DL, Baylor
*138. Green Bay Packers select Daniel Lasco, RB, California
*139. Buffalo Bills select Vincent Valentine, DL, Nebraska