 He's there. Right in front of their faces. And the Browns just couldn't resist – being the Browns.
The Cleveland Browns signed Robert Griffin III to presumably be the starting quarterback or at the very least number one on paper. It's the next stop on RG3's epic journey in the NFL, and one can only hope that Cleveland will provide RG3 the environment to become one of the most electric quarterbacks in the league once again.
But when has Cleveland ever been a place of refuge? It's been more a place of refuse.
RG3 A Risky Project For Cleveland
New head coach Hue Jackson and offensive coordinator Pep Hamilton, a pair with contrasting histories of turning over offenses, this will be the biggest project they see. They bring RG3 into a franchise that has been unable to develop any kind of talent at quarterback, and two coaches who have had no experience developing that kind of talent.
So why take on such a challenge in your first season?
Simply put, because we're dealing with the Browns. And the new coaching staff is fitting right in.
Cleveland could for once have done something right. They could have passed on RG3, drafted someone like Carson Wentz, and executed a true rebuild in Cleveland. Or in their case, just manufactured a building process period.
Now granted, the Browns have not been very successful at drafting a quarterback in the last quarter century either. The names of Tim Couch, Brady Quinn, and the more recent Johnny Manziel have plagued the franchise since the Browns made their return to the NFL. And despite the great reports on Wentz there are just no guarantees in the NFL Draft – nobody knows that better than Cleveland.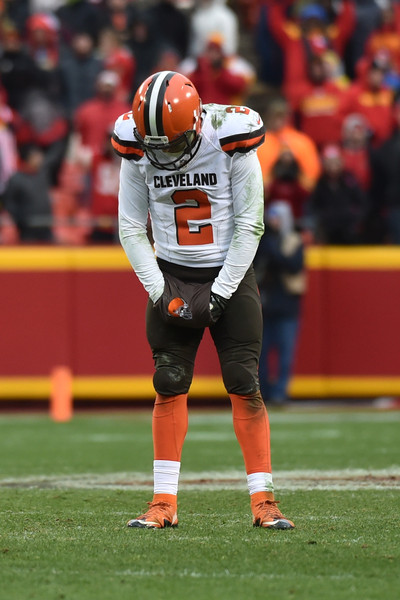 What the RG3 signing clearly shows is that the Browns, under this new management, are clearly trying to take risks. The only possibly riskier option would have been now-free agent Johnny Manziel, whom they just let go this March.
If they're taking risks, why not take calculated ones? There is little to no connection between this coaching staff and RG3. Nobody in Cleveland ever coached him in college, none of these coaches were on the Redskins' staff, nor did any of the players they coached in their past coaching experiences resemble what RG3 can do on a football field.
Truly going outside the box on this one would have been taking the best quarterback available. Draft-wise, that is Wentz. In free agency, that would be Ryan Fitzpatrick.
Fitzpatrick could potentially do what Andy Dalton did for Hue Jackson last year in Cincinnati. But the management, ownership, and coaching staff decided to make another defining 'Cleveland' decision.
If The Browns Still Do Draft Carson Wentz...
Now the Browns could still decide to take Wentz with the second pick and bring him into a competition with RG3. But let's play that out.
Robert Griffin III is a complete rebuild case. Carson Wentz will be a rookie quarterback this upcoming season. Both would need an immense amount of attention, reps, and development.
Development is not just a word that coaches throw around, it's a real process, one only a select few successfully complete. It is something RG3 couldn't do in Washington as the franchise quarterback. And now in Cleveland, he and Wentz would both hypothetically be expected to do so.
Bottom line: as always, it's not looking good for the Cleveland Browns.