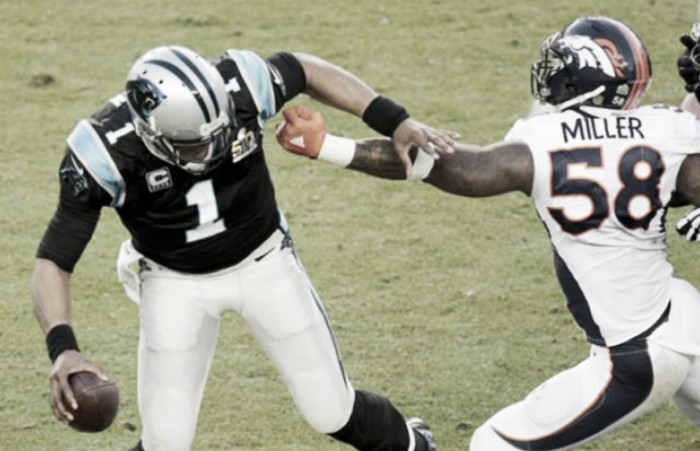 With the NFL Draft fast approaching, teams are making their final preparations, outlining their plans, and solidifying who they want to target. But when you are drafting in the top ten, there is a lot of pressure on the organization to hit it big.
One great draft pick could transform an organization for a decade. But a player of that caliber is typically ear-marked to be drafted in the top ten. The top ten is where teams desperately need that player to alter their previously beleaguered fate. But what the NFL draft's history has shown us, is that finding a litany of talent, that translates from college to the NFL, is very difficult to do. Especially in the top ten. But every now and then the football gods are generous and bestow upon the NFL a surplus of NFL talent that can provide relief and hope to lowly NFL teams.
But it is rare. Since the NFL & AFL merger, there have been relatively few great top ten talent. Teams have swung and missed on countless players. Just ask any fan from Tampa Bay, Cincinnati, or better yet, ask anyone from Cleveland. But it seems when there is the talent there, it seems to be a great supply.
Here are the greatest Top Ten Draft Picks of All-Time:
5) The 1989 Draft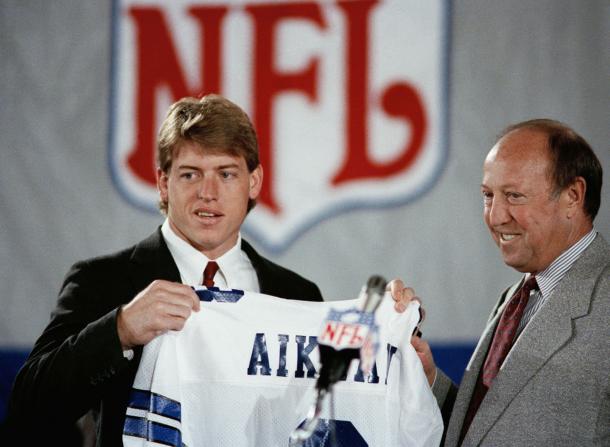 1- Troy Aikman, QB, Dallas Cowboys
2- Tony Mandarich, OT, Green Bay Packers
3- Barry Sanders, RB, Detroit Lions
5- Derrick Thomas, LB, Kansas City Chiefs
6- Deion Sanders, CB, Atlanta Falcons
7- Broderick Thomas, LB, Tampa Bay Buccaneers
8- Tim Worley, RB, Pittsburgh Steelers
9- Sammie Smith, RB, Florida State
10- Eric Hill, LB, Phoenix Cardinals
This draft is very loaded in the first 5 picks of the draft, but then it tampers off after that. However when the top five consist of Troy Aikman, Barry Sanders, Derrick Thomas and Deion Sanders, there is no debating their credentials for this list.
Could of had: Steve Atwater (20th overall) Andre Rison (22nd Overall)
4) The 2010 Draft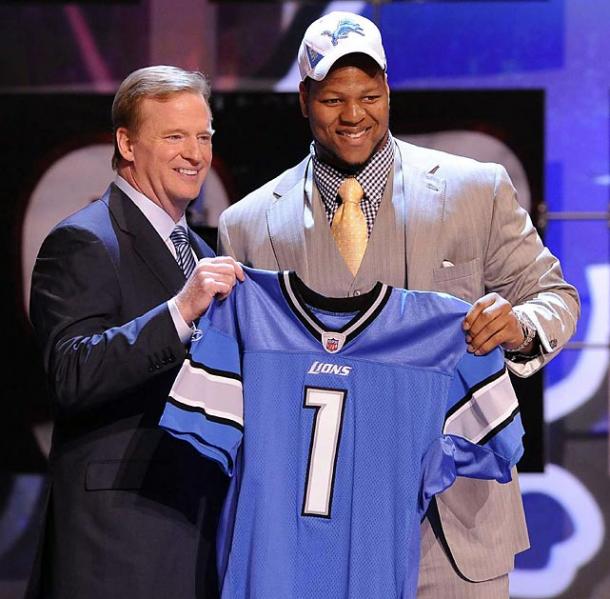 1- Sam Bradford, QB, St. Louis Rams
2- Ndamukong Suh, DT, Detroit Lions
3- Gerald McCoy DT, Tampa Bay Buccaneers
4- Trent Williams, T, Washington Redskins
5- Eric Berry, S, Kansas City Chiefs
6- Russell Okung, T, Seattle Seahawks
7- Joe Haden, CB, Cleveland Browns
8- Rolando McClain, LB, Oakland Raiders
9- C.J. Spiller, RB, Buffalo Bills
10- Tyson Alualu, DT, Jacksonville Jaguars
The 2010 draft was very deep. Suh, McCoy, Berry, Okung and Haden are all Pro-Bowl caliber players and even players like Sam Bradford, Rolando McClain and C.J. Spiller have been productive at some points in their careers. But as good as some teams had it in the top ten, they missed on two, rather large opportunities:
Could of had: Jason Pierre-Paul (15th overall) Dez Bryant (24th overall)
3) The 1999 Draft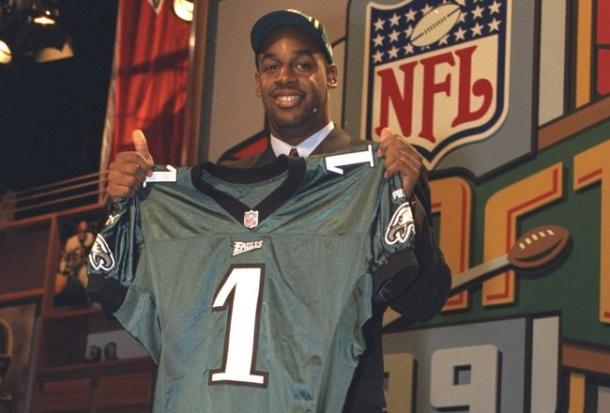 1- Tim Couch, QB, Cleveland Brown
2- Donovan McNabb, QB, Philadelphia Eagles
3- Akili Smith, QB, Cincinnati Bengals
4- Edgerrin James, RB, Indianapolis Colts
5- Ricky Williams, RB, Miami Dolphins
6- Torry Holt, WR, St. Louis Rams
7- Champ Bailey, WR, Washington Redskins
8- David Boston, WR, Arizona Cardinals
9- Chris Claiborne, OLB, Detroit Lions
10- Chris McAlister, CB, Baltimore Ravens
This draft is more known for the major draft catastrophes that was Tim Couch and Akili Smith, but sandwiched in the middle of those mistakes was Donovan McNabb who ended up being one of the best quarterbacks of his generation.
After the quarterbacks you saw two of the last great running backs to be selected in the top ten in Ricky Williams and Edgerrin James. And finally there was even more talent at the bottom half of the top ten when Torry Holt and Champ Bailey were selected. But again this draft was all about Cleveland's and Cincinnati's decision to not draft Donovan McNabb. Even if they didn't want him they still could have chosen:
Could of had: Daunte Culpepper (11th overall)
2) The 2004 Draft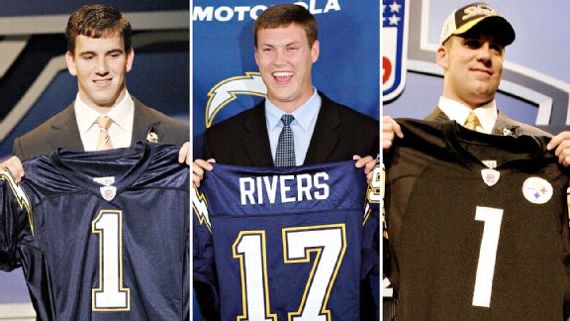 1- Eli Manning, QB, San Diego Chargers
2- Robert Gallery, T, Oakland Raiders
3- Larry Fitzgerald, WR, Arizona Cardinals
4- Philip Rivers, QB, New York Giants
5- Sean Taylor, S, Washington Redskins
6- Kellen Winslow, TE, Cleveland Browns
7- Roy Williams, WR, Detroit Lions
8- DeAngelo Hall, CB, Atlanta Falcons
9- Reggie Williams, WR, Washington Redskins
10- Dunta Robinson, CB, Houston Texans
The 2004 draft was one of the most dramatic drafts in NFL history. A quarterback triangle that involved one quarterback, who didn't want to play with who drafted him (Eli Manning to San Diego), one quarterback who was considered the best of the bunch (Philip Rivers) and another quarterback who had all the tools, but people debated if he would work in the NFL (Ben Roethlisberger).
While Big Ben fell out of the top ten, Manning and Rivers were apart of one of the most talented top ten groups in NFL history. At third selection, there was no drama around the selection of Larry Fitzgerald, nor any around the selection of Sean Taylor at five. DeAngelo Hall proved to be a good player as well and even Kellen Winslow had his moments. But this draft was all about the quarterbacks. One of, if not the best, quarterback draft of all-time.
Could of had: Ben Roethlisberger (11th overall) Vince Wilfork (21st)
1) The 2011 Draft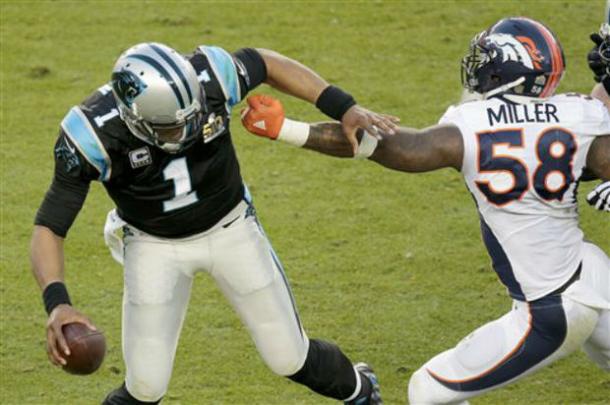 1- Cam Newton, QB, Caolina Panthers
2- Von Miller, LB, Denver Broncos
3- Marcell Dareus, DT, Buffalo Bills
4- A.J. Green, WR, Cincinnati Bengals
5- Patrick Peterson, CB, Arizona Cardinals
6- Julio Jones, WR, Atlanta Falcons
7- Aldon Smith, LB, San Francisco 49ers
8- Jake Locker, QB, Tennessee Titans
9- Tyron Smith, OT, Dallas Cowboys
10- Blaine Gabbert, QB, Jacksonville Jaguars
But the greatest top ten selections in the NFL draft occurred just a few years ago, when the 2011 draft commenced. In last year's Super Bowl, when Super Bowl MVP Von Miller continued to sack MVP Cam Newton, over and over and over again, it would be hard to predict that would happen just five years ago in the 2011 draft. But it happened, and even if it did not, there would be more than enough to talk about. Selections 1-7 feature a Pro-Bowler and/or player who is regarded as one of their best at their position. But as great as these selections were, everyone seemed to miss out on one guy:
Could of had: J.J. Watt (11th overall)