 By this time of year, mock drafts begin to look more and more similar as the media's projections peg themselves to latest rumors, smokescreens, and insider tweets. Offering a different take to the normal mock draft frenzy are NFL writers Kevin Clough and Richard Sena.
Instead of regurgitating the collective consciousness of who each team will take, this draft represents what each writer would do if they were to put on the sacred "G.M. hat." Without adhering to the constraints of what is characteristic of NFL staffs, each writer can be true to their board while doing their best to accommodate team needs.
The only rules: no trades which haven't been made by real NFL teams and Clough takes odds and Sena takes evens.
1. Los Angeles Rams select Carson Wentz, QB, North Dakota State
Clough: With the Los Angeles Rams having traded up for the first pick, they are married to the fact that they are selecting a quarterback, so they must select the best one: Carson Wentz. Jared Goff may look like the ideal "California Kid" but Wentz is the best pure passer in the class and his strengths match what the Rams want to do on offense. Goff may look better on a poster (if anyone still buys those), but Wentz is the pick here.
2. Cleveland Browns select Jalen Ramsey, DB, Florida State
Sena: With Carson Wentz off the board, the temptation to take Jared Goff was real. Unlike the Rams, though, the Cleveland Browns are entering more of a rebuild situation, which hasn't been conducive to young quarterbacks succeeding in the past. Jalen Ramsey is one of the handful of truly "blue chip" prospects on the board whose versatility will allow the coaching staff to put him in at corner or safety. Myles Jack was also in consideration, but Ramsey's clean bill of health was enough to vault him ahead.
3. San Diego Chargers select Myles Jack, LB, UCLA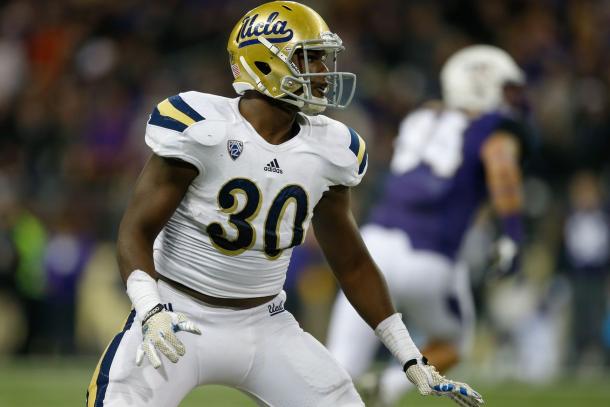 Clough: The San Diego Chargers need a new identity. For far too long, the Chargers have relied on the arm of Philip Rivers to carry them. Now with Rivers on the wrong side of 30, the Chargers need to find the next face of the organization. Myles Jack is that guy. While everyone raves about Jalen Ramsey, and rightfully so, Jack could be the best defensive player to come out of college since J.J. Watt.
4. Dallas Cowboys select Jared Goff, QB, California
Sena: Some might say the a team picking fourth overall needs to take a player in that will help on day one, but the Dallas Cowboys aren't the classic case in the top five. Mounting injuries to a 35 year old Tony Romo derailed the Cowboys season a year ago and his health will only get worse going forward. Jared Goff, who may also be in play for the first overall pick, offers both assurance for the future and the present if Tony Romo is again afflicted with injuries. Joey Bosa nearly made the cut, but Dallas won't be in a position to draft a top 10 passer very often with their current roster.
5. Jacksonville Jaguars select Laremy Tunsil, OT, Ole Miss
Clough: Blake Bortles proved that he could play well enough to make the Jacksonville Jaguars a playoff contender, now the Jaguars need to continue to build around him. The Jags will be tempted to add another pass rusher like a DeForest Buckner or Joey Bosa, but with Dante Fowler Jr. returning for the Jaguars this year, defensive end is not a need. Once Jalen Ramsey was taken (Jacksonville ranked 25th against the pass last season) the choice was obvious. Laremy Tunsil can add more depth to the offensive line that needs to continue to protect, what could be their franchise quarterback, Blake Bortles.
6. Baltimore Ravens select DeForest Buckner, DL, Oregon
Sena: It's a tough thing to see a Baltimore Ravens defense only being ranked average compared to the rest of the NFL. A big part of that drop off was due to Terrell Suggs' lost season, but also an underperforming front which didn't get after the passer or stop the run all that well. While Joey Bosa projects as a better pure pass rusher from the edge, he's not an ideal candidate for 3-4 outside linebacker. DeForest Buckner is a better scheme fit as a down lineman for the Ravens' 3-4 defense and can evolve into an equally formidable interior pass rusher with time.
7. San Francisco 49ers select Joey Bosa, DE, Ohio State
Clough: Joey Bosa is the best pass rushing defensive end in this class. The San Francisco 49ers need an impact player to transform their defense. This is a match made in heaven. With all of the retirements from a year ago, the 49ers need a player like Bosa to transform not only their defense, but the entire franchise. If the 49ers stay at the seven spot and Bosa is there, it will be a perfect fit for both sides.
8. Philadelphia Eagles select Ezekiel Elliott, RB, Ohio State
Sena: Perhaps last year's worst kept secret was DeMarco Murray's awkward fit within Chip Kelly's offense. Although Murray and Kelly are no longer in town, no one would be surprised to see the current presumptive starter, Ryan Matthews, not last the whole season as the lone bell cow. Ezekiel Elliott has been unanimously ordained as the draft's best running back for good reason. He's not only the best runner, but also the best blocker and one of the best pass catchers at the position. Ronnie Stanley was in play as a future replacement for Jason Peters, but heir apparent left tackles aren't worth top 10 selections like quarterbacks are.
9. Tampa Bay Buccaneers select Ronnie Stanley, OT, Notre Dame
Clough: The Tampa Bay Buccaneers have a second year player protecting Jameis Winston's backside and their other tackle held out a season ago to only come back and injure his knee. Well its safe to say that Tampa needs to draft a tackle at the ninth spot in the draft. Thankfully, Ronnie Stanley fell to the Bucs and the team should be ecstatic. Many scouts have considered Stanley the best tackle in this group - even better than Tunsil. The Bucs will love his athleticism and his stability at the tackle position.
10. New York Giants select Leonard Floyd, LB, Georgia
Sena: While the current New York Giants G.M. Jerry Reese seems averse to improving a maligned linebacking corps through the draft, I took it upon myself to do the necessary thing. While known for his edge pass rushing, Leonard Floyd is equally adept at playing on the second level in a traditional 4-3 alignment. Like Minnesota's Anthony Barr, Floyd's athleticism is best used as a supplemental pass rusher and playing in space from the outside linebacker position. A receiver would have been the alternative pick, but the Giants can cross their fingers for one in the second round.
11. Chicago Bears select Vernon Hargreaves III, CB, Florida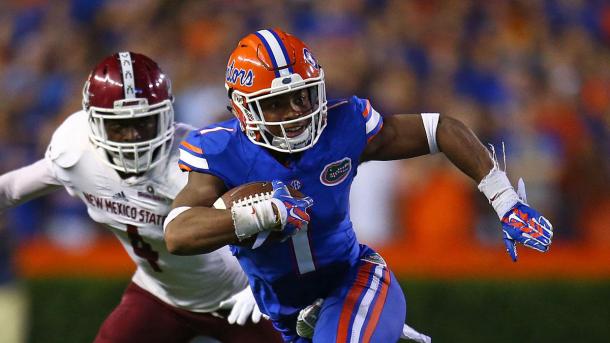 Clough: John Fox needs to continue to revamp the Bears defense. The addition of Vernon Hargreaves would go a long way to bolster the secondary. He may not be the biggest or the fastest, but he is the most well rounded corner of the group. Scouts are very impressed with his football I.Q. and his ability to play in any coverage. He may not be a shutdown corner, but he should amount to a very dependable corner.
12. New Orleans Saints select Shaq Lawson, DE, Clemson
Sena: The New Orleans Saints may still be hemorrhaging from last season's abysmal defensive performance. While it'll more than a single first round pick to stop the bleeding, it's not a bad place to start. Shaq Lawson is a pass rusher who refuses to come off the field. For every sack he recorded for the Clemson Tigers in 2015 (12.5), he's got nearly two tackles for loss (24.5 in 2015). Interior penetrations like Sheldon Rankins or Chris Jones were in play, but I consider Lawson's ability to seal and pressure from the edge just a touch more rare.
13. Miami Dolphins select Taylor Decker, OT, Ohio State
Clough: It may not be the flashiest pick for the Miami Dolphins but after the last couple of offseasons, the team could instead use some substance. In reality, the Dolphins could go in so many different ways with this pick. They need help everywhere and the team still lacks an identity. Are they a passing team or a rushing team? On defense, are the they a blitz heavy team or a rush the front four team? Nobody knows. Chances are the Dolphins are still confused about what they truly want to do from a philosophical stance. So in this draft, the Dolphins should play it safe in the first round and take the best player on the board. Here it is: Taylor Decker.
14. Oakland Raiders select Sheldon Rankins, DL, Louisville
Sena: In a shocking turn of events, the Oakland Raiders aren't bound to target a specific need out of pure desperation. One area where the Raiders can improve is consolidating two players and turning them into one. As a pair, Denico Autry and Justin Ellis do exactly what they need to as pass rusher and run stuffer, respectively, but Sheldon Rankins rolls both those traits into one wrecking ball of an athlete. Offensive tackle and defensive back are other considerations, but Rankins offers the most day one upside.
15. Tennessee Titans select Mackensie Alexander, CB, Clemson
Clough: If it was not for injuries, Mackensie Alexander would have been a top ten pick in the draft. For the Tennessee Titans, it is an excellent opportunity to secure a very talented cover corner, who could match up with any wideout in the league... when healthy. If Alexander is able to stay healthy, the Titans could wind up with the steal of the draft. After their trade with the Rams, the Titans should be looking to add not only quantity, but quality. To do so, they will need to take chances with their extra picks. Alexander is a risk at 15, but a risk worth taking.
16. Detroit Lions select Jack Conklin, OT, Michigan State
Sena: As much as it pains me to take a potential left tackle in round one (going against personal philosophy), the Detroit Lions have backed themselves into this corner by misplacing Reilly Reiff from right tackle out of pure desperation. Jack Conklin plays with power and tenacity which are both traits coaches can't teach - try as they may. Stick a tight end on Conklin's side while he develops his pass blocking and the Lions may finally see remember what it's like to have a running game.
17. Atlanta Falcons select Laquon Treadwell, WR, Ole Miss
Clough: With Roddy White moving on from Atlanta (and Atlanta moving on from him) the Falcons will need to add another wideout to compliment Julio Jones. There will not be a better compliment in this draft than Laquon Treadwell. Despite not running the 40 yard dash at the combine, Treadwell has stayed relatively healthy throughout the draft process. He bounced back nicely after his horrific injury in 2014, and he once again resembled an explosive receiver. His draft stock has dropped over the concern of his knee, but the Falcons can afford to take a chance on him, being that they already have a number one receiver.
18. Indianapolis Colts select Ryan Kelly, C, Alabama
Sena: Despite the league-wide proof that having an elite center is nearly, if not more valuable than a good left tackle, the position gets continuously overlooked in the first round. Simply put Ryan Kelly is a rough-rider with the brains to make the majority of line calls at Alabama. The resolution is simple for the Indianaplis Colts, put Kelly at center and watch Frank Gore turn back the clock to the tune of his 9th 1,000 yard season.
19. Buffalo Bills select Emmanuel Ogbah, DE, Oklahoma State
Clough: Cutting Mario Williams ended an era in Buffalo but started a new one, the reign of Rex Ryan. Granted, Ryan started coaching last season, this offseason really marks his tenure in Buffalo as a talent evaluator. Ryan will need to add a pass rushing defensive end who can supplant Williams disappointing 2015 campaign with more production.
Therefore Emmanuel Ogbah is the guy for Buffalo. Ogbah is a pure pass rusher, who has improved on his run defense and his ability to shed double teams. He was named Big 12 defensive player of the year, and he looks to take those accolades to a team who can fully utilize what he does well. If there is one thing about Rex Ryan, he likes guys who can do one or two things very well. This should be the perfect fit.
20. New York Jets select Connor Cook, QB, Michigan State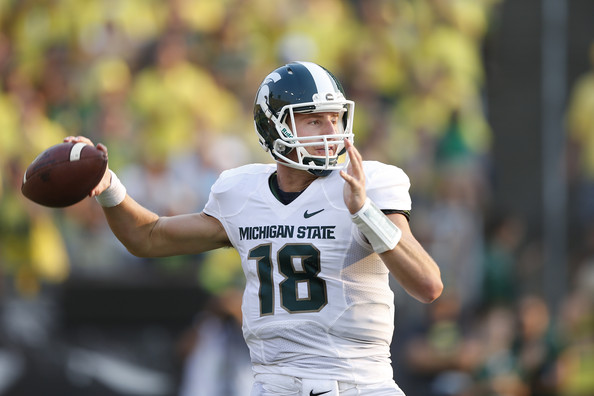 Sena: A team should never feel bad for picking a player they believe in, particularly at quarterback. For many, Connor Cook is viewed as a risky proposition because of a personality apparently derived from the Jay Cutler school or charm. Personal critiques aside, no quarterback in this class looks the part of a pro passer quite like Cook. Even if a resolution is met between the New York Jets and Ryan Fitzpatrick, Cook can be the legitimate future for the team.
21. Washington Redskins select Noah Spence, DE, Eastern Kentucky
Clough: The Washington Redskins are in a very tough position at the number 21 spot. They had an exceptional year, especially considering the pre-season expectations for Washington. They played great, but they are far from a great team. The Redskins need help at wide-receiver, running back, and in the secondary as well.
But at the 21 spot, the Redskins do not have a player on the board that matches what they need at this juncture. So what do you do? Go with the guy with the highest upside. That is Noah Spence. The Redskins defense was one of the best in 2015, and Spence will be joining a crew that will continue to develop his athleticism into one of the best pass rushers in football.
22. Houston Texans select Corey Coleman, WR, Baylor
Sena: Brock Osweiler is making a lot of money and the best way for the person writing his checks to look good is to give him good players to play with. Even with DeAndre Hopkins and promising sophomore receiver Jaelen Strong, the Houston Texans offense could stand to add an explosive element to the formula. Diminutive by some standards, all that matters is that Corey Coleman plays big, and he'll be motivated to do so in front of his home state crowd.
23. Minnesota Vikings select Kevin Dodd, DE, Clemson
Clough: The Minnesota Vikings defense played well last year, thanks to the youth of the Vikings' front seven. Anthony Barr had a terrific year, as did Eric Kendricks. Everson Griffen, Shariff Floyd and Linval Joseph make up ¾ of a defensive line under 30 as well. But the Vikings need one more guy on that front seven to solidify the unit. Kevin Dodd will fit in perfectly.
24. Cincinnati Bengals select Josh Doctson, WR, Texas Christian
Sena: The turnover at receiver for the Cincinnati Bengals can't be understated. The addition of Brandon LaFell is a fairly disproportionate solution to the departures of Mohamed Sanu and Marvin Jones. Adding another receiver would be the prudent thing for the Bengals to do, and Doctson is arguably the best receiver in a class with a very talent dense receiving group at the top.
25. Pittsburgh Steelers select Eli Apple, CB, Ohio State
Clough: Time and time again the Pittsburgh Steelers have drafted duds in their secondary and each and every year they've paid for it. Well in this draft, the right guy falls right into their laps, and the Steelers draft a 6'1'' cover corner in Eli Apple. Apple is one of the best underrated prospects in the draft and his size makes him an ideal fit for what the Steelers like to do. Apple would instantly improve a Steelers defense ranking 27th in passing yards last season.
26. Seattle Seahawks select Robert Nkemdiche, DL, Ole Miss
Sena: The immediate instinct would be to improve the Seattle Seahawks' underperforming offensive line. To borrow a classic hip-hop idiom, "scared money don't make money," and the Seahawks aren't going to be scared off by taking defensive lineman and top 15 talent, Robert Nkemdiche. While his off-field incidents and enigmatic personality may scare some teams off, I'm more impressed by the saxophone playing, multi-lingual aspect of Nkemdiche's personality. Most importantly, he's an absolute terror as an explosive and heavy-handed interior pass rusher.
27. Green Bay Packers select Jarran Reed, DT, Alabama
Clough: With B.J. Raji's surprise retirement, the Green Bay Packers are left with a void at their defensive tackle position. With only one on the depth chart, the Packers need to address the position. Thankfully for Green Bay, there is a giant one available in Jarran Reed. Reed was the anchor to the Crimson Tide's defensive line, and he compiled the third most tackles for Alabama. While he may not be the prototypical nose tackle in a 3-4 scheme, Reed could fit into the role provided enough time to adjust to the position. He is strong enough to take on double teams, and agile enough to make plays in the backfield. Reed could make Packers fans forget all about Raji.
28. Kansas City Chiefs select William Jackson III, DB, Houston
Sena: The real-life Kansas City Chiefs brass did an underrated job in free agency by retaining many of their own key contributors from last season. The one sore spot in the offseason was the signing away of Sean Smith to division rival, Oakland. Last year's first round pick, Marcus Peters, is looking better with the secondary slightly depleted, but a starter will be needed opposite of him. William Jackson is made from a similar mold of Peters and Smith by possessing the size teams look at being within the "goldilocks" zone (6'-6'3"). It also doesn't hurt that Jackson is a raptor with the ball in the air and blazes to a sub 4.4 forty.
29. Arizona Cardinals select Paxton Lynch, QB, Memphis
Clough: Most experts believe that Paxton Lynch could fall far in the first round. But those same experts believe he would fall no farther than the Denver Broncos because general manager and team president, John Elway, would secure his services to be his next quarterback. However, Lynch will never make it to the Broncos. The Arizona Cardinals need the heir to Carson Palmer. Palmer, in his late thirties, struggles to stay healthy for an entire season and the Cardinals are poised to win a Super Bowl now. If the Cardinals are going to have a realistic chance of getting into the Super Bowl, they need to have an insurance policy and proper successor to Palmer.
30. Carolina Panthers select Derrick Henry, RB, Alabama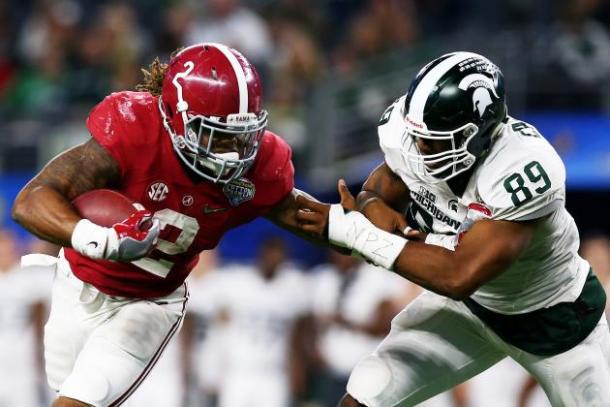 Sena: By this point in the draft, I'm mostly trying to shoehorn in my favorite players into the first round. Mississippi State's Chris Jones is pretty clearly the best player on my personal board, but there's a forbidden fruit still hanging from the prospect tree. Alabama's Derrick Henry has been criticised for the load he carried at Alabama, his lack of "spontaneous agility", and simply being too big to be an NFL running-back. All I could see is an un-Godly three-headed Cerberus consisting of Cam Newton, Jonathan Stewart, and Derrick Henry in Carolina pummeling teams into submission in the 4th quarter.
31. Denver Broncos select Kendall Fuller, CB, Virginia Tech
Clough: Aquib Talib is another year older, and the Broncos are going to need to find his successor. Kendall Fuller comes from good stock, he was a standout at Virginia Tech and will fill in nicely for the Broncos. After losing out on the quarterback they needed, the Broncos do not need to take a chance on a quarterback. But they do need to make sure the defense is as potent as it was a year ago.