 This year's NFL Draft season has been crazier than ever with both the Tennessee Titans and the Cleveland Browns who owned the first and second overall picks in this year's draft have traded their picks just weeks before the draft.
This mock draft will include realistic trade scenarios as well as a few surprises along the way. As the news, rumors and smokescreens are swirling around the league, these picks will reflect each team's positional needs as well as their recent draft history.
1) Los Angeles Rams (Trade from Titans): QB Jared Goff (Cal)
Jared Goff, the California kid will stay in his home state and play for the recently relocated LA Rams. Nobody really knows who the Rams will take first overall, but most signs point to Goff as the pick. The Rams jumped 14 spots to grab the first pick with their trade with the Titans last week, and specifically jumped the Cleveland Browns who were rumored to favor Goff over Carson Wentz, so it makes sense to mock Goff here.
2) Philadelphia Eagles (Trade from Browns): QB Carson Wentz (North Dakota St.)
The Eagles shocked the entire league when they announced they gave up the farm to trade up six spots with the Browns in order to grab their QB of the future. It has been reported that the Eagles are eyeing Carson Wentz which is obvious after what they gave up to move all the way up to the second pick. This move is a bit of a head-scratcher as the team re-signed QB Sam Bradford to a two-year contract this offseason as well as signing veteran back-up QB Chase Daniel, but NFL teams realize that having a big-time quarterback is how you advance deep into the playoffs. This is the perfect fit for Wentz as he has no pressure to play immediately and the coaching staff, specifically head coach Doug Pederson and offensive coordinator Frank Reich have experience developing young quarterbacks.
3) San Diego Chargers: OT Laremy Tunsil (Ole Miss)
The San Diego Chargers have had a terrible time keeping their Pro Bowl quarterback Phillip Rivers upright, as the team allowed the 12th most sacks all last season. If the Chargers want to keep Rivers healthy and have a chance to compete and win the division they should take the best offensive tackle in this year's draft. Tunsil is a mammoth of a man and is a heck of a football player and he does have some injury issues, but the Chargers cannot pass on the amount of talent Tunsil has.
4) Dallas Cowboys: CB/S Jalen Ramsey (Florida St.)
The Dallas Cowboys get their man in Jalen Ramsey, who has been compared to Hall of Fame cornerback Deion Sanders and the Cowboys are licking their chops once Ramsey is still available when they're on the clock. Ramsey can play both corner and safety which adds much needed versatility and depth to an already talented defensive backfield. Pairing Ramsey with the Cowboy's first round pick last year, Byron Jones would be a lethal combo for years to come.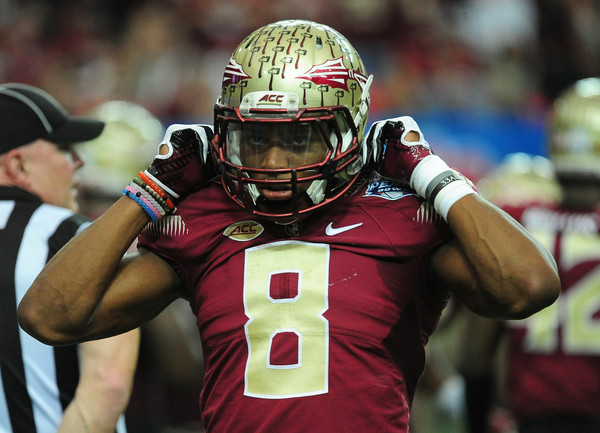 5) Jacksonville Jaguars: DE Joey Bosa (Ohio St.)
The Jaguars have proven over the last few years that they value depth and versatility along the defensive front seven, as they drafted Dante Fowler Jr. last year and added Malik Jackson in free agency this year. Adding Joey Bosa to that mix would seem to create an extremely dangeous pass rush for the Jaguars as well as major depth along the defensive line for pass rush situations as they have the right scheme for run defense with Sen'derrick Marks and Jared Odrick. Head coach Gus Bradley lives for a tough minded defense, coming from Seattle and Bosa would be the perfect fit for their defense.
6) TRADE ALERT! (Miami Dolphins proposed trade with Ravens): RB Ezekiel Elliott (Ohio St.)
This would be an enormous trade that would shake up the draft tremendously, as the Dolphins finally get their running back they've desperately needed after Lamart Miller left to join the Texans in free agency this offseason. New head coach Adam Gase loves having strong and versatile running backs like Elliott, like the backs he coached in Denver and with Matt Forte in Chicago. Elliott would be a perfect fit to go along with Ryan Tannehill to add some balance to their pass heavy offense. The Dolphins have been linked to a possible trade up for Elliott, so this mock pick makes sense.
7) San Francisco 49ers: DE DeForest Buckner (Oregon)
Yes, the 49ers have major issues at the quarterback position with Colin Kaepernick struggling ever since Jim Harbaugh left for Michigan. There are still rumors of a possible trade sendng Kaepernick to the Broncos but the Niners have been reluctant to get rid of the quarterback they've invested a ton of money in. Chip Kelly also may want to toy with Kaep and see what he can scheme up since he has proven that he can both run and passthe ball well. Kelly is also notorious for adding his former Oregon players to his teams and Buckner does make sense, as the Niners lost Aldon Smith and Justin Smith two seasons ago. Pairing Buckner with his fellow Oregon teammate Arik Armstead could make for a scary front seven for the Niners.
8) Cleveland Browns (Trade with Eagles): LB Myles Jack (UCLA)
The Browns made a very smart move by adding to their number of picks after the trade with the Eagles, which is a good move for a new and inexperienced front office. We all know that the Browns added Robert Griffin III this offseason and they are clearly planning to ride out the season with him as the starter after making the trade down to the eighth spot. Now that the Browns have a plethora of picks, they can take a high risk and high reward pick on Myles Jack, who has been slowly falling down draft boards as there were reports earlier this month that Jack has muscle and bone in his knee are "deteriorating." These reports may or may not be a smokescreen from other teams, but there are obvious concerns with Jack's long-term durability, but the Browns have a major need for athleticism on their defense after losing many key players this offseason.
9) Tampa Bay Buccaneers: OT Ronnie Stanley (Notre Dame)
Now that the Buccaneers have their QB of the future in Jameis Winston, they must build a strong and athletic offensive line to protect him. Stanley is easily the most athletic offensive lineman in this year's draft, as he relies more on his finnesse moves rather than power. He would be a perfect fit for the Bucs to match up with Donovan Smith as bookend offensive lineman for years to come. Stanley would plug right into the left tackle spot and Smith would slide over to the left side, setting up Winston for continued success.
10) New York Giants: OT Jack Conklin (Michigan St.)
The Giants did a great job adding major beef along their defensive front seven and defensive backfield this offseason by adding big time play makers such as Olivier Vernon and Janoris Jenkins, who both replace Robert Ayers Jr. and Prince Amukamara who left during free agency. The Giants let two of their starting offensive linman go in Will Beatty and Geoff Schwartz and drafting Conklin would be the perfect pick for them. They will be able to pair Conklin with their first round pick last year in Ereck Flowers establishing a young core along their offensive line to protect the aging Eli Manning.
11) Chicago Bears: CB Vernon Hargreaves (Florida)
The Bears did a nice job this offseason by shoring up the linebacker spot by adding free agents Danny Trevathan and Jerrell Freeman and they do still need speed rushers but the Bears are thin at the cornerback spot with only Kyle Fuller being their best play maker in the defensive backfield. By adding Hargreaves, it would bring another element of play making abilities to pair with Fuller. In a division that includes Aaron Rodgers, Matt Stafford, and Teddy Bridgewater, it is important to get great cover corners like Hargreaves.
12) New Orleans Saints: WR Laquon Treadwell (Ole Miss)
The Saints let one of Drew Brees' favorite targets Maques Colston go this offseason as he was aging and losing a step off the line. Adding Treadwell would be a great pick for the Saints as it would add another big target for Brees to go along with Brandin Cooks and newly acquired tight end Coby Fleener. Pairing Treadwell's height and speed with Cooks' speed and hands would be a big time combination for Brees and the Saints.
13) Baltimore Ravens (Proposed trade with Dolphins): OLB Leonard Floyd (Georgia)
Earlier, I proposed the trade down for the Ravens with the Dolphins: The Ravens lost Chris Canty and Courtney Upshaw this offseason and Terrell Suggs is coming off a major injury and is at the end of his career. Drafting Floyd would make a ton of sense as the Ravens have a major need for a pass rusher and Floyd is a great fit.
14) Oakland Raiders: DT Jerran Reed (Alabama)
As usual, the Raiders spent a ton of money this offseason adding Bruce Irvin and Sean Smith to their defense, but the Raiders still have a need for some size on their front seven. Drafting Reed would add to an already dangerous looking Raider defense, and Reed could simply be the final piece to make their defense one of the best in the NFL. The Raiders are serious about contending in the AFC West next year and for years to come, so they really need a strong draft to put their money where their mouth is.
15) Tennessee Titans (Trade with Rams): OT Taylor Decker (Ohio St.)
The Titans made a smart move that everyone saw coming by trading out of the number one pick, but nobody thought they'd fall this far down in the draft. It made sense though as they already have their QB in Marcus Mariota, who tends to scramble around he pocket. The Titans have a very young and inexperienced offesnive line, so adding Decker would be a good move for them and would show that they value the health and protection of their young star quarterback.
16) Detroit Lions: G Cody Whitehair (Kansas St.)
After losing superstar wideout Calvin Johnson to an early retirement, the Lions did their best by trying to fill that major void by adding veteran wideout Marvin Jones in free agency. The Lions also lost veteran lineman Manny Ramirez to the Bears in free agency, so the interior offensive line is a major need. They have a promising guard in Laken Tomlinson that they selected in last year's draft, so adding Whitehair to plug into the right guard spot would be a good move. Whitehair is an experienced lineman who has the football IQ you want in a player after being coached by college football legend Bill Snyder for four years. Protecting Matt Stafford has also been an issue every year for the Lions.
17) Atlanta Falcons: LB Darron Lee (Ohio St.)
This year's draft is going to be dominated by Ohio State Buckeyes, as there is a chance that six of them get taken in the first round. The Falcons have a major need for a play making linebacker to add to their young defense who got a lot better last year. The Falcons made good moves this offseason by adding some beef on the defensive line in free agency, so drafting a smart linebacker like Darron Lee would be a good fit for Dan Quinn's defense.
18) Indianapolis Colts: S Vonn Bell (Ohio St.)
The Colts have big holes in their defensive backfield, so they could go either corner or safety at this pick, but the loss of Dwight Lowery in free agency does hurt. Adding Vonn Bell to the back end of that Colt's secondary would add some pop and play making abilities to compliment pro bowl corner Vontae Davis.
19) TRADE ALERT! (Denver Broncos proposed trade with Bills): QB Paxton Lynch (Memphis)
This is a huge trade and a real possibility for the Broncos as they only have Mark Sanchez and Trevor Semien on their roster. John Elway has been quiet all offseason after Peyton Manning retired and Brock Osweiler chased the money all the way to Houston. Elway takes gambles and he isn't afraid to make a bold move. The reason they move to this spot is because the Jets are waiting right behind at number 20, hungry for a quarterback as they have refused to re-sign Ryan Fitzpatrick. Lynch has recently been compared to Osweiler, but having weapons like Demariyus Thomas and Emmanuel Sanders, it would be hard not to succeed.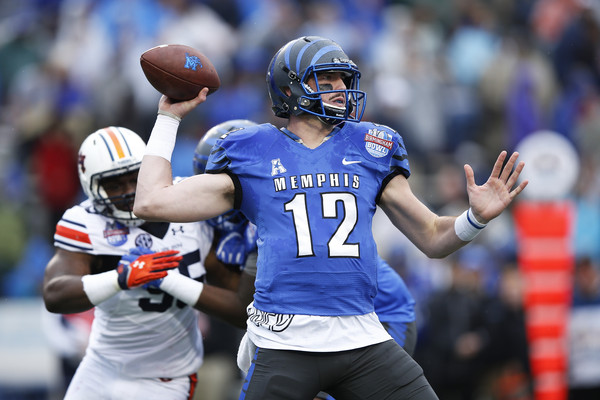 20) New York Jets: LB Reggie Ragland (Alabama)
Well, the Jets lose out on the Paxton Lynch sweepstakes but they still have time to try to bring back Ryan Fitzpatrick which I believe they will get a deal done at some point. But they get a great player here in Reggie Ragland. The Jets have some holes at the inside linebacker spot and Ragland would be perfect in Todd Bowles' 3-4 defensive scheme.
21) Washington Redskins: NT Andrew Billings (Baylor)
The Redskins had a great comeback year last year thanks to the play of Kirk Cousins and an improved defense, but there are still some holes on the defensive side of the ball for Washington. Terrance Knighton left for New England earlier this month so adding a young nose tackle like Andrew Billings would fill that void that Knighton left. Billings is an enormous player and would fit Washington's defensive scheme well.
22) Houston Texans: TE Hunter Henry (Arkansas)
The Texans finally made a splash and signed Brock Osweiler to a huge deal this offseason and also got rid of Brian Hoyer earlier this month after his dreadful performance in the AFC Wildcard game against the Chiefs. The Texans have their star wideout in De'Andre Hopkins and a few other solid receivers as well as Lamar Miller at runningback after releasing Arian Foster. The only thing they are lacking of all the offensive skill positions is a impact tight end. Henry had a stellar year at Arkansas this year, so adding Henry would expand this Texans' offense and give Osweiler yet another reliable target.
23) Minnesota Vikings: WR Josh Doctson (TCU)
The Vikings had a surprise year after winning the NFC North over the Green Bay Packers and they are now looking to add to their talented young team and try to build off of last year's success. Another surprise last year was their fifth round pick Stefon Diggs. Adding Doctson would add size and speed to an already freakishly fast wide receiver core for Minnesota.
24) Cincinnati Bengals: WR Corey Coleman (Baylor)
Cincinnati had a tough offseason this year, losing both Mohamed Sanu and Marvin Jones, as well as Leon Hall and Reggie Nelson. Now that the Bengals have lost two of their impact receivers, adding the speedy Corey Coleman along with free agrent signing Brandon LaFell would make a ton of sense and add a nice mix of speed and playmakers to go along with AJ Green.
25) Pittsburgh Steelers: CB William Jackson III (Houston)
The Steelers have prided themselves on having a consistently tough minded defense, but that mindset has somewhat faded over the years. William Jackson has the skill sets that great corners need: speed, size, and athleticism. The Steelers have a need for a strong playmaker at the corner position as it has been a revolving door for players the last couple years.
26) Seattle Seahawks: OT Le'Raven Clark (Texas)
Seattle lost one of their key offensive lineman this offseason in Russell Okung to the Broncos and JR Sweezy to the Buccaneers. They did add a couple smaller pieces to their offensive line but nobody who can make an impact along that offensive front. The Seahawks are in desperate need of a big body to play on Russell Wilson's blind side and Clark could be that guy who starts day one at left tackle.
27) Green Bay Packers: DT Sheldon Rankins (Lousiville)
The defensive tackle spot has been an issue the last few seasons for the Packers as BJ Raji had struggled ever since the Packers' run to their last Super Bowl. Now Raji has surprisingly retired this offseason so taking Rankins makes a ton of sense as he has been mocked as high as top 15 in some mock drafts. Rankins is a big bodied guy who would fit well with Dom Capers' defense.
28) Kansas City Chiefs: CB Eli Apple (Ohio St.)
The Chiefs were extremely happy with the outcome of Marcus Peters' rookie season, as he won Defensive Rookie of the Year award, but the Chiefs lost their top veteran corner in Sean Smith to their division rival Oakland Raiders. The Chiefs were able to keep Eric Berry around with the franchise tag, so their defensive backfield is not completely depleted. But adding Eli Apple through the draft would be enormous for the Chiefs, if he falls to them at 28. Lining up Apple across from Peters would be a dynamic duo that would lessen the blow of losing Sean Smith.
29) Arizona Cardinals: DE Shaq Lawson (Clemson)
Arizona is in a really good spot, as they have a very talented team with not many holes to fill. The only thing the Cardinals need to do is add depth and talented young players to both sides of the ball. Arizona made a blockbuster trade earlier this offseason with the Patriots, acquiring Chandler Jones in exchange for Jonathan Cooper. You can not have too much depth at the defensive end position so adding Lawson would be a smart pick for Arizona.
30) Carolina Panthers: CB Mackensie Alexander (Clemson)
The Panthers made a shocking move, rescinding the franchise tag on pro bowl cornerback Josh Norman early this week. Norman is commanding major money that the Panthers believed could be used elsewhere. The scheme Carolina runs is relied upon their linebackers and pass rushing defensive lineman, so adding a young corner like Alexander would be a smart move as he could rely on guys like Charles Johnson and Luke Kuechly to get to the QB.
31) Buffalo Bills (Propose trade from Broncos): DE/LB Noah Spence (Eastern Kenctucky)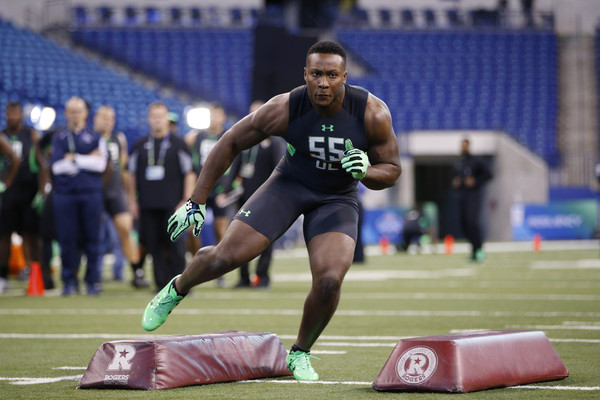 Earlier I had the Broncos trading up to the 19th spot to grab Paxton Lynch before the Jets could get their chance, which is why the Bills are at the 30th pick. Bills' GM Doug Whaley likes to maneuver throughout the draft so this could be a good move for Buffalo as they add more picks for this year. Head coach Rex Ryan loves having tough pass rushers and Spence is a perfect fit in their hybrid 3-4 defense. After losing Mario Williams to Miami in free agency, Spence is a plug and play guy at the stand-up defensive end and outside linebacker spot.