 The Draft is the Super Bowl of the NFL offseason. As odd as it might sound, the spectacle surrounding the draft has become as coverable an event as the NFL season which precedes it. As far as good T.V. goes, there's little matching the draft's intrigue and drama.
Central to all the speculation are the hundreds of mock drafts published daily leading up to the event. NFL writer Richard Sena's previous attempts detail the evolution the draft takes after free agency, athletic testing, team visits, and medical re-checks have all gone by the way side.
In a final and futile attempt at accuracy, Richard Sena's final mock draft of 2016:
1. Los Angeles Rams select Jared Goff, QB, California
It's virtually written in the stars at this point. There's little doubt Jared Goff won't be swapping Cal's Berkeley blue and California gold for the Los Angeles Rams' new century blue and millennium gold.
2. Philadelphia Eagles select Carson Wentz, QB, North Dakota State
While Eagles G.M. Howie Roseman contemplates the ongoing debate of vanilla vs. chocolate and pepperoni vs. salami, everyone knows his eyes are on North Dakota Bison jerky, quarterback Carson Wentz.
3. San Diego Chargers select Laremy Tunsil, OL, Ole Miss
While the Chargers have invested heavily into the tackle position within the past two seasons, the unreliability of left tackle King Dunlap has made San Diego's offensive line a victim of attrition. Laremy Tunsil has been long considered the draft's best left tackle, and an investment for both the present and the future for the Chargers.
4. Dallas Cowboys select Jalen Ramsey, DB, Florida State
It seems the Cowboys have been in consideration for just about every position at fourth overall. Roundly considered the draft's best overall player, Jalen Ramsey could join a already ascending Cowboys defensive backfield, joining Byron Jones and Orlando Scandrick.
5. Jacksonville Jaguars select DeForest Buckner, DL, Oregon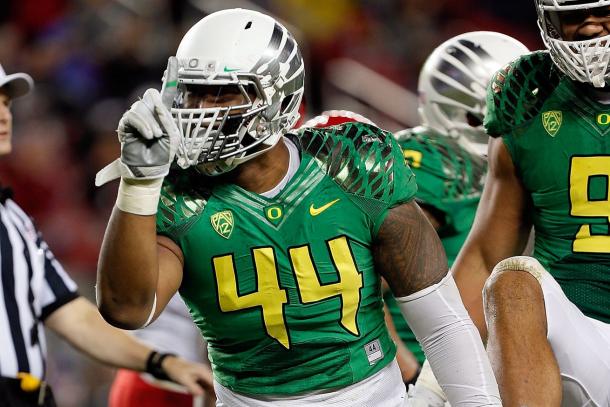 The Jaguars put a lot of money into their defense this offseason by adding big names like Malik Jackson and Prince Amukamara. The team could double down at defensive line with DeForest Buckner, who would make for a formidable interior partner alongside the returning Sen'Derrick Marks.
6. Baltimore Ravens select Joey Bosa, Edge, Ohio State
The Baltimore Ravens' defensive shortcomings are out of character for a historically dominant franchise on that side of the ball. Bosa is a "step right in" type player who would help the Ravens return to the glory years.
7. San Francisco 49ers select Ronnie Stanley, OL, Notre Dame
Despite the obvious need for quarterback, the 49ers are likely going to lock in on rebuilding the offensive line. Ronnie Stanley is reported to be neck-and-neck with Laremy Tunsil and should help re-establish the team's dominance in the trenches.
8. Cleveland Browns select Jack Conklin, OL, Michigan State
There seems to be a lot of confidence going around NFL front offices when Browns G.M. Sashi Brown declares he's "locked in" to a player at eight overall. While he may be had in a trade back scenario, Jack Conklin is the type of player NFL teams covet because of his toughness, athleticism, and physicality.
9. Tampa Bay Buccaneers select Leonard Floyd, LB, Georgia
Late risers are often players who were tough placements throughout the mock draft season. While not fitting traditional edge rusher or linebacker profiles, the hyper athletic Leonard Floyd the type of guy someone picks first in a pick-up game before seeing him take a shot.
10. New York Giants select Josh Doctson, WR, Texas Christian
While the Giants invested heavily on the defensive side on the ball in free agency, the team is currently expected to start Dwayne Harris opposite Odell Beckham. Somehow flying under the radar, Josh Doctson possesses all the athletic ability and production befitting of a top receiver.
11. Chicago Bears select Shaq Lawson, Edge, Clemson
Like the Giants, the Bears have been aggressive in addressing defense this offseason. Shaq Lawson is a bull off the edge and can be an interchangeable chess piece alongside Pernell McPhee and Lamarr Houston.
12. New Orleans Saints select Sheldon Rankins, DL, Louisville
There's no shortage of negative hyperbole when it comes to describing the Saints' defense in 2015. Sheldon Rankins is arguably the draft's best interior defensive lineman because of his ability to both rush the passer from the inside and stop the run on early downs.
13. Miami Dolphins select Ezekiel Elliott, RB, Ohio State
As much as the Dolphins staff wants to sing Jay Ajayi's praises in public, actions speak louder. Elliott is more than a consolation prize for missing out on C.J. Anderson and losing Lamar Miller in free agency.
14. Oakland Raiders select Myles Jack, LB, UCLA
Just a little over a week ago, the thought of Myles Jack making it out of the top 10 was ludicrous. Considering the medical concerns centering on Jack's knee, the Oakland Raiders could end up taking a top five talent in the middle of round one.
15. Tennessee Titans select Vernon Hargreaves, DB, Florida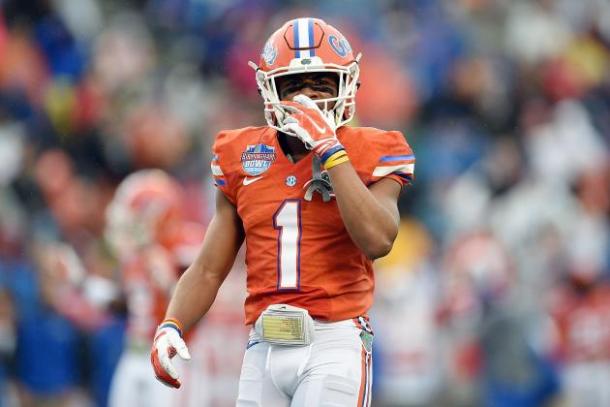 When the Titans traded to out of first overall to 15th, they surely believed they were making the right choice in spite of the drop in value. Vernon Hargreaves falling presents one of the best case scenarios if he happens to fall.
16. Detroit Lions select Taylor Decker, OL, Ohio State
While having a glaring hole isn't necessarily a good thing in the grand scheme, it does make the draft a more linear process. Taylor Decker can step in right away to play left tackle and more stand-out right tackle Reilly Reiff back to his natural position.
17. Atlanta Falcons select A'Shawn Robinson, DL, Alabama
Although there are some receivers the Falcons may be tempted to take here, the responsible pick remains on defense. Looking like 21 going on 31, A'Shawn Robinson is more than a formidable interior presence, but also a player well beyond his years as a leader.
18. Indianapolis Colts select Ryan Kelly, OL, Alabama
Last year, the Colts felt they were good enough to take a luxury player in Philip Dorsett. While Dorsett may develop into a good receiver, this year's pick has to right last year's wrongs. Ryan Kelly is widely considered the draft's best center, and a good fit with the cerebral Andrew Luck.
19. Buffalo Bills select Jarran Reed, DL, Alabama
Of all the teams in this year's draft, the Bills seem to be the subject of much pre-draft gossip. The most logical rumor coming out of Buffalo centers around their infatuation with Jarran Reed, who could allow Marcell Dareus to return to a pass rushing role in a speculated move to the 3-4 defense.
20. New York Jets select Eli Apple, DB, Ohio State
After about seventh overall, the chasm to where the next quarterback will go is deep and wide. The Jets may very well take someone like Paxton Lynch or Connor Cook, but the best course of action may be building on a strength and keeping the defense strong with another corner like Eli Apple.
21. Washington Redskins select Chris Jones, DL, Mississippi State
The Redskins may still be on a high after their late free agency signing of Josh Norman, but the draft could be an opportunity to land another superstar in a 2 week span. Chris Jones is a similar type player to who G.M. Scot McCloughan passed in last year's draft, Leonard Williams.
22. Houston Texans select Will Fuller, WR, Notre Dame
Bucking the trend of investing in defense this offseason, the Texans spend a lot of capital re-making the offensive side of the ball. Former Notre Dame speedster, Will Fuller, offers a game breaking element alongside DeAndre Hopkins and promising sophomore receiver, Jalen Strong.
23. Minnesota Vikings select Keanu Neal, DB, Florida
There is a perception that the Vikings will take a receiver regardless who is available when they pick in the draft. G.M. Rick Spielman knows what it's like to take a player based off need (*cough* Christian Ponder) and likely won't double down on that strategy. Keanu Neal is a physical and hard-hitting safety made for the Mike Zimmer mold.
24. Cincinnati Bengals select Corey Coleman, WR, Baylor
Year in, year out, it seems the Bengals are in the same situation in the draft: pick the best player available in the 20s. While no one outside of the Bengals organization is privileged enough to have eyes on the their board, Corey Coleman makes a lot of sense from both a value and need standpoint.
25. Pittsburgh Steelers select William Jackson III, DB, Houston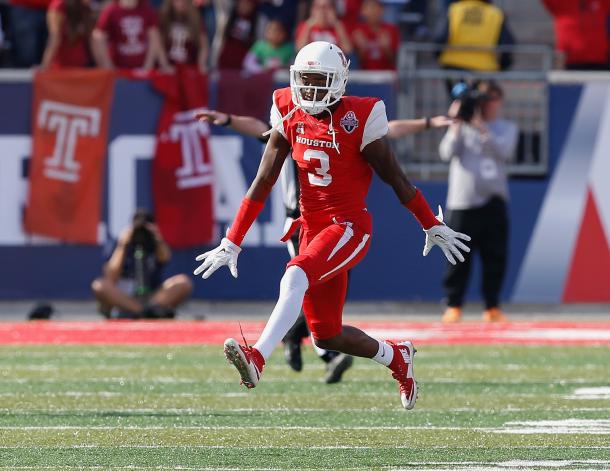 Like division rival Baltimore, the Steelers are in an awkward position to address the defensive side of the ball as virtually a requirement. With defensive back being the glaring hole on the roster, William Jackson makes sense as the likely second or third best cornerback on the board.
26. Seattle Seahawks select Robert Nkemdiche, DL, Ole Miss
The later in the draft progresses, the more unpredictable it becomes. Perhaps no player exemplifies unpredictability (both on and off the field) than Robert Nkemdiche, who's enigmatic personality may be a natural fit on Pete Carroll's Seahawks.
27. Green Bay Packers select Darron Lee, LB, Ohio State
As a mainstay in the late 20s, the Packers have a lot of experience finding value in the late first. In this case, value find them with linebacker Darron Lee, who was faster than most of the receivers in this class.
28. Kansas City Chiefs select Artie Burns, DB, Miami
The Chiefs did an underrated job in free agency by retaining many of the key starters and adding a top right tackle in Mitchell Schwartz. Perhaps biggest question mark comes as a result of losing cornerback Sean Smith. Artie Burns is a late riser in the first round conversation, but has the athleticism and length to be there.
29. Arizona Cardinals select Vernon Butler, DL, Louisiana Tech
A common thread among teams picking in the late first round is they're made of players acquired through the draft. The Cardinals have built a strong roster through the process and have an opportunity to take an impact player alongside Calais Campbell in Vernon Butler, who projects as an interior penetrator at 324 pounds.
30. Carolina Panthers select Emmanuel Ogbah, Edge, Oklahoma State
The rescinding of cornerback Josh Norman's franchise tag was a move indicating how G.M. Steve Gettleman looks at team building. With an inside-out approach on defense, Gettleman could look at making a play on potential with Emmanuel Ogbah.
31. Denver Broncos select Cody Whitehair, OL, Kansas State
If there's one truth about Broncos G.M. John Elway, it's that he won't ever be leveraged into taking a player other than the next guy on his board. Cody Whitehair may be that, but he also fills a role from day one on the offensive line as either a guard or center.