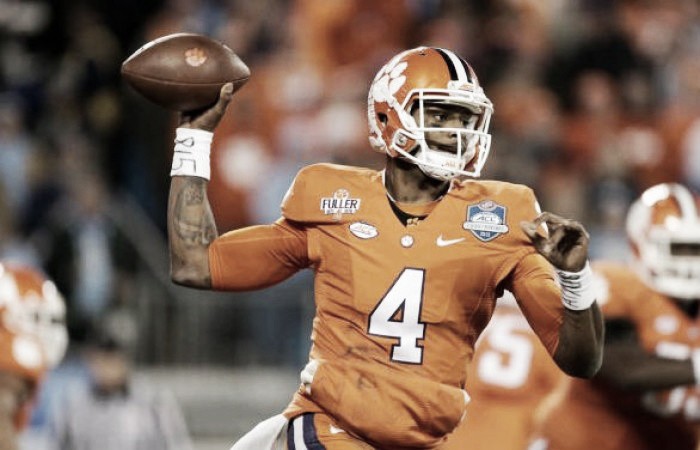 Had enough NFL Draft talk?
Yeah, I know…
Me neither!
Therefore, its never too soon to look at next year's crop of prospects and begin to 'mock' where they could end up.
But what can be gained by mocking next year's prospects? The real purpose of this mock will be to introduce the players in college football that we all should pay attention to this fall. We can also get an idea of what kind of draft we could see next April as well.
For example, in this year's draft there was a ton of talented youngsters in the trenches. In the 2016 draft, 12 picks in the first round were either offensive or defensive lineman, seven picks were in the secondary, four were receivers, three quarterbacks and one was Ezekiel Elliott.
This year's 2017 draft will once again have numerous offensive and defensive lineman and secondary player to choose from, but the real story could be the number of running backs that go in the first round. The last time three running backs were selected in the first round was 2010, and we could once again see that in 2017 with the likes of Leonard Fournette, Dalvin Cook, Nick Chubb and Samaje Perine entering the mix.
What about the quarterbacks of the draft? Are there any signal-callers in college that could alter the fate of an NFL franchise, for the better? As of now, there is not many. 2013 was the last year there was only one quarterback taken in the first round (E.J. Manuel to Buffalo), and there is a good chance we could see that again in 2017.
DeShaun Watson, quarterback of the Clemson Tigers, is the early favorite to be the top selection in the draft, but there are still many that question his abilities on the NFL level. Thankfully he and others will have the entire 2017 year to cement his first round status.
2017 NFL Mock Draft Picks
1) Cleveland- Cam Robinson, OT, Alabama
2) San Francisco- DeShaun Watson, QB, Clemson
3) Miami- Leonard Fournette, RB, LSU
4) Detroit- Jabril Peppers, CB, Michigan
5) Atlanta- Myles Garrett, DE, Texas A&M
6) Cleveland- JuJu Smith, WR, USC
7) Denver- Tre'Davious White, CB, LSU
8) Tennessee- Adoree Jackson, CB/WR, USC
9) San Diego- Roderick Johnson, OT, Florida State
10) Kansas City- Davon Godchaux, DE/DT, LSU
11) Washington- Dalvin Cook, RB, Florida State
12) New York Jets- Jamal Adams, S, LSU
13) New Orleans- Malachi Dupre, WR, LSU
14) Tennessee (from St. Louis)- Mike Williams, WR, Clemson
15) Cleveland (from Philadelphia)- Ethan Pocic, C/G, LSU
16) New York Giants- Greg Pyke, OT, Georgia
17) Buffalo- Desmond King, CB, Iowa
18) Cincinnati- KD Cannon, WR, Baylor
19) Tampa Bay- Nick Chubb, RB, Georgia
20) Arizona- Gunner Kiel, QB, Cincinnati
21) Pittsburgh- Jalen Tabor, CB, Florida
22) Oakland- Derek Barnett, DE, Tennessee
23) Green Bay- Nate Andrews, S, Florida State
24) Indianapolis- Malik McDowell, DT, Michigan State
25) Minnesota- Sam Hubbard, DE, Ohio State
26) Houston- Marquis Haynes, DE/OLB, Missouri
27) Carolina- Carl Lawson, DE, Clemson
28) Baltimore- Travin Dural, WR, LSU
29) Seattle- Cameron Sutton, CB, Tennessee
30) Baltimore- OJ Howard, TE, Alabama
31) Dallas- Jake Butt, TE, Michigan
32) New England- Mike McGlinchey, OT, Notre Dame