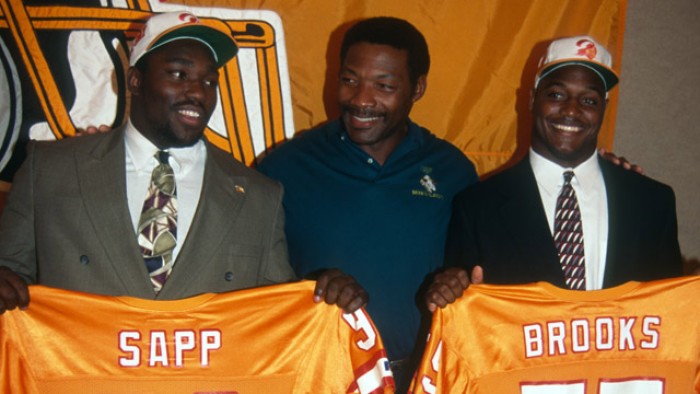 When you think of star-studded sports franchise, your mind immediately goes to the New York Yankees, The Chicago Bulls, and The Greenbay Packers. Tampa hasn't had many big name players, but which players make their top ten? A franchise known for its defense, the Bucs became a franchise in 1976 while going 0-14 with Steve Spurrier at quarterback and Dave Pear as the team MVP. Their first playoff berth was in 1979 when they won the NFC Central division. After going through multiple managers—such as John McKay, Tony Dungy, and currently Dirk Koetter; where does each player rank in the history of Tampa?
10. John Gruden, HC 2002-2008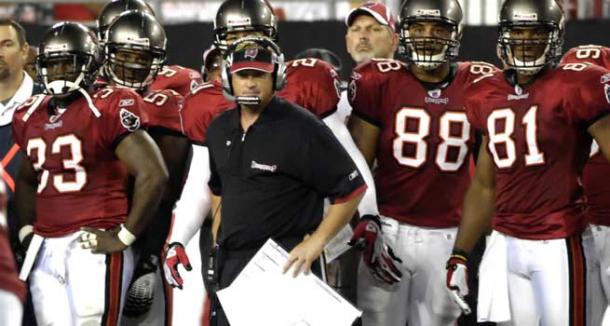 Taking over the team in 2002 after leaving the Oakland Raiders, John Gruden was handed one of the greatest defenses of all-time. A defense that included players such as Derrick Brooks, John Lynch, Corey Ivy, Simeon Rice, Warren Sapp and of course, Ronde Barber, the defense was nearly unstoppable.
In Gruden's first year with the team he led them to their best record in club history, with a 12-4 record and six different Pro-Bowlers. Not only would they have the best record in football under Gruden's leadership, but they made the post-season.
In the 2002 NFC Championship game, Gruden and the Bucs went up against The Philadelphia Eagles, pitting Brad Johnson against Donovan McNabb. With Tampa Bay having a small lead in the 4th quarter, McNabb has a 73-yard drive to pressure the defense with under 4 minutes left in the game. McNabb, on the 8-yard line, passes to one of his receivers when Ronde Barber picks it off and runs 92 yards for a touchdown. The touchdown took Tampa to their first Super Bowl. In the Super Bowl, Gruden would face his old team in one of the most controversial wins in the franchise. Why? Because Gruden knew Oakland's entire playbook. This was Tampa's first of two major sports championships (the other being the Lightning, who took home the Stanley Cup a little over a year later). Gruden has more wins as a coach than any other Bucs HC in history.
9. Doug Williams, QB 1978-1982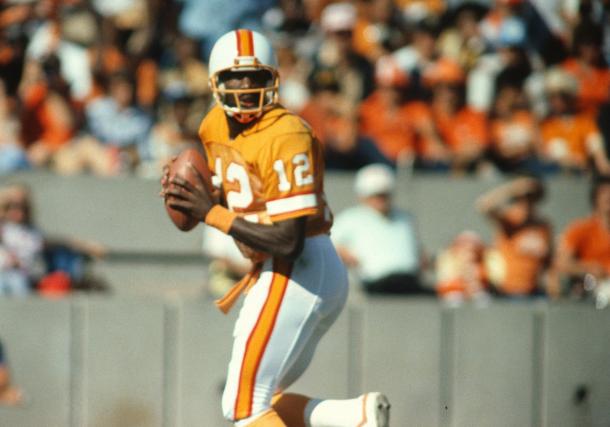 According to many, the greatest quarterback in Tampa Bay history, Williams was drafted 17th overall in the draft. He joined a franchise that had a 2-24 record over their first two seasons. Williams quickly turned around the Tampa Bay football team as he took the franchise to its first three post-seasons in his short-lived, four-year tenure. Williams had 12,648 passings yards in 73 touchdowns as a Buccaneer. Though his time is short, his impact is still in effect today.
8. Warrick Dunn, RB 1997-2001; 2008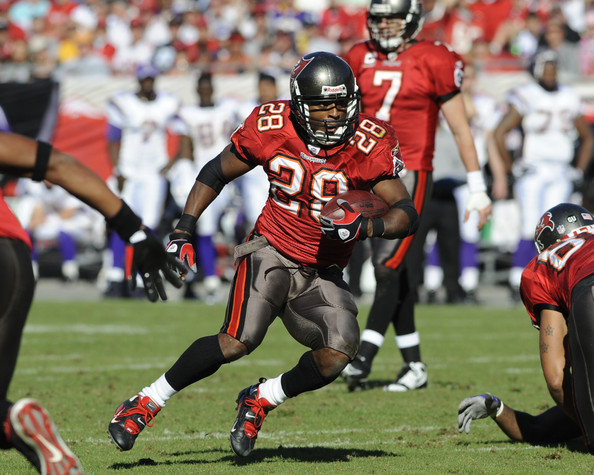 Much like Doug Williams, Warrick Dunn was drafted in 1997 and only stayed for four years, before retiring as a Buccaneer in 2008. As the 1997 Rookie of the Year; Dunn was elected into three different pro-bowls in the Tampa area. In 306 receptions in Tampa, he ran it for a total of 6,713. Because of his tenure with the Bucs (and rival Falcon's), Warrick Dunn is a member of the 10,000 rush club, with a 4.2 rush average and 49 rushing touchdown's in his career. Warrick Dunn was released in February 2009.
7. Tony Dungy, HC 1996-2001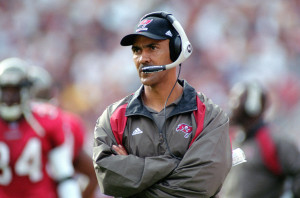 In easily the most fun coach in the history of the franchise, Tony Dungy made this team what it was. Being only the second head coach in Buccaneer history (other being Sam Wyche) to have a winning record, Dungy got hired as the head coach in 1996. His first action as head coach? Set to coach the greatest draft class of all-time (Sapp, Brooks, Jerry Wilson and Marcus Jones), Tony Dungy put together one of the greatest defensive machines that the game of football has ever seen. In addition to Brooks and Sapp, Bucs' legends John Lynch and Ronde Barber are also on the defensive side of things. Dungy, putting together the most memorable Tampa team of all-time, led them to the post-season. In the 1999 NFC Championship game against the St. Louis Rams, Dungy was about to get the win to take the Bucs to their first Super Bowl when Bert Emanuel catches it on his knees....the touchdown doesn't count. Tampa loses the game. Dungy was released the next year. He will take his rightful place in Canton later this year.
6. John Lynch, Safety 1993-2003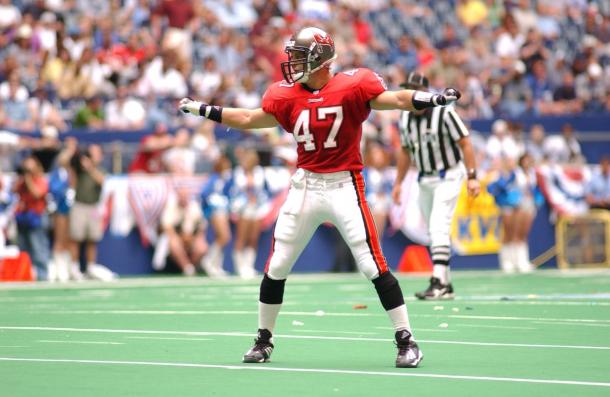 A man who played a pivotal role in the 2002 Bucs Super Bowl win, Mr. Lynch was drafted in the third round of the 1993 NFL draft. The most clutch player on the '90s Buccaneer squad, Lynch is regarded by a plethora of peers as one of the best players of the generation.
"John Lynch didn't just play the position, he occupied a spot in your mind and you had to be aware at all times he was on the field."~~Barry Sanders
Being elected into 6 Pro Bowls with Tampa (9 overall, 3 with the Denver Broncos), Lynch would (and could) knock you out by a simple hit. It was like running into a truck.
John Lynch is the only person to have a Super Bowl ring and be elected into nine different Pro Bowls to not have a bust in Canton, though he's been a finalist the past few years. On January 22nd of this year, it was announced that John Lynch will join some of the greatest players in team history in the Ring of Honor. Lynch will likely receive his Hall of Fame induction within the next few years.
Honorable Mentions: Vincent Jackson, Paul Gruber, Jimmie Giles, Brad Johnson, Tony Mayberry, Ricky Bell, Simeon Rice, David Logan
Best of the Worst: Kyle Brindza, Trent Dilfer, Arrelious Benn, Josh Freeman, Raheem Morris, Greg Schiano
Future 4: Jamies Winston (QB), Doug Martin (RB), Mike Evans (WR) and Austin Seferian-Jenkins (TE).
2016 Draft Picks: Vernon Hargreaves III, Roberto Aguayo, Noah Spence, Ryan Smith, Caleb Benochoch, Dan Vitale, and DeVante Bond
5. Lee Roy Selmon, Defensive Tackle, 1976-1984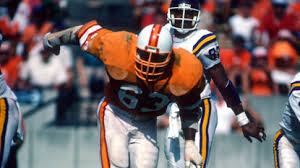 The first Buccaneer to ever be inducted into the HoF (1995), and to be inducted in both the Ring of Honor and Krewe of Honor, Selmon spent his entire career with the Bucs after being drafted first overall in 1976.
Being described by Monte Clark as a "man playing amongst boys", Selmon won the team's first-ever MVP award and their Rookie of the Year award. While making the All-80s team for the NFL, Selmon played until 1984. In 8 years in the NFL, Selmon was in 6 different Pro-Bowls and was the 1981 Pro-Bowl MVP. With 6 awards and 742 tackles, the defensive end's career would end way too soon as a back injury kept him out. Tampa Bay would retire his number (#63).
4. Mike Alstott, Fullback 1996-2007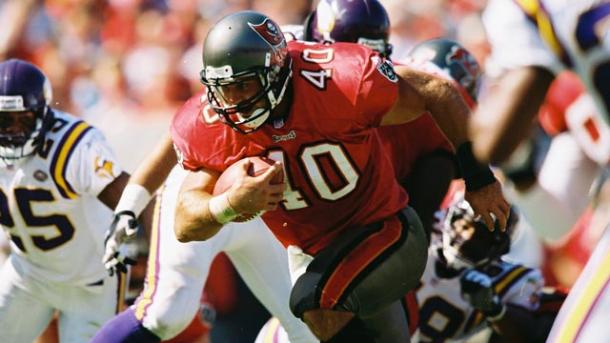 In a total of 158 career games (all played with Tampa), Alstott had 48 touchdowns and 324 first downs. Only fumbling 23 times overall in his career, Alstott has to be considered one of the greatest fullbacks's in the history of football. Alstott was one of the main weapons's on Gruden's (or Dungy's, however, one may look at it) Super Bowl team. Rightfully named the "A-Train", Alstott could run through anyone and truck them in only a matter of seconds. Alstott, who still had a few years left in the tank, had a career-ending neck injury in 2007. Right before the neck injury, he appeared in a Fantasy Football commercial with ex-teammate Warrick Dunn. Alstott, the most beloved player in the franchise, was inducted into the Bucs Ring of Honor in 2015.
3. Ronde Barber, Corner Back 1997-2012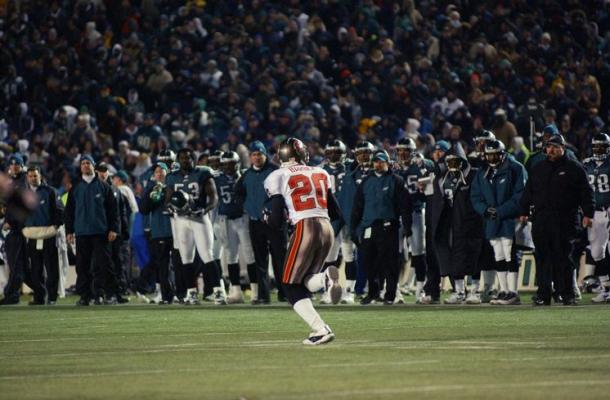 Playing his entire 16-year career in Tampa, Ronde Barber set multiple football records, such as the most sacks from a cornerback and the most consecutive games for a cornerback. With 47 interceptions, 923 yards, and touchdowns, Barber was a staple in the now-legendary Tampa Bay defense. Perhaps the most memorable play in the history of Tampa was the most clutch....As explained previously, Donavon McNabb of the Eagles goes for the touchdown on the 8-yard line to tie up the game. Barber intercepts the pass, running it in the in-zone 90 FT away. This was the game that took Tampa to their only Super Bowl. Retiring at age 37, Ronde Barber is arguably the greatest Buccaneer ever. Ronde Barber is a Hall-of-Famer in every sense of the term. Ronde Barber redefined the nickel and is top three Buccaneers of all-time.
2. Derrick Brooks, Linebacker/President 1995-2008, 2011-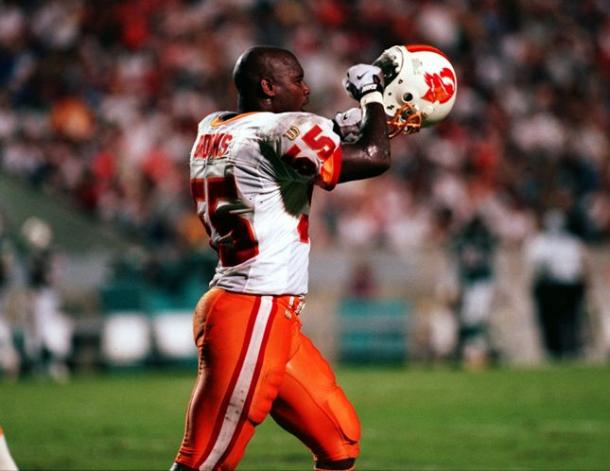 Although he's mainly known for a Super Bowl commercial, former FSU Lineman and 2014 Pro Football Hall of Fame inductee, Derrick Brooks is one of the greatest linebackers to ever step foot on a football field. Brooks played for the Bucs for almost a decade and a half. Brooks also played a key role in the Super Bowl run. The Bucs (who moved up a round to draft Brooks) took him in the first round of the 1995 draft, and they wouldn't regret it. The man who would go on to become the franchise of the TB Buccaneers, Derrick Brooks was a 9-time All-Pro and played in 11 different Pro Bowls. Brooks would not only have his #55 retired, but he'd enter the Hall of Fame in 2014. He currently serves as the president of the Buccaneers.
Who is #1?
After going through players like Lee Roy Selmon, Mike Alstott, and Doug Williams, who made #1?
1. Warren Sapp, Defensive Tackle 1995-2003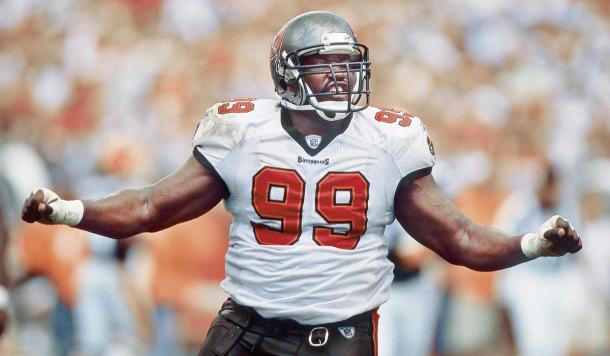 Warren Sapp, much like Derrick Brooks, was drafted by the Bucs in the first round of the 1995 draft. The 2013 Hall of Fame inductee made both the 1990s All-Decade team and then again for the 2000s. Sapp has hard more success on the field than any other Bucs player in history; including Derrick Brooks. Prior to enjoying a brief stint with The Oakland Raiders, Sapp played in 140 total regular season games and nine post-season games (including Super Bowl XXXVII).
Running the 40-yard-dash quicker than any other DB in franchise history, he signed an extension in 1998 worth 6 million a year for 6 years. One of the very few people in the history of the franchise immediately given the starting sport, Sapp is second in franchise history in career sacks, behind the late, great Lee Roy Selmon. Nobody did their job better in a Tampa uniform than Warren Sapp. The #99 is retired and he was inducted into the Tampa Bay Ring of Honor the same year he'd enter the Hall of Fame.
Will someone like Jameis Winston overtake Sapp for #1? Would Sapp or Brooks have been as good if they didn't have each other? What would the franchise be like today if Lee Roy Selmon didn't have to retire? Though we may never know and always debate, as of this moment these are the greatest Buccaneers (and worst) of all-time.