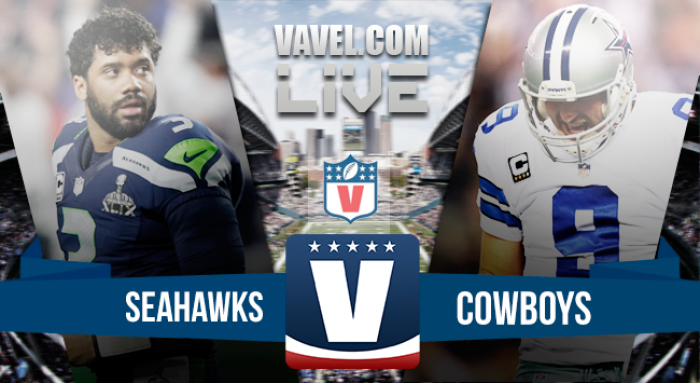 Thanks for following along here on VAVEL. This is Ben Rosener signing off.
Dallas will next take on the Houston Texans at home. The Seahawks will hit the road for their preseason finale. Seattle will play the Oakland Raiders.
On the other side of the ball, Russell Wilson turned in an excellent showing for Seattle. The quarterback completed 16 of 21 passes for 192 yards and two touchdowns. He also added three carries for two yards. Despite the low rushing totals, the quarterback did well to scramble and avoid pressure from Dallas' defense.
For Dallas, rookie running back Ezekiel Elliott shined, picking up 48 yards on seven carries. He showed well against the league's best defense. Tony Romo leaving the game early obviously wasn't planned, but rookie Dak Prescott completed 17 of 23 passes for 116 yards and a touchdown.
4th Quarter (0:00): The game ends, with Seattle claiming the victory 27-17.
4th Quarter (0:44): A holding call will back up the Cowboys, who will start what is likely the final drive of the game from inside their own 20.
4th Quarter (0:56): The Seahawks will punt after a run by Pope comes up short.
4th Quarter (1:51): Heaps hands off to Troymaine Pope, who is stopped behind the line. Seattle trying to close out the victory here.
4th Quarter (2:02): Jake Heaps in at quarterback for Seattle.
4th Quarter (2:02): Dallas cuts it to 27-17 with the touchdown.
4th Quarter (2:02): Pete Carroll not thrilled with the call as Rodney Smith hauls in a touchdown for the Cowboys.
4th Quarter (2:11): Dallas is driving, trying to get something out of the game.
4th Quarter (4:20): Boykin scrambles on fourth down, but can't come up with the first down. Dallas takes over.
4th Quarter (8:00): The call is confirmed as a catch.
4th Quarter (8:24): Boykin takes teh snap on third and 12. He scrambles before firing a bullet to Antwan Goodley for the first down near the sideline. Dallas challenges.
4th Quarter (12:56): A punt return for a touchdown by Dallas is called back. Seattle still up 27-10.
4th Quarter (13:13): The backups are in on offense as well. Zac Brooks and George Farmer are both seeing snaps in the backfield.
4th Quarter (14:56): A number of reserves are in for Seattle, including the likes of Cassius Marsh and Brandon Browner. Quinton Jefferson is in there as well.
3rd Quarter (0:00): The fourth quarter is coming up.
3rd Quarter (0:27): After a penalty extends Seattle's drive, Boykin takes off and runs it in from 16 yards to put the Hakws up 26-10. The point after is good and the lead goes to 27-10.
3rd Quarter (4:30): Boykin does his best Wilson impersonation to evade the pressure complete a pass for positive yards.
3rd Quarter (4:30): A 12-yard completion by Boykin is wiped out by a penalty for an ineligible receiver down the field.
3rd Quarter (6:22): Trevone Boykin in at quarterback for the Seahawks. He gives it off to running back C.J. Prosise, who breaks off an eight-yard run. Another good-looking run from the rookie.
3rd Quarter (6:38): Brock Coyle makes a key stop on third down to force the Cowboys to punt. Even with some of the reserves in, the Seahawks defense is showing well tonight.
3rd Quarter (8:38): Opposing defenses must hate this. Seattle's quarterback does his usual evasive running in the backfield to create space. After what seemed like forever, Wilson completes a touchdown to Tyler Lockett. 20-10 game.
3rd Quarter (12:37): Wilson gets out of the pocket agian, this time unleashing a 43-yard pass to Tanner McEvoy. Nobody around on that one.
3rd Quarter (11:14): Wilson keeps it for two yards on first down.
3rd Quarter (12:37): Steven Hauschka's kickoff just went through the upright. Yep, that happened.
3rd Quarter (12:45): Seattle retakes the lead on a Steven Hauschka field goal, this one from 53 yards out.
3rd Quarter (14:43): Christine Michael breaks off an explosive and elusive run for 20 yards as the Seattle offense continues to move forward.
3rd Quarter (14:54): Seattle starts the second half with the ball after Tyler Lockett returns the kickoff 26 yards.
On the other side of the field, Seattle has played extremely efficiently on both sides of the ball. The offensive play has been especially encouraging after Russell Wilson and company struggled in past weeks.
So far, Dallas has shown well against a top Seattle defense despite losing Tony Romo early. The rookie Dak Prescott has played extremly well.
2nd Quarter (0:00): Dallas does indeed tie things up. 10-10 now as we head into halftime.
2nd Quarter (0:03): Prescott spikes it with just three seconds left in the half. Dallas will now try and tie it up with a field goal heading into half time.
2nd Quarter (0:32): Dallas takes a timeout after picking up a first down through the air.
2nd Quarter (1:11): Cliff Avril collects the sack as Seattle forces a third and long.
2nd Quarter (1:59): Prescott connects with Cole Beasley for a first down as the Cowboys look to get something out of the last two minutes of the quarter.
2nd Quarter (3:17): Wilson scrambles and lobs it in to Tyler Lockett, who gets brought down near the goal line. Seattle's quarterback follows it up with another pass, this one to Paul Richardson for a score. 10-7 ballgame.
2nd Quarter (4:32): Russell Wilson finds Luke Willson for a first down. You can tell the two are on the same page after so many years together.
2nd Quarter (5:42): Will Tukuafu makes his first catch of the preseason for two yards as the Seahawks take over following a missed field goa.
2nd Quarter (6:59): Prescott and Alfred Morris miscommunicate on a read option. Both players hold onto the ball and run forward together with it. Odd, broken play results in a minimal gain for Dallas. Safe to say they won't be running that again.
2nd Quarter (8:32): Prescott takes a shot from Richard Sherman, but is able to complete the pass for eight yards. Second and two now.
2nd Quarter (9:12): Jon Ryan unleashes another booming punt after an incompletion from Wilson. Dallas takes over.
2nd Quarter (9:37): Wilson and Seattle facing third and 10 after a penalty and a short pass.
2nd Quarter (12:00): Dallas tries a pair of screens to break through the Seattle defense, but the Hawks hold the Cowboys to minimal yardage. Dallas punts.
2nd Quarter (13:00): Seattle safety Kelcie McCray recovers to break up a deep pass. Hawks catch a break there.
2nd Quarter (14:12): Steven Hauschka converts on a field goal put the Seahawks on the board. 7-3 game.
1st Quarter (0:05): Baldwin makes another catch, this one to pull the Seahawks closer to the end zone. Seattle's offense will start the second quarter with a third and two in the red zone.
1st Quarter (2:22): Wilson throws a 27 yard completion to Doug Baldwin for a first down.
1st Quarter (3:33): Russell Wilson connects with Paul Richardson for 10 yards. Richardson could be an important piece of Seattle's offense moving forward. He brings top-end speed to the offense.
1st Quarter (4:21): K.J. Wright tries to pick off a pass intended for Jason Witten, but the tight end hauls the ball in for a touchdown. 7-0 Cowboys after the point after. Not much Wright could do there. Excellent throw.
1st Quarter (7:46): After being held in check early, Ezekiel Elliott picks up a first down. First touch of the day that's gone much of anywhere for the rookie.
1st Quarter (8:45): Tony Romo is still out of the game. Dallas' starter is probably done for the day seeing as he hasn't come back into the game yet.
1st Quarter (9:30): C.J. Prosise takes his first proffesional carry on a draw play on third and 20 for 12 yards. Excellent first carry for the rookie.
1st Quarter (9:49): Christine Michael picks up another carry against his former team, but it is called back by a penalty.
1st Quarter (11:02): After Seattle forces a punt, the Seahawks takes over for the first time all game. The crowd approves.
1st Quarter (12:54): Dak Prescott comes into the game and completes his first pass to Cole Beasley. First down Cowboys.
1st Quarter (13:23): Seattle brings the pressure and forces Romo to scramble. The quarterback appeared to slide, but is tackled by Cliff Avril from behind. Romo walks off the field, but leaves the game.
1st Quarter (15:00): The game begins as Seattle kicks off to Dallas to beging the game. Tony Romo completes his first pass of the night to Terrance Williams for a first down.
Kickoff for the game is set for 10:00 pm eastern time. Follow both @VAVEL_USA and @VAVEL_NFL as the game inches towards kickoff. Also, follow me on the Twitter – @BenRosener – while you're there.
TV Coverage: The game will be broadcast nationally on the NFL Network.
Thursday's contest will mark the third preseason game for both teams. For Seattle fans, it is the last chance for fans to see the team at home before the regular season. The Seahawks hit the road for the fourth preseason game, and will travel to California to face the Oakland Raiders. Following the Seattle game, Dallas concludes the team's preseason slate at home against Houston.
Running backs to watch: Both teams will be undergoing somewhat of a change at running back. The Cowboys will be working in highly-touted rookie Ezekiel Elliott into a loaded backfield. Dallas also signed Alfred Morris in the offseason, and returns the incumbent duo of Darren McFadden and Lance Dunbar. On the other side of the field, Seattle will be replacing Marshawn Lynch's carries. The team already has a ready-made successor to Lynch in Thomas Rawls, but they could also give some playing time to a few other promising backs. Christine Michael has looked solid so far in the preseason, while rookie Alex Collins offers a similar skillset to Lynch and Rawls in terms of being a physical runner. Rounding out the group are a few rookies. C.J. Prosise, and Zac Brooks could both make an impact on third down and in the passing game, while Troymaine Pope could also factor into Seattle's plans. Pope has stood out so far in preseason play. He scored the winning two-point conversion against Kansas City, and led the team in rushing yards against Minnesota. The running back carried the ball 10 times against the Vikings and accumulated 86 yards and a touchdown. His trip to the endzone represented the Seahawks only score of the game.
Rematch: Thursday's game will represent the first time these two teams have met since Week 8 of last season. Seattle won that contest on the road on a late field goal before shutting down the Cowboys' offense late in the game as they attempted to pull out a win. During that contest, Russell Wilson led the way for Seattle. He completed 19 of 30 passes for 210 yards and a touchdown. Despite tossing a rare interception, Wilson was able to chip in with 32 rushing yards on six carries. Other notables for Seattle in that game included tight end Jimmy Graham, who caught seven passes for 75 yards. Additionally, linebacker K.J. Wright had a strong day on defense, making nine tackles. Bruce Irvin collected a sack, and Richard Sherman deflected four passes as the Hawks held Matt Cassel to just 97 passing yards. With Sherman and the rest of the Seattle defense shutting down Dez Bryant and Dallas' aerial attack, the Cowboys' best player was running back Darren McFadden. McFadden racked up over 100 all-purpose yards, including 64 rushing yards on 20 carries and 49 receiving yards on six catches.
Local connections: In addition to a number of former players, Thursday matchup features a homecoming of sorts for a few Dallas players. Backup quarterback Kellen Moore grew up in Prosser, Washington while wide receiver Vince Mayle played his college football at Washington State.
Former Cowboys on Seattle's Current Roster: Despite the fact that many of Seattle's players are homegrown, there are a few former Dallas Cowboys on the roster. Running back Christine Michael spent five games with Dallas last season, carrying the ball 15 times for 51 yards. He also caught a pass for two yards. Seattle's other two ex-Cowboys, Antwan Goodley and George Farmer, never officially appeared in a game for the NFC East club. Goodley is attempting to make the Seahawks as a wide receiver, while Farmer has seen time at running back and in the secondary for Pete Carroll and company.
Familiar faces: Thursday's matchup between the Seahawks and Cowboys presents an opportunity for both teams to match up with former players. For Dallas, there are three former Seattle players on the team's roster. Defensive lineman Benson Mayowa is the most prominent of the bunch. The lineman won a ring with the Hawks in 2013, making two tackles in two games as a reserve. Additionally, cornerback Josh Thomas appeared in three games for Seattle in 2014. Rounding out the list is running back Rod Smith. Smith made two carries in a game for the Seahawks back in 2015.
Hello all and welcome to this week's VAVEL USA LIVE coverage of the NFL preseason matchup between the Seattle Seahawks and the Dallas Cowboys live score today. My name is Ben Rosener, and I'll be playing the role of pundit/ typing fellow/ word writer, or whatever term you like. I'll be providing minute-to-minute update, commentary, and results of the game. Kickoff is scheduled for Thursday night, 10:00 pm EST at Seattle's CenturyLink Field.