 The Los Angeles Rams defeated the Arizona Cardinals 17-13 to improve to 3-1 on the season. For the first time since 2007, the Cardinals are now 1-3. The Rams are now 2-1 against NFC West opponents.
Defensive showcase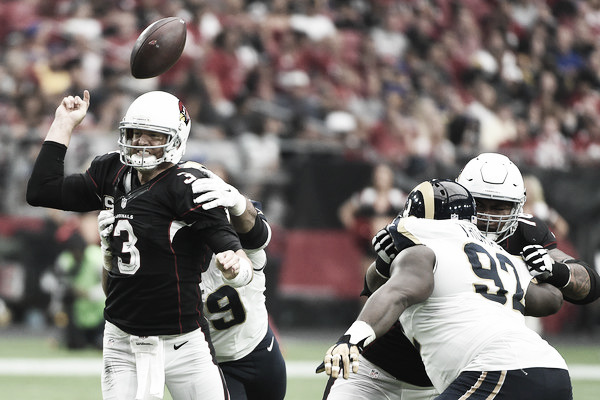 The Rams and Cardinals both process good defenses and on Sunday, it made for it terrific matchup, with Los Angeles getting the better of Arizona's offense.
The Rams defense was in Palmers face all game long. Aaron Donald and Maurice Alexander each had a sack, with Donald forcing a fumble early in the third quarter. Dominique Easley forced David Johnson to fumble early in the fourth, and was recovered by the Rams.
Rams corner Trumaine Johnson was all over the field, racking up five tackles and had one interception which saved a touchdown, Mark Barron also recorded an interception, and T.J. McDonald ended the game with an interception.
Arizona's defense came up big this week on third down, something that they struggled with against the New England Patriots and Buffalo Bills. The Cardinal defense held the Rams offense to six third down conversions.
The Cardinals also did a phenomenal job slowing down the Rams run game, limiting star running back Todd Gurley to only 33 yards on 19 carries. The Los Angeles offense had to depend on quarterback Case Keenum to get them down the field by making big plays.
Brain Quick had a career type game, scoring on a 65 yard pass in the first and then again on a back shoulder fade late in the fourth for the Rams only scores of the game.
Chandler Jones continued to prove his worth to the Cardinals, adding four more tackles to his season total and forced his first fumble of the season.
First quarter woes continue for Cardinals
Coming into the game, the Cardinals had not scored a single point in the first quarter. The Rams continued that trend by keeping Arizona off the boards in the opening quarter for the fourth week in a row.
Arizona's offense started the first drive of the game fast and quick, getting receiver John Brown involved early. But like most of the Cardinals first quarter drives, Arizona ended up punting the ball to the Rams.
After not recording one first down until the second quarter against the Bills a week ago, Arizona showed some improvement by recording five first downs in the first quarter against the Rams.
Carson Palmer's first quarter play improved this week as he had five pass completions in ten attempts for 47 yards with no interceptions.
Cardinals offense is still struggling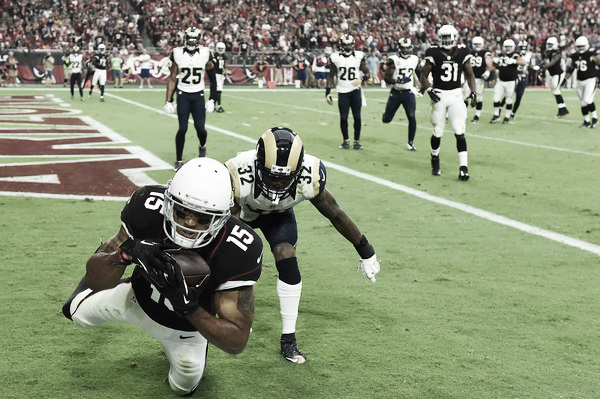 So far this season, a different playmaker has stepped up and has tried to make plays for Arizona each week this season.
John Brown was the playmaker this week looking like his old self again. Brown reeled in 10 catches for 144 on 16 targets. Larry Fitzgerald had five catches for 62 yards while David Johnson had 83 yards on 17 carries, while having 41 receiving yards.
One big question on the Cardinals fans minds is where is Michael Floyd? Back-to-back weeks now Floyd has had two big dropped passes to start a game. He did make up for it just before halftime, though, catching a five-yard touchdown pass from Palmer.
Floyd had only caught nine passes for 134 yards coming into today's game with the Rams. If Floyd were to start making plays, it would open up the possibilities for John Brown, Jaron Brown, and J.J. Nelson to make plays deep down the field.
Looking ahead
"We are not panicking, we are going to show up for work tomorrow because we have a game Thursday night against a very good team in San Francisco," Bruce Arians said, "We do not have time to dwell on this one, we only have time to watch the film. The sky is not falling for us." Arians continued.
Arizona will have to forget about the loss and move forward to prepare for division rival San Francisco 49ers on Thursday Night Football. San Francisco has had the Cardinals number, winning seven of the last 11 meetings dating back to 2011. The last time Arizona played in San Francisco, they left Levi Stadium victorious in their week 12 matchup last season.
Arizona might have to prepare without starting quarterback Carson Palmer due to Palmer being in concussion protocol after a falling hard after a sack in today's loss.