 In convincing fashion, the Atlanta Falcons (7-4) dominated the Arizona Cardinals (4-6-1) 38-19 Sunday at the Georgia Dome in Atlanta.
Arizona had a pretty good start on offense in the first half but cooled off in the second half.
The number one offense in Atlanta took care of the number one defense in Arizona, going for 360 yards and averaged 5.4 yards per play
Falcons offense clicking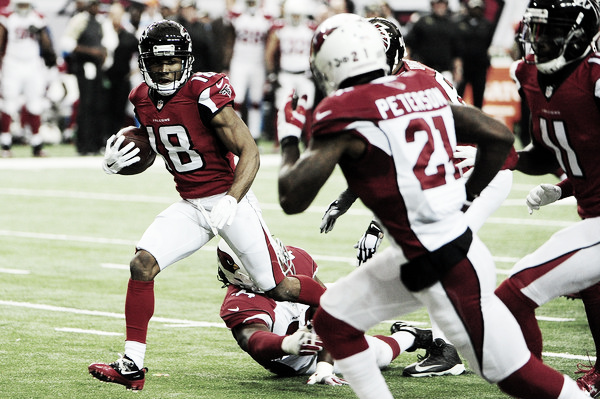 The Falcons offense was firing on all cylinders against Arizona. Devonta Freeman carried the ball 16 times for 60 yards and two touchdowns. Tevin Coleman scored a touchdown in the running game.
Matt Ryan went 26-34 for 269 yards and two touchdowns. Taylor Gabriel came up with 102 yards of offense with two touchdowns. Mohamed Sanu hauled in eight catches for 65 yards.
Cardinals defensive back Patrick Peterson limited Julio Jones to just four catches for 47 yards. Peterson would also have two questionable penalties called on him for passing interference against Jones. Peterson appeared to be injured but would finish the game.
D.J. Swearinger was another factor in the Cardinals defense, coming up with seven tackles and an interception. Swearinger dropped a pass that would have been his second interception of the game, changing the moment of the game.
Tyrann Mathieu, Tony Jefferson, and Marcus Golden contributed three sacks in the losing effort. Mathieu still appeared to be bothered by the shoulder injury, trying to avoid hitting the shoulder as possible.
Cardinals strong first half leads to sluggish second half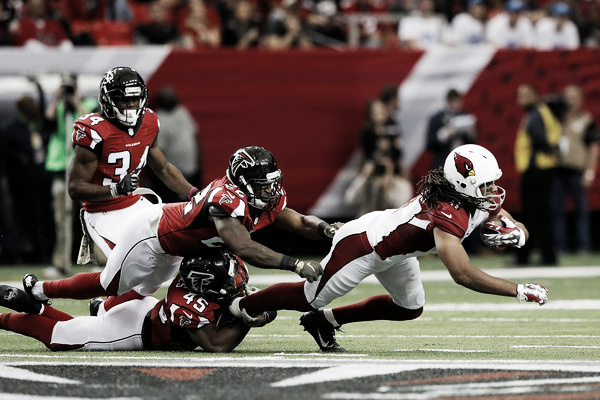 Once again, a strong first half from Arizona leads to a dismal second half. In the first half, the Cardinals accumulated 223 yards. In the second half, just 109 yards.
In the first half, Carson Palmer started the game 14/21 for 175 yards and a touchdown. In the second he would go 11-24 for just 114 yards, a touchdown and an interception.
D.J. Humphries would move to left tackle while John Wetzel moved to the right guard position and Ulrick John would take over at the right tackle spot. The offensive line would hold up well in the first half, but the right side of the line would fold in the second half. Brian Poole, Courtney Upshaw, and Brooks Reed would contribute sack for the Falcons.
Larry Fitzgerald would catch four passes for 53 yards. Fitzgerald would tie Marvin Harrison third all-time with at least one catch in 190 straight games. Fitzgerald would also pass Tim Brown for fifth all-time in career receptions with 1,095.
David Johnson would rush for just 58 yards on 13 carries. He would contribute eight catches for 103 yards and a touchdown. Jermain Gresham had five catches for five passes for 35 yards and a touchdown, capitalizing off last week's performance. Chandler Catanzaro would hit field goals from 54-yards out and 25-yards.
Michael Floyd and J.J. Nelson combined for four catches and 61 yards. Both would have key dropped passes in the game. In Floyd's case, one of his dropped passes would have kept the drive alive late in the fourth. John Brown left the game with a hamstring.
Looking ahead
Mathematically, Arizona is still in playoff contention. Though, these back-to-back losses haven't helped their cause. Arizona's season hinges on their week 13 matchup at home against the Washington Redskins. Washington (6-4-1) will be coming off their loss against the Dallas Cowboys Thanksgiving Day.
As for Atlanta, they hope to keep separation from the Tampa Bay Buccaneers in the division. They will have a tough matchup in week 13 when they take on the Kansas City Chiefs in the Georgia Dome.