 The Arizona Cardinals (5-6-1) came up with a much-needed victory against the Washington Redskins (6-5-1) 31-23 Sunday afternoon at the University of Phoenix Stadium in Glendale, Arizona.
With the victory, the Cardinals surpass the Philadelphia Eagles (5-7) and the New Orleans Saints (5-7) in the playoff hunt.
David Johnson would keep the game winning drive alive for Arizona, rushing for 14 yards on fourth down, needing one yard for the first down. Five plays later, Carson Palmer would throw deep down the field to J.J. Nelson for the game winning 42-yard touchdown.
Redskins' quarterback Kirk Cousins would finish the game 21-37 for 271 yards with one passing and one rushing touchdown. Cousins would have two big turnovers that would hurt the Redskins in the loss. The first came on a strip sack from Arizona's Calais Campbell that would be recovered by Markus Golden late in third quarter. The second was the interception by Cardinals Patrick Peterson would end the game.
Cardinals offense is clicking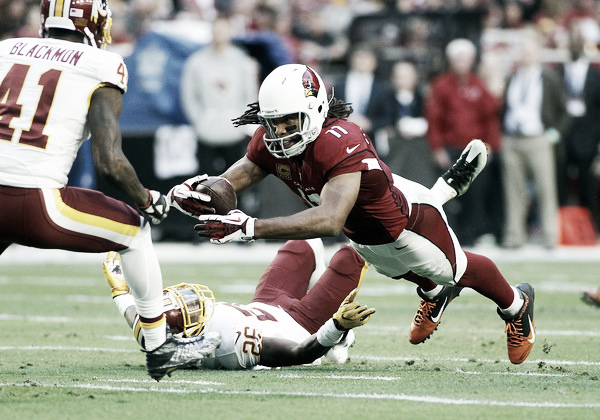 Larry Fitzgerald had another big game for Arizona, catching 10 passes for 78 yards. Fitzgerald surpassed Hall of Fame receivers Cris Carter (1,101) and Marvin Harrison (1,549) for third all-time on the NFL receptions list. The only men in front of Fitzgerald are Tony Gonzalez (1,325) and Jerry Rice (1,549).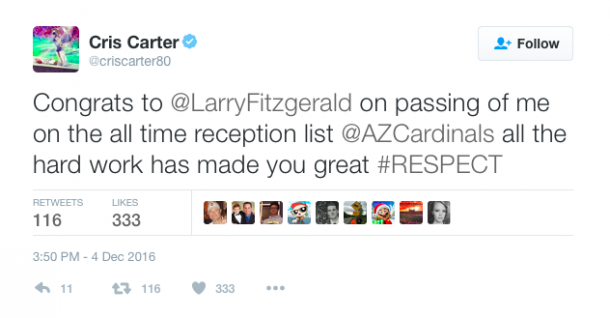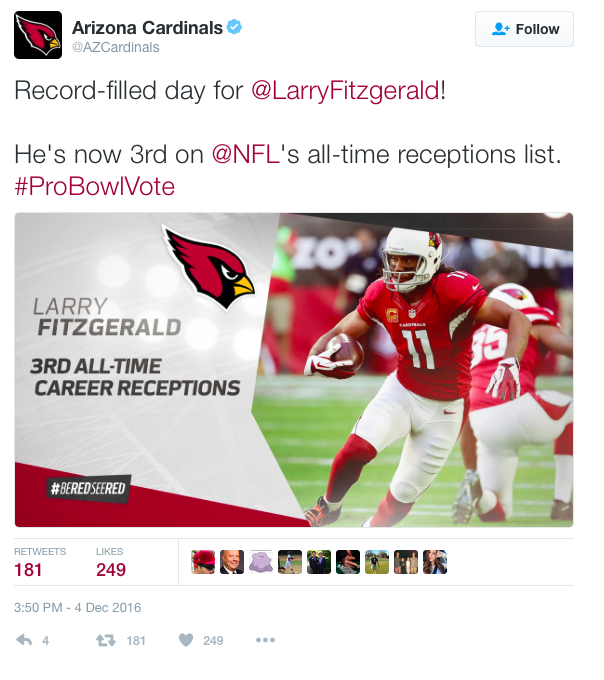 Carson Palmer went 30-46, throwing for 300 yards and had three touchdowns on the day. David Johnson continues to make a case for MVP candidacy, rushing for 84 yards and one touchdown, while catching nine passes for 91 yards and a receiving touchdown.
Michael Floyd and J.J. Nelson would have a touchdown each. Chandler Catanzaro would hit a field goal from 28 yards out; missing on a 53-yard field goal.
Jermaine Gresham has been a big part of the offensive emergence, utilizing Gresham in a proper role. Gresham has caught 10 passes for 87 yards and a touchdown in the last games.
Washington fights back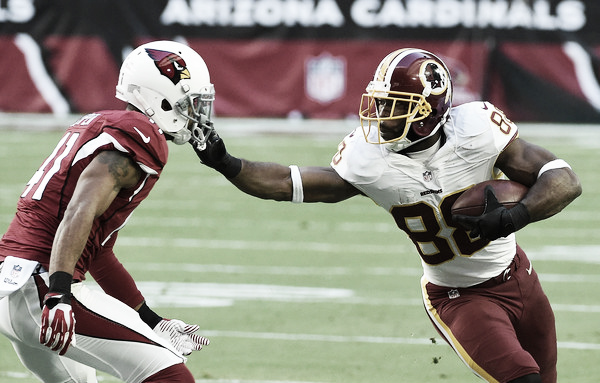 Washington's offense would force four lead changes in the game. Jamison Crowder would haul in the 26-yard touchdown pass from Cousins that gave Washington the 20-17 lead. Dustin Hopkins would account for nine of the 23 pooints for Washington hitting field goals from 47, 25, and 20 yards out.
Pierre Garcon would catch seven passes for 78 yards. DeSean Jackson would catch the longest pass of the day for 59 yards. Vernon Davis would step up in the absents for Jordan Reed, catching five passes for 47 yards.
Robert Kelly would contribute 63 yards in the run game, while Chris Thompson contributed 24 yards on two carries. Thompson would also catch one pass for 21 yards.
On defense, Ryan Kerrigan and Trent Murphy would contribute two sacks in the losing effort for Washington. Josh Norman would have a questionable penalty called on him during the game winning drive.
Looking ahead
With four games remaining, Arizona will need a lot of things to go their way if they want to play in January. The Cardinals must win out in the next four games, hoping that the five teams in front of them lose out. Arizona's next opponent will be the Miami Dolphins (7-5) next Sunday in Miami. The Dolphins six game win streak was snapped by the Baltimore Raven.
As for Washington, they too are on the outside looking in, but are in better position than Arizona. With the loss, the Dallas Cowboys would clinch a playoff berth. The next three games look favorable for Washington, with a week 17 matchup against the New York Giants. Next Sunday the Redskins will take on division rival Philadelphia Eagles in Lincoln Financial Field. Philadelphia will be looking to avenge the week six loss against Washington.
Both teams will be watching the Atlanta Falcons, New York Giants, Tampa Bay Buccaneers, Minnesota Vikings and Green Bay Packers closely.