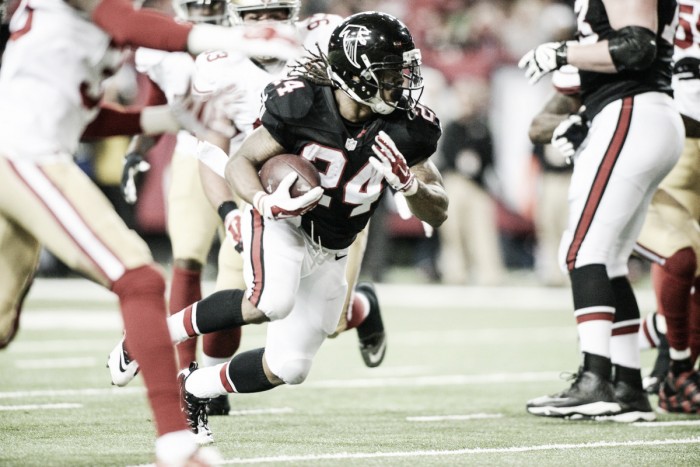 The Georgia Dome welcomed another National Football League Sunday match up as the Atlanta Falcons welcomed the visiting San Francisco 49ers. The Falcons were the favourites to win and continue to keep their lead in the NFC South and they delivered an emphatic performance to keep their playoff chase well and truly alive.
A 21-0 lead in the first quarter gave the Flacons the start they needed and they did not look back after that, even though some attempts at a come back were made by the 49ers.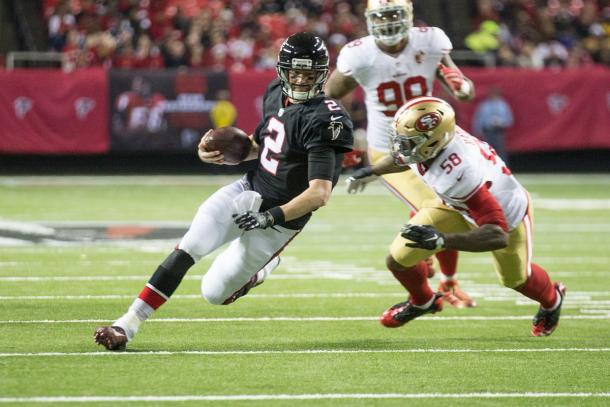 The Falcons' offense decimates the 49ers early
It took 15 minutes of football for the Falcons to dominate this game and they did so through a very talented offense. The first score of the game came through running back Devonta Freeman who ran for five yards to score the first touchdown of the game. The Falcons were not down and after the defense kept the 49ers off the field, quarterback Matt Ryan led his team down the field in five plays and ended the drive with a nine yard touchdown pass to wide receiver Taylor Gabriel. Tight end Austin Hooper was the next to get the ball from Ryan in the end zone as the Falcons raced to a 21-0 lead after one quarter.
The 49ers did try to mount a come back as quarterback Colin Kaepernick found both tight end Garrett Celek and wide receiver Rod Streater to put 13 points on the board for the 49ers but that was split by another 9 yard touchdown run by Freeman. The Falcons went into half time with a 28-13 lead and it seemed like this game was done and dusted already.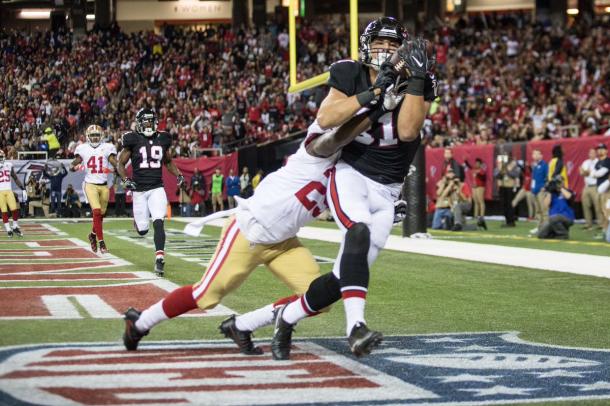 A slower pace by the Falcons still leads to more points
With such a large lead at hand, the Falcons were more methodical in their offensive plays but that did not stop them adding to their score with two Matt Bryant field goals and a third touchdown of the day for Devonta Freeman who ran for 34 yards on that touchdown. Freeman ended up with three touchdowns and 139 rushing yards on a big day for the running back while Matt Ryan finished his day at the office with two touchdowns and 286 passing yards.
It was not all just about the Falcons offense. The defense played their part too as they finished the afternoon off with two sacks, one interception and limiting the 49ers offense to just 46% on their third down conversion rate. The Falcons defense also kept the 49ers offense to just a total of 272 offensive yards in what ended up as another putrid display by a 49ers team that seems to be just waiting for the season to end.