The New Orleans Saints (6-8) rebounded after their loss last week with a win against the Arizona Cardinals (5-8-1) 48-41 Sunday afternoon in Glendale.
The Cardinals kept the game close, but after a questionable roughing the passer penalty late in the fourth quarter, the Saints continued their drive and iced the game with a touchdown.
Saints offense returns to form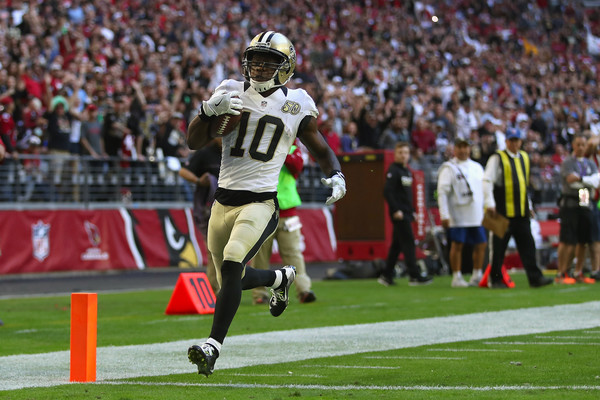 The New Orleans Saints offense played like they are accustomed to playing. After back-to-back weeks of not throwing a touchdown, Drew Brees threw 389 yards and throw four touchdowns in the Saints winning effort.
Mark Ingram ran the ball effectively, rushing for 78 yards on 17 attempts. Former Cardinal Tim Hightower returned to hurt the Cardinals, rushing for 37 yards on 11 carries with two touchdowns.
Brandin Cooks hauled in seven passes for 186 yards and two touchdowns of his own. Michael Thomas and Travaris Cadet combined for 82 yards, each recording a receiving touchdown. Willie Snead contributed 76 yards on eight receptions.
New Orleans special teams play was effective, with Wil Lutz hitting two field goals on the day.
Cardinals defense couldn't hold up
Arizona's front seven played well against the Saints offensive line. Calais Campbell had two sacks in the loss, while scoring a touchdown on a strip sack from Markus Golden. Chandler Jones had a tackle for a loss as did Sio Moore.
It was the Cardinals secondary that let them down. Brees picked a part whomever was in front of Brandin Cooks. Patrick Peterson shadowed Cooks in the second half, cooling of Cooks' momentum. D.J. Swearinger, Tony Jefferson, Marcus Cooper and Brandon Williams each surrounded a big play in the loss. Tyrann Mathieu recorded six tackles in his return but looked rusty in coverage.
Special teams play once again was an issue for the Cardinals. Chandler Catanzaro missed a field goal from 55 yards out that would have tied the game in the first half. After scoring on the Campbell touchdown, Catanzaro also miss the extra point that would have put the Cardinals down by three points.
Cardinals offense tries to pick up slack
Carson Palmer completed 28 passes on 40 attempts, throwing for 318 yards and threw two touchdowns. Even playing behind another new lineup on the offensive line, he was only sacked one time.
Kerwynn Williams continues to make the most out of his recent opportunities, giving Arizona an early lead after a 49-yard touchdown run out of the wildcat formation.
Larry Fitzgerald caught seven passes for 57 yards in his 200th career game. Fitzgerald did have a key fumble in the first quarter that led to a New Orleans touchdown. Brittan Golden also had a big fumble in the game, with his also leading to a Saints touchdown.
John Brown and J.J. Nelson stepped up in wake of Michael Floyd's release. Brown caught five passes for 81 yards and a touchdown, with Nelson catching five passes for 38 yards and a touchdown.
David Johnson enters the records books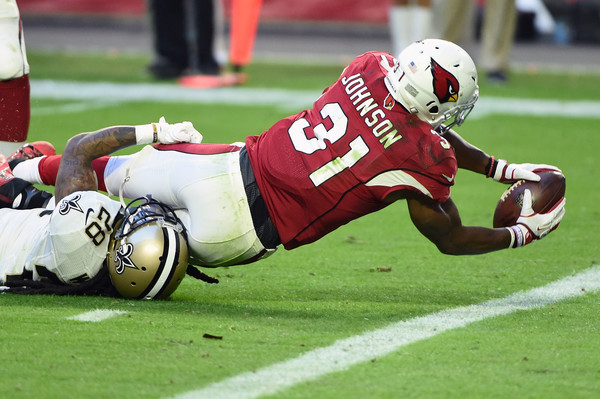 David Johnson rushed for 53 yards on 12 carries, while catching four passes for 55 yards giving him 108 yards for the game. Johnson is the first player in NFL history to record 100 yards from scrimmage in each of his 14 games. If he does it once more next week, he would tie Barry Sanders' record of 15 straight games.
Looking ahead
The Cardinals next game will be a showdown with division rival Seattle Seahawks on Christmas Eve. These two teams last faced each other in week seven, with that game resulting in a tie. Larry Fitzgerald will be just 31 yards away from passing Reggie Wayne for ninth place on the NFL's all-time for receiving yards.
The Saints will have a chance to avenge their week 14 loss, as they will be going up against the Tampa Bay Buccaneers. The Saints hope to carry this offense over into next week, as they only accumulated 294 total yards against the Bucs, versus the 488 total yards they had against the Cardinals.