 The Atlanta Falcons are a team no one expected to get this far. As they prepare to face the dynasty known as the New England Patriots in Super Bowl LI, they will need their big-time players to step up when it matters and lead them to the promise land.
An all-time great offense
The Falcons most important player on Super Bowl Sunday will be Matt Ryan. In his ninth season, Ryan is the favorite to scoop the NFL's MVP award thanks to a record breaking season. Ryan led the eighth best offense in NFL history, averaging 33.1 points per game, throwing 38 TDs and just seven interceptions along the way. He also set a record, throwing a touchdown to 13 different receiver, showing he's not afraid to spread the ball around.
It's a common fact that the quarterback position is the most important in football and it couldn't be more true for Super Bowl LI. Up against this season's number one scoring defense while Tom Brady leads the opposing offense, Ryan will have to continue what he has done all season.
Apart from Matt Ryan, the biggest offensive weapon for Atlanta goes by the name of Julio Jones. Arguably the best wide receiver in the NFL, Jones has constantly torched defensive backs since he was drafted into the league in 2011.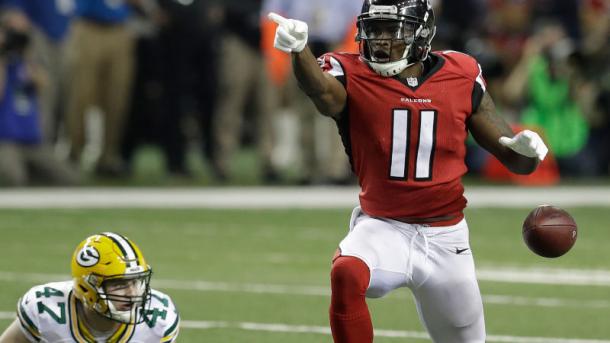 With 1,409 receiving yards in 14 regular season games this year, Jones was one of the focal points of the NFL's number one offense and heading into Super Bowl LI, he'll continue to be a key weapon for his quarterback. Patriots head coach Bill Belichick has always schemed to take away an opponent's best player, but could have his hands full with Jones in such an explosive offense.
It's difficult to single out one of Atlanta's dynamic backfield duo, but both Devonta Freeman and Tevin Coleman have proven to be vital to the Falcons offense. Both backs have 10+ touchdowns on the season and have continued to produce in the run game and in the pass game, giving the Patriots a lot to scheme for come Sunday.
A young defense with plenty to prove
Vic Beasley Jr. struggled in his rookie season but in his second year in the NFL, burst onto the scene to lead the league in sacks (15.5). The linebacker has emerged as a superstar on Atlanta's defense and will have no bigger stage to prove it than the Super Bowl. Beasley was mostly used to spy mobile quarterbacks in the playoffs so far but should be unleashed to rush Tom Brady on Sunday, and his impact could be huge.
Since Pro Bowl corner Desmond Trufant went onto Injured Reserve, Atlanta have looked to Jalen Collins to step up in his absence. After missing eight games this season, four through suspension and four through injury, Collins has excelled as the shut down corner Atlanta had hoped he would be when he was drafted in the second round in 2015. With two interceptions in the regular season and a key forced fumble in the NFC Championship, Collins has impressed this season and will need to be at his best against a group of impressive New England receivers.
A lot has been made of the Falcons defense containing four rookies. While Deion Jones and Keanu Neal have shared the spotlight, DeVondre Campbell has been consistently good in his rookie campaign. With Jones expected to be in coverage against the running backs, Campbell's role could end up being crucial as New England's receivers thrive in the middle of the field. Dropping into coverage or becoming an extra pass rusher, Campbell may be the key to stopping Brady.