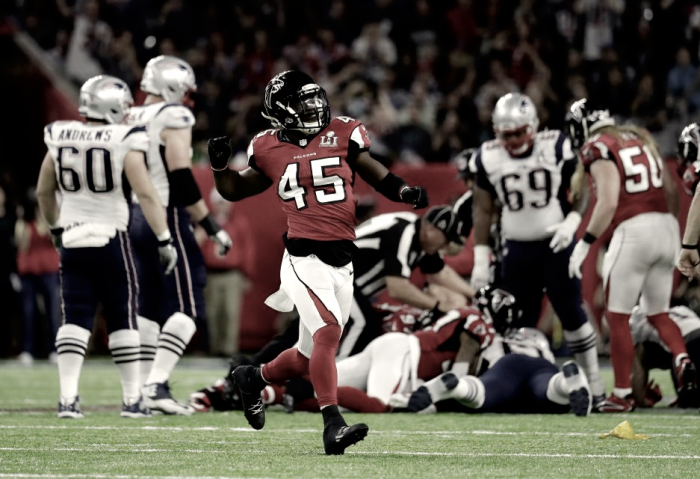 After a night of heartbreak, the city of Atlanta and their beloved Atlanta Falcons were left reeling. The world witnessed Super Bowl LI as it happened and the loss will sting both the players and fans for a long time but the future is bright.
Atlanta's Super Bowl collapse will long be remembered but the young roster is certainly capable of getting back to the big game and going a step further.
Defensive Improvement
The young defense that Dan Quinn is building in Atlanta continued to surprise people late in the regular season and excelled in the playoffs. The defense included starting four rookies (Deion Jones, Brian Poole, DeVondre Campbell, Keanu Neal) and three players in just their second season (Vic Beasley Jr., Grady Jarrett, Jalen Collins). It's a young, fast and physical defense that will continue to improve under Quinn.
The Falcons will likely go defensive again in the 2017 NFL Draft and continue to work toward building a top ten defense. The only way is up for this group and the finish to the season showed signs of rapid improvement.
Offensive Shake Up
The offense led the NFL last season and cemented itself as a top ten offense in NFL history but fell just short at the final hurdle. Offensive Coordinator Kyle Shanahan took the head coaching position with the San Francisco 49ers the day after the Super Bowl defeat after being linked throughout the postseason.
Atlanta moved quickly in replacing Shanahan by hiring former Alabama OC Steve Sarkisian. Much of the offense will stay the same, with Atlanta expected to re-sign Taylor Gabriel, Patrick DiMarco and other offensive pieces that could hit free agency.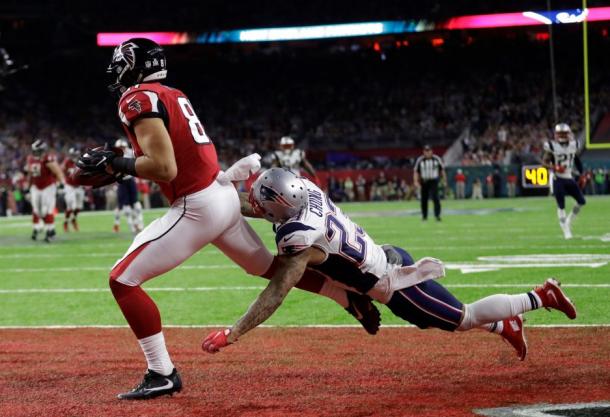 While Atlanta may not repeat the year they had offensively, they will likely remain one of the league's deadliest offenses while their defense continues to grow as a unit and improve. A quick return to the Super Bowl is difficult, as many have tried and many have failed. General Manager Thomas Dimitroff and Dan Quinn have assembled a young roster with an abundance of talent, assuring the city of Atlanta and Falcons fans everywhere that this team has a bright future ahead of them.
With Matt Ryan, Julio Jones and Devonta Freeman set to lead the offense yet again, Atlanta fans should remain excited about the future while trying to recover from the devastating defeat.