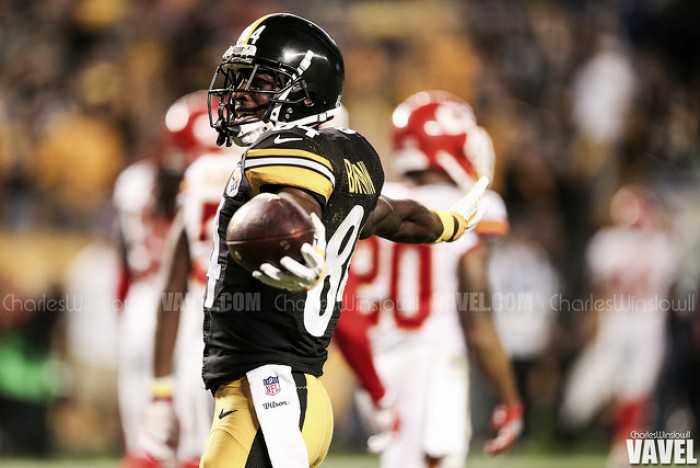 After rumors of a trade in the off season, the Pittsburgh Steelers ended all that talk by announcing that they had signed Antonio Brown to a new five-year deal. The contract makes Brown the highest paid wide receiver in the National Football League and not many would argue against Brown deserving such a big contract.
Brown was joined by Steelers' President, Art Rooney II, and General Manager Kevin Colbert on the day that he committed his long-term future to the Steelers.
'Business is booming' for the Steelers and Brown
Sources have reported that Brown's contract, which will run through to 2021, is worth a rumored $68 million according to ESPN's Adam Schefter. Brown stands to make $18.5 million in the first three years of the contract and then $12.5 million in the fourth. Should Brown continue to perform at the levels he currently is at, it will be no surprise that come the fifth year, Brown will be offered another contract by the Steelers.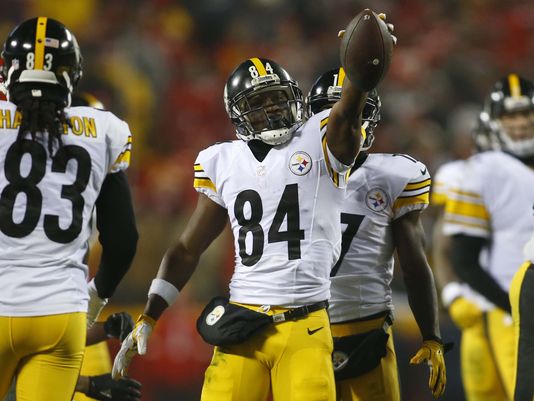 Steelers' President Art Rooney II, was on hand during the contract signing and he spoke about what Brown has brought to the team since he first arrived. Rooney II stated that part of the reason the Steelers decided to continue the course with Brown was because he is a "good guy, a good person" which, if you follow Pittsburgh, is something they value in their players. Rooney went on to speak about his own relationship with Brown, which is a good one, and that his teammates "like to have him on the team as he is a hard worker". Rooney went on to say how much Brown has influenced the Steelers' success and that he believes that the wide receiver is "capable of continuing to be that kind of player."
Brown himself also spoke to the Pittsburgh Steelers' official website and proclaimed that signing this new contract meant "everything to him." He continued on, stating that the Steelers had given him an opportunity from the beginning and putting on the helmet has given him the "chance to do something special." Brown was grateful to the organization for allowing him to keep his dream alive, a "dream that he had dreamed about five, six years ago" and that he wanted to "continue to dream and be motivated and continue to grow." The veteran wide receiver ended off by saying that the "work that goes in pays off" and that "working smart, working hard, always being ready when the opportunity presents itself" has led him to where he is today.
The Steelers also got a few words from Hall of Famer John Stallworth, who tops the Steelers all-time receiving yards list. Stallworth commented that Brown has "big play written all over him and it can happen at any time" and that he is "somebody opposing defenses have to take into account."
Brown has become an elite receiver in the league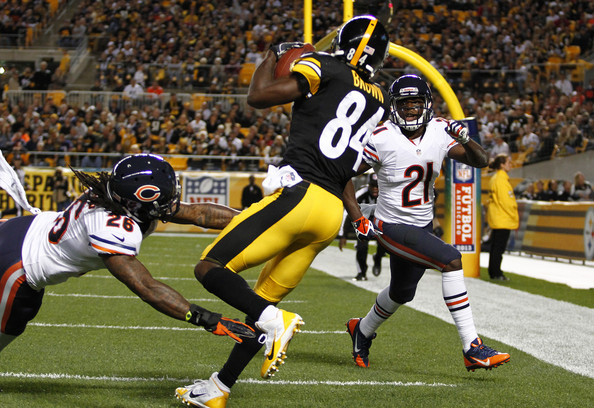 Antonio Brown came into the NFL in 2010 when he was drafted in the sixth round (195th overall) in the NFL Draft by the Steelers. After a slow start to his career which saw him make only nine starts in 2010, Brown found his groove in the league. Brown went on to make 92 appearances in the next five years for the Steelers, making 616 receptions for 8,210 yards and 50 touchdowns. Brown is also a great return receiver and has managed to make five touchdowns in his minutes as a returner for the Steelers. In the last six years, Brown has also been involved in five playoff runs with the Steelers and featured in Super Bowl XLV when the Steelers lost to eventual winners, the Green Bay Packers.
Brown's accomplishments during that time period are not to be dismissed either. The receiver has been selected to the Pro Bowl five times, been named as the AFC Offensive Player of the Year in 2014 and was named the NFL Receiving Yards Leader in the same year after reaching a career-high total of 129 receptions for 1,698 receiving yards. Brown has also at least one reception in 99 straight regular-season games, setting an NFL record for the most receptions by a player in the first 100 regular season games of their career and made the most receptions in NFL history in any four-year span with 481 (from 2013 to 2016). Brown is also making his mark in the Steelers history books with the most double-digit reception games in team history (13 in total), tied for the most 100-yard receiving games in team history (29 overall), the second player to record at least 600 receptions and along with Hines Ward, the second player in team history to record 1,000 receiving yards in four straight seasons. Brown is currently third on the Steelers in all-time receiving yards table as well.
When all things are considered, Brown has always been a difference-maker for Pittsburgh, even when the likes of Ward, Emmanuel Sanders, and Mike Wallace were still wearing the 'Black and Gold' so it comes as no shock to many that the Steelers have decided to tie down their best offensive player for the foreseeable future.
Quotes via steelers.com