 With 2017 NFL Draft right around the corner, and now that free agent signings have settled down, teams have their sights set on constructing their draft boards.
The Carolina Panthers are coming off a disappointing season following their 2015 trip to Super Bowl. The 2016 season produced the 8th overall draft pick, which is Carolina's highest first round placement since the 2012 Draft, when the franchise selected linebacker Luke Kuechly with the 9th overall pick.
While the team has added and lost a handful of players since its Super Bowl run, the Panthers' main core of players looks like it will remain the same through the offesason. This leaves general manager David Gettleman in a unique position to add elite, young talent to a squad that has proven it can be a title contender. Still, Carolina has some areas that Gettleman ought to be looking to address with the 8th pick.
Running Back
While the Panthers just signed starting running back Jonathan Stewart to an extension through 2018, adding a piece to the backfield looks like the leading option for how Gettleman could use the first round pick. Stewart has continued to contribute for Carolina the past few seasons, but he's struggled to stay healthy and his production has decreased alongside those injuries. Last season, the 9-year veteran rushed for 824 yards on an average of 3.8 yards per rush, which is his lowest average since the 2013 season.
These numbers aren't bad overall, but the fact that Stewart is now 30 years old ought to have the Panthers a little concerned about whether his performance will rebound in the 2017 season or continue to drop. It would be smart for Carolina to be looking for a younger running back now in case Stewart gets injured again or hits a steep drop-off in production.
If the Panthers are on the hunt for an young back to develop behind Stewart, this would be the year to take one early in the draft. With highly-touted players like Leonard Fournette, Dalvin Cook, and Christian McCaffrey available, Carolina has the opportunity to not only get a long-term replacement for Stewart, but one that could potentially have elite talent.
No matter who Gettleman chooses between those three running backs, they're likely to help take some of the offensive pressure off of quarterback Cam Newton, who needs help as he continues to be the focus of opposing defenses.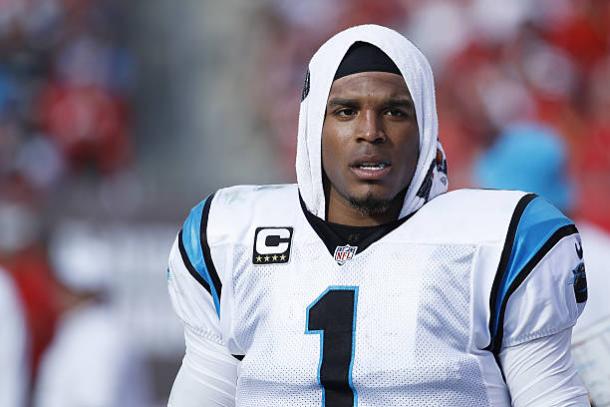 Fournette, Cook, and McCaffrey are all projected to put up quality production in the NFL and they're all expected to be taken in the first round. It's possible that Carolina takes any of them at 8th to ensure they have young talent in the backfield for the next few years.
Defensive End
Gettleman prides himself on putting together a strong defensive front-seven to pressure and intimidate opposing quarterbacks. Without that, the rest of the defense in Carolina has historically struggled. This was certainly one of the reasons they fell from contending for a Super Bowl to being out of the playoff picture in one season: between aging or underachieving rushers off the edge, the Panthers pressured opposing quarterbacks much less effectively.
By trading defensive end Kony Ealy to the New England Patriots, Gettleman solved part of this problem. The issue of older ends, however, still remains. The Panthers resigned veterans Charles Johnson and Julius Peppers to a two-year deal and one-year deal in free agency, but both of these players are into their 30's and are experiencing lower production. In order to bring increased pressure off the edge to attack quarterbacks, Gettleman may turn to the draft to bring in a younger player to groom behind the two Carolina legends.
This draft is very deep at defensive positions, leaving Gettleman many different options to choose from when it comes to defensive end. The likes of Myles Garrett and Solomon Thomas will likely be gone by the time the draft reaches Carolina's pick, but there ought to still be some talented pass-rushers available, like Tennessee's Derek Barnett and Michigan's Taco Charlton.
Selecting any defensive ends past Garrett or Thomas in the top 10 might be viewed as a reach in terms of 'best available talent', but it would stay consistent with Gettleman's past strategies of selecting players to stabilize the defensive front. In a draft this stacked with defensive power, though, it's feasible that he could wait until the second or third rounds to add that piece for the defensive line.
Secondary
Another one of the clear reasons the Panthers fell to a 6-10 record was the play of the secondary. After letting Josh Norman sign with the Washington Redskins in the offseason, Gettleman drafted cornerbacks James Bradberry and Daryl Worley in the second and third rounds in the 2015 NFL Draft. While both of these young players showed improvement by the end of the season, Carolina dug themselves a deep hole early due to their corners' inexperienced play. Replacing the coverage Norman provided the Panthers with two rookie corners was extremely unlikely, and the team's record suffered partially because of corners' learning curve (1-5 in the first six games).
Bradberry and Worley displayed some potential in the second half of the season, but Gettleman may use the 8th pick to take a player that can give the Panthers immediate impact in coverage. Cornerback Marshon Lattimore from Ohio State seems to be the most likely candidate for him to want in the early first round, if he's still available by the Panthers' draft slot. The addition of Captain Munnerlyn in free agency, however, seems to help secure down the cornerback position for the upcoming season.
Gettleman could also be looking for options at safety, another position where the draft offers many skilled players this year. Tre Boston's play for the Panthers has been inconsistent throughout his career, leaving Gettleman a high pick to take an immediate-impact safety like Ohio State's Malik Hooker. Again, though, it may be unlikely that Hooker is still available by the 8th pick and the signing of free-agent safety Mike Adams for two years helps decrease the immediate need to use the first-round pick for this position.
Tight End
Carolina may have one of the best tight ends in the NFL with Greg Olsen. Coming off his third straight season of over 1000 yards receiving, most fans might not be thinking of the 8th overall pick being used on his potential replacement. But Olsen is not getting any younger, having just turned 32 this month, and many Panthers fans were fearful of his numerous injuries last season (which he ultimately played through). Without that elite production from the tight end spot, the team likely would've had trouble reaching the six wins they did in 2016.
Only one tight end makes sense to select in the top 10 spots this year: Alabama's O.J. Howard. Many teams have been clamoring over the 6-foot-6-inch senior and his potential, meaning the Panthers will likely have a lot of competition for drafting Howard. But if he's somehow still available by the 8th pick, don't be surprised if Gettleman scoops him up while he can.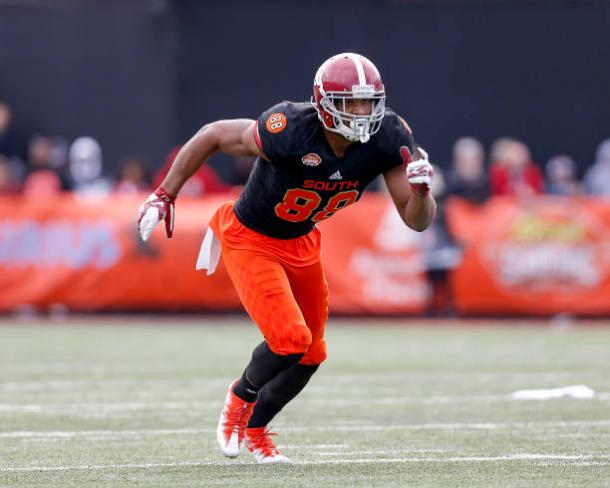 Ultimately, it's feasible to see Gettleman make any of these moves. He could fill any of Carolina's immediate needs with the 8th pick, or he could stick to his mentality of selecting the best player still available. It wouldn't even be surprising to see Gettleman use the pick as a bargaining chip to move down in the draft and amass more picks for later rounds. However he ends up using it, Panthers fans will be eager and ready to see what the franchise can do with their highest selection in five years.
The 2017 NFL Draft will air live on ESPN from April 27-29.