 Yesterday, the Pittsburgh Steelers announced the death of former president, Dan Rooney. He was 84 years old. Under his guidance, the Steelers became the storied franchise that they are today as he witnessed the team win a record six National Football League Super Bowl championships during his time as the owner of the team.
Rooney brings the Steelers to the forefront in the NFL
By 1969, Dan Rooney had taken over the day-to-day running of the Steelers and it was his decision to bring in Pro Football Hall-of-Fame coach Chuck Noll, that made the franchise one of, if not the most recognized franchise in the history of the NFL. Dan Rooney prioritized certain characteristics above all in the organization and those characteristics are still held to a high standard within the Steelers organization. He emphasized practicality, efficiency and open communication within the team and that was evident from top-down throughout the organization. In 1975, Dan Rooney took over full operations of the Steelers from his father, Art Rooney, and alongside their Super Bowl wins, led the Steelers to 15 division championships and eight AFC Championships.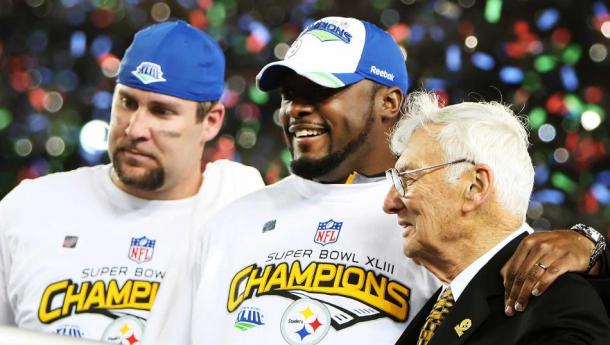 In 2003, Dan Rooney ceded control of the day-to-day operations of the team to his son, Art Rooney II, although he still had a big say in how the team operated from season to season. He oversaw the coaching change from Chuck Noll to Bill Cowher and was a key factor in the coaching hire of current Steelers' head coach Mike Tomlin. All of these coaches have won at least one Super Bowl in charge of the Steelers and have continued to keep the Steelers as a perennial playoff team. As recognition for his work with the Steelers, Dan Rooney was also inducted into the Hall of Fame in 2000. Apart from the Steelers, Dan Rooney was also involved in the political field and donated towards President Barack Obama's two presidential campaigns. His work with the Irish-American charities was noticed by the former president and in 2009, Rooney became the American ambassador to Ireland until his resignation in 2012.
The news has saddened many across the league and anyone associated with the Steelers, past, and present. Dan Rooney was a great president for the Steelers and made all of the players that wore the black and gold of the Steelers feel welcome and appreciated. His no-nonsense approach has always been noted and has given the Steelers the reputation of being one of the best organizations in the NFL. His legacy will not be forgotten.