 The Carolina Panthers answered one of their biggest offseason questions on Monday by signing defensive tackle Kawann Short to a new five-year extension on his contract. Though financial details have not been released by the team yet, it has been widely reported that the deal is in the region of $80 million dollars, averaging $16 million dollars per year.
A former second-round pick, Short had repeatedly voiced his desires to remain with the Panthers as his rookie contract was beginning to expire. Carolina's negotiation with Short on a long-term deal reportedly began again after the team placed the non-exclusive franchise tag on him following the 2016-2017 season.
The Panthers organization had expressed their wishes to keep Short since the 2015-2016 season, after he gathered 11 sacks and 36 total tackles, but a deal was not reached at the time. Though his production decreased this past season, Short still has the third most combined sacks in the last two seasons (17), behind the Cincinnati Bengals' Geno Atkins (20) and the Los Angeles Rams' Aaron Donald (19).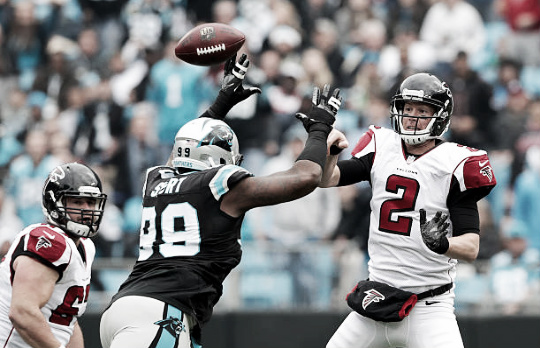 Peace of Mind
By extending him this offseason, the Panthers avoid letting Short hit the market as an unrestricted free agent at the end of the upcoming season. While Short did sign the franchise tag and seemingly would have played under it, Panthers management likely wanted to go ahead and lock him up on an extension to avoid any other contract distractions going forward.
It would be no surprise if last year's situation with cornerback Josh Norman was at the forefront of general manager Dave Gettleman's mind. While negotiating a long-term extension with Norman last offseason, the cornerback did not sign the franchise tag Gettleman had offered to put him under until a deal was complete.
This, combined with differences between Norman's salary demands and the amount Carolina was willing to use on keeping him, led to Gettleman rescinding the franchise tag and allowing Norman to enter the free agent market. Norman went on to sign a five-year, $75 million deal with the Washington Redskins shortly after.
Productive Panther
Short may have wrapped up opposing quarterbacks at a lower rate last season, but he was still a disruptive force on the defensive line. He collected six sacks and 30 total tackles and has career 22 sacks in his four seasons with the team. It was his production over the past two seasons that led Carolina to lock the 6-foot-3-inch, 315-pound lineman down for the next five years. Paired with teammate Star Lotulelei at the center of the defensive line, the Panthers hope to continue their defensive culture of stopping opposing teams' running game in before pressuring the quarterbacks in the pocket.
Short, 28, will now be under contract with the Panthers through the 2021-2022 season.