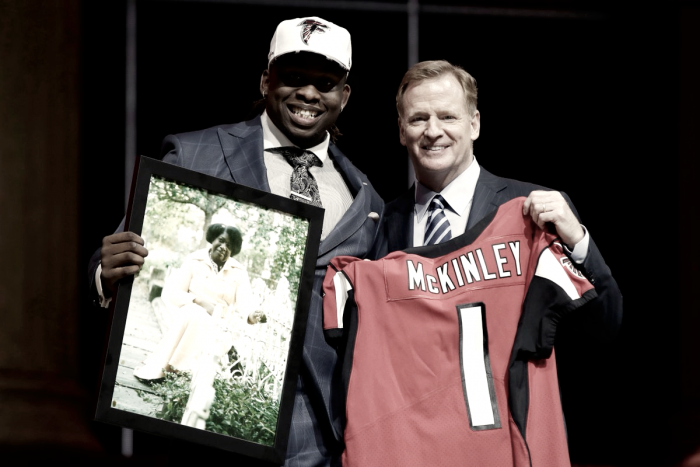 The Atlanta Falcons opted to strengthen their pass rush on Day One of the 2017 NFL Draft, taking UCLA defensive end Takkarist McKinley with the 26th overall pick.
Atlanta originally held the 31st pick but traded the 31st overall, their 3rd round pick this year and their 7th round pick this year to move up to 26, which was held by the Seattle Seahawks.
Passion and Powerful
The trade up says a lot about how Atlanta thought highly of McKinley, who was a star at UCLA. The 21-year old was constantly in the opposition backfield while in Southern California, racking up 16 sacks over three years with ten coming in his senior season.
His athleticism and speed checked all the boxes for Dan Quinn and Thomas Dimitroff, who love their defense to be fast and physical. McKinley may not be an instant impact as he has his weaknesses, including a raw skill set but the former-UCLA pass rusher has all the tools to cause opposing teams havoc. Another pass rusher to accompany Vic Beasley Jr. is a step in the right direction, with the Falcons continuing to build a strong, young defense.
McKinley made headlines with his interview after being drafted to the Atlanta Falcons. The 6'2 pass rusher honored his late grandmother with an emotional and passionate rant about overcoming things in life and fulfilling his promise to her. Atlanta grabbed their guy at 26, who will play with plenty of hunger and motivation when he pulls on the Falcons jersey.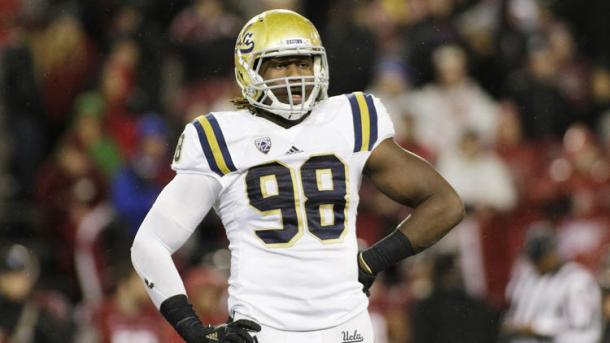 Head coach Dan Quinn summed up the McKinley pick, saying, "He is all day tough. He's in great shape. He can really bring it, let's take it from there." Atlanta's fast and physical defense just got a lot more physical with Takkarist McKinley strengthening their pass rush.