 The Carolina Panthers signed their first-round pick, running back Christian McCaffrey, to a rookie contract on Thursday night. The deal is a standard four-year contract for rookie draft picks, with a team option for a fifth year.
At the time, McCaffrey was the first player from the 2017 NFL Draft to sign a contract with their new team. The team also signed second-round pick Taylor Moton and sixth-round pick Alex Armah to similar rookie deals on Thursday, with the rest of the draft picks (cornerback Corn Elder, wide receiver Curtis Samuel, kicker Harrison Butker, and defensive end Daeshon Hall) all signing four-year contracts on Friday.
These signings precede the beginning of rookie minicamp for the Panthers, which takes place on Friday and Saturday. The camp will be held in Charlotte and will serve as a tryout for draft picks, undrafted free agent signees, and practice squad members that are attempting to make the final cut onto the 90-man offseason roster.
McCaffrey's Use in the Offense
McCaffrey, taken with the eighth overall pick, is expected to have an immediate impact on the way Carolina's offense operates in the upcoming season.
The stand-out player from Stanford University is listed as a running back, but also took many snaps at wide receiver and special teams during his historic college career. During the 2015 season, McCaffrey broke the all-purpose yards record for a collegiate career by tallying up 3,864 total yards, previously set by Hall of Famer Barry Sanders.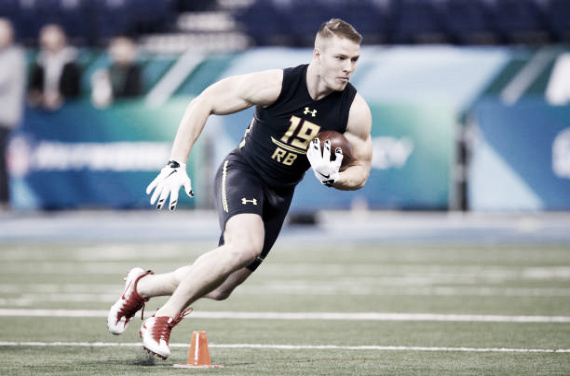 There's no doubt that offensive coordinator Mike Shula plans to utilize that versatility to help bring new dimensions to the Panthers' offense. Quarterback Cam Newton has sustained numerous injuries over the past few seasons and the team has publicly stated they plan on changing their offensive style to better protect him. Having McCaffrey as a speedy option in the backfield, a solid receiver in the slot, and a dynamic punt returner may help divert opposing teams' focus from Newton, while providing the quarterback with another target.
Undrafted Free Agent Signings
Carolina has also inked three-year deals with five undrafted rookies: linebacker Ben Boulware, defensive end Bryan Cox, wide receiver Austin Duke, cornerback Cole Luke, and wide receiver Fred Ross. These players will compete to fill out the 90-man roster in positions where more depth is needed. Knowing the Panthers' use of linebackers and defensive players in special teams, it is likely that Boulware and Luke have the best shot at making the cut.
The Carolina Panthers will have current roster players report for OTA offseason workouts on May 23. The full training camp for the 2017 season begins July 28.