 The Arizona Cardinals met with linebacker Daryl Washington on Monday to see where the linebacker is mentally and physically. The meeting would also be used to determine what the Cardinals would do with the former Pro Bowler who was suspended the last three years.
On Thursday, the Cardinals decided to part ways with the former Pro Bowler linebacker.
Soon after the release, the Cardinals released a statement:
"After meeting with Daryl Washington, we have collectively decided it is best to release Daryl and give him the opportunity to continue his career elsewhere."
Washington would also release a statement:
"I want to thank the Cardinals organization, especially Mr. Bidwell (sic) and Steve Keim for drafting and believing in me, and their continued support. We've had some really positive and productive discussions this week, and at the end of the day, we mutually agreed it was best for both sides to get a fresh start. I'm in the best shape of my life, and very much look forward to the next opportunity, where I will again play at an All-Pro level and help my team make a championship run."
Washington, who was conditionally reinstated by the NFL on April 25, was suspended for multiple violations of the NFL's substance abuse policy as well as a domestic violence incident.
Cutting Washington freed up $3 million in salary cap space, with $1.875 million in dead money being assessed.
Prospect full of promise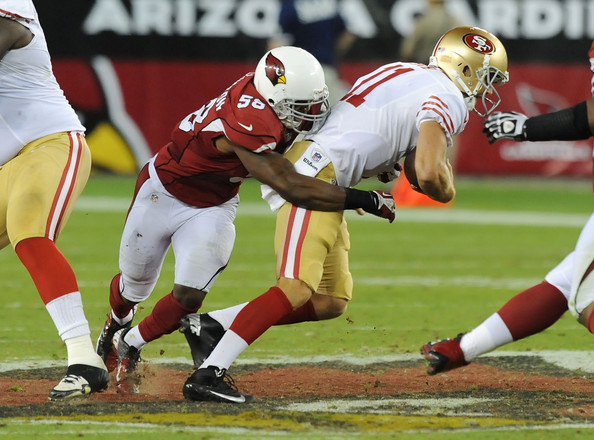 When Washington was on the football field he was a force to be reckoned with.
A second-round pick out of TCU in 2010, Washington quickly emerged as an impact player, soon becoming one of the best linebackers in the league. 2011 would be Washington's first year as a full-time starter. He would record 107 total tackles along with five sacks and two interceptions. In 2012, he tallied 134 total tackles, nine sacks, one interception and 11 passes defenses.
However, it was from there that Washington's off-field issues would start to emerge as a concern. Washington would miss the first four games of the 2013 season with his first violation of the league's substance abuse policy. On May 30, 2014, Washington would be suspended again for multiple violations of NFL's substance abuse policy.
He also pleaded guilty to aggravated assault in March 2014 in a case involving his ex-girlfriend. He served 10 months of probation after completing a 36-week domestic violence program and submitted to drug and alcohol testing without incident, according to court documents.
Seeking a second chance
Washington is now free to sign with any team. At 30 years of age, Washington has only four seasons of wear and tear on the body. It is only a matter of time that one of the teams will decide to take a chance on Washington.