 The 1992 NFL Defensive Player of the Year Cortez Kennedy has passed away according to the Orlando Police Department. Kennedy was just 48-years-old. The 2012 NFL Hall of Fame inductee played his entire career with the Seattle Seahawks – starting 153 of the 167 games he appeared in.
Kennedy was the third-overall pick in the 1990 NFL Draft by Seattle out of the University of Miami. He was an All-America honoree at Miami and was on the 1989 Hurricanes team that won the National Championship after finishing the season ranked number one in the Final AP and coaches Poll.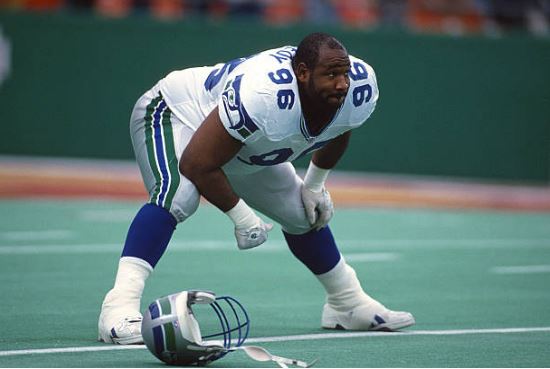 Kennedy was one of the most disruptive defensive linemen in his era. Constantly being double and triple-teamed by opponents but they still failed to block him effectively.
He was named to eight Pro Bowls which included six in a row from 1991 to 1996. He was named to the Associated Press 1990s All-Decade team. He abruptly retired in 2000 and was inducted into the Seahawks Ring of Honor and also had his number 96 retired by the team. He went six years from 1991 to 1996 without missing a game before missing half the season in 1997.
In his career, he had 568 tackles, 58 sacks, 11 forced fumbles and three interceptions.
The Orlando Police confirmed to ESPN that they are investigating his death but said "there is nothing suspicious to report" at the time. He died alone.
"I'm stunned," said former standout Seattle safety Eugene Robinson, who played with Kennedy with the Seahawks from 1990-95. "Besides being an incredible player he was a very good friend. Tez is incredibly compassionate, thinks about others. He's always been that way. He values others more highly than himself and he just loved life. Loved people, loved life. He loved being a football player. He just liked all that came with it — the fun, the times you get together, all that stuff. And then just the grueling lock-it-up with your brother and play. … he was always just a really, really good friend."
quotes courtesy of ESPN and Seattle Times