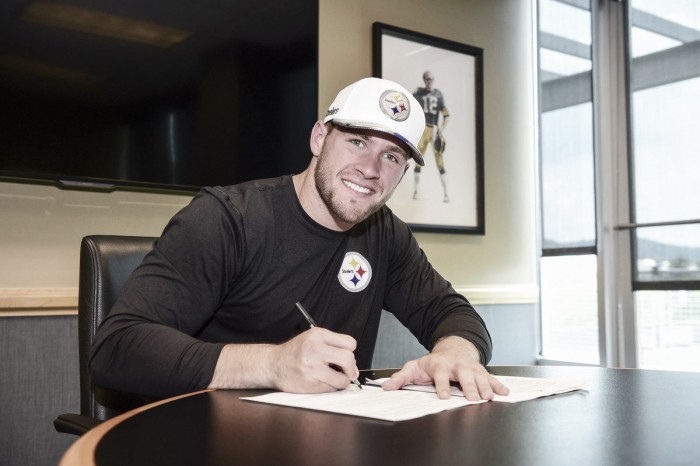 The Pittsburgh Steelers released an official statement today stating that the franchise has signed linebacker T.J. Watt to a four-year contract. The first round draft pick for the Steelers is set to become a starter on the team based on reports coming out of Pittsburgh and this is the first step in the Steelers emphasizing their commitment to him as a player for the team.
Tomlin and Watt looking forward to the future together
Both head coach Mike Tomlin and Watt were available for comments to the team's official website after the contract was signed. Tomlin commended Watt's upside stating that the coaching staff was "excited by the growth shown" by Watt given the time he has played at the linebacker position after switching from tight end. Tomlin also commented on Watt's hands, saying that for someone with as little experience as Watt has at the position, his hand usage is cause for excitement. He finished off by stating that the team was excited to "continue his development not only as a football player but as an outside linebacker."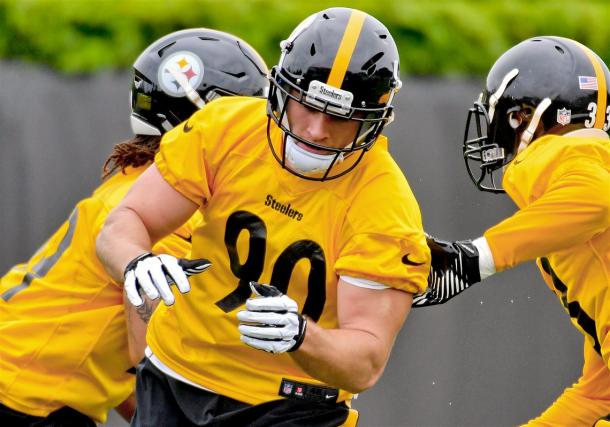 Watt talked about how he has developed into the position in such a short period of time, commenting that he is a "lunch pail kind of guy" who wants to prove that he is worth such a high draft selection by Pittsburgh. Watt also mentioned that some things in the position "come naturally to him" due to "God-given ability" but that he also put in "so much work behind the scenes that no one ever saw." Watt knows that hard work is essential in not only making it in the National Football League but also playing for a franchise as storied as the Pittsburgh Steelers as he feels that "it all pays off" in the end.
Watt's collegiate career at a glance
After starting off his collegiate career for the University of Wisconsin-Madison 'Badgers' at tight end, he finished his last two years at the linebacker position and entered the 2017 NFL Draft at that position. Watt ended his time at Wisconsin with 17 tackles for a loss and 11.5 sacks in his first year as a starter in 2016 and his play earned him First Team All-Big Ten honors that year too.
He was selected at 30th overall by the Steelers as their number one pick and is seemingly set to only get better the more time he spends with the Steelers defensive unit led by Keith Butler. Butler has overseen the development of former Pittsburgh linebackers such as Joey Porter, James Farrior, Lawrence Timmons, LaMarr Woodley, and James Harrison. If Watt can take influence from any of those names, it can be that of Harrison who joined the Steelers as an undrafted linebacker when he first entered the league and under Butler's tutelage, became a potential Hall-of-Fame linebacker who is still playing at a high standard today.