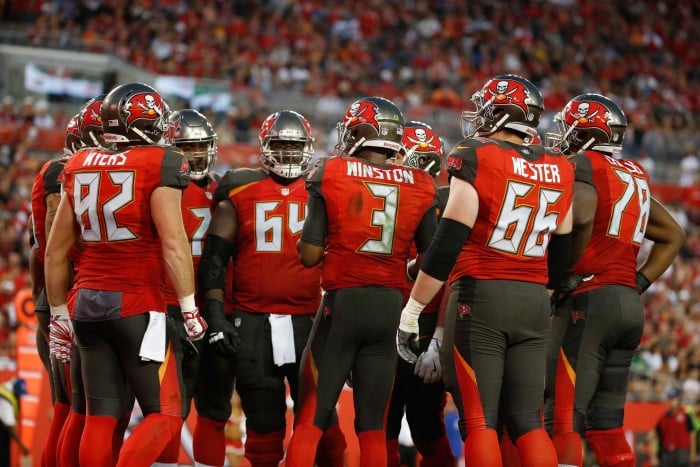 With some smart acquisitions, a potentially explosive offense, and an ever-maturing franchise quarterback, the vibes are good coming into the 2017 season.
After 10 seasons of mediocrity since their last playoff game – a 24-14 wild card defeat at the New York Giants – Bucs fans' hopes are high for the upcoming season, in a division that has provided the NFC's Superbowl team in each of the last two seasons.
There are a few ingredients that go together to make a playoff team in the NFL. In Tampa, most of the ingredients are being put in the mixing bowl and being bound together.
But like all good cakes, if one of the ingredients is not measured correctly, then it can leave the end product a bit tasteless and consign to the trash can.
All good Bucs teams have been built around a quality defense
The main ingredient of Buccaneer football and the first one added to the mix has always been a cup-full of defense.
This season will be no different. They still have their key players on the 'D' in Gerald McCoy, Lavonte David, highly rated Vernon Hargreaves et al.
Keeping the scoreboard down will play a major part of how the Bucs fare this season. Low scoring opponents will give license to the main man in Pewter and red – Jameis Winston.
If the defense is the graham cracker base, then Winston is the cheesecake topping.
Jameis Winston makes Tampa Bay tick
If the Buccaneers are to live up to anywhere near the hype that surrounds them this season, then Winston needs to be on fire in almost every game.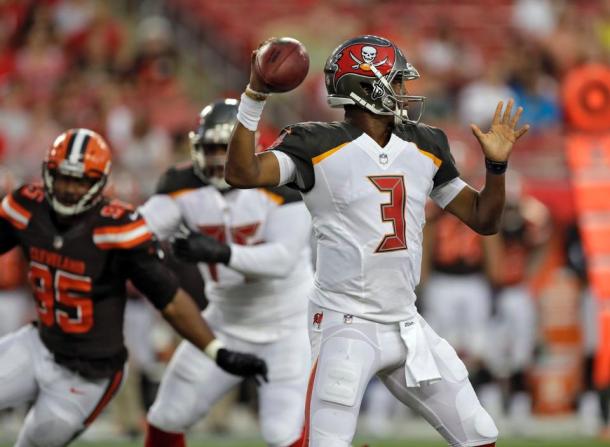 He can be a coaching nightmare. Fans love to see their quarterback wriggling around in and out of the pocket, side-stepping oncoming defenders and trying to make a play while in the grasp of hungry defensive linemen and linebackers.
But a head coach is on the sideline seeing every dodged tackle as a potential snapped knee or concussion, and every desperate play bid as possible game costing interception or fumble.
It is also a fine balancing act, however, and if head coach Dirk Koetter to take that out of Winston's game, then he's left with just a portion of the number one draft pick's ability.
They have to go all-in on Winston, and let him play his natural game – however many missed heartbeats it causes on the sidelines.
To make any cheesecake worthy of being put on a menu, to go with the all important filling you need the perfect flavoring. It has to complement that filling, and enhance it to be considered perfection.
Adding Jackson makes the Bucs' receiving corps the envy of the NFL
Last season's Tampa cheesecake was tasty, with the strawberry – everyone's favorite – being Mike Evans, the blueberry – little-known, but delightful to those that do – being Adam Humphries, and the pumpkin spice – the unexpected success – being tight end Cameron Brate.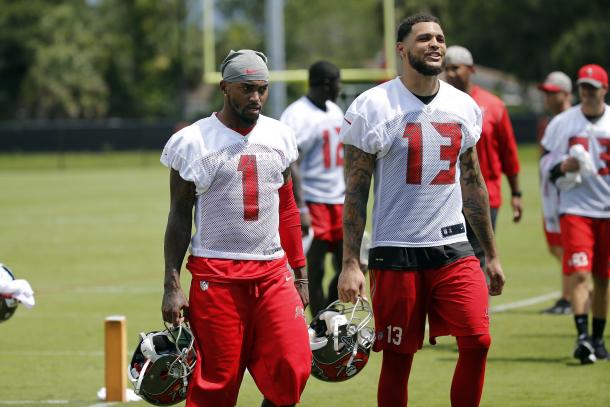 Add to that mix this season, the new flavoring of DeSean Jackson, and you add an ingredient that can get the nod from any dessert-loving customer.
In their group of receivers, Tampa has possibly the biggest and most talented guys in the league. If Winston can find them on enough occasions, the 2017 Buccaneers could be contenders.
The problem is… for every cheesecake to be considered worthy of a Master Chef winner, it has to be perfect. And if the sugar and seasoning are slightly off, then the whole thing could become a disaster.
For Tampa Bay, the Offensive line is the seasoning, and the Running game is the sugar.
Their O-line has struggled to protect Winston enough, or at least give him enough time to go through his alternative routes before having to get rid of the ball.
Too many times he has had a collapsing pocket, which often results in him trying to force a play to a double-covered receiver, without enough time to look around for his other guys.
That he hasn't had to leave a game hurt is more down to Winston's slipperiness and good fortune than it is to being kept out of the clutches of defensemen.
The ground game is still the weak link
The running game is another area that still leaves room for concern. In Doug Martin, they have someone who – on his day – can be as good as anyone in the league. The problem is – these days do not come around often enough.
His injury record is well known, and added to that was his suspension and stint in rehab for violating the league's drug policy.
But even when he is playing, no one ever knows which Martin is going to turn up – the one that could run through walls and win a game single-handedly; or the one that will struggle to break a tackle and get across the line of scrimmage.
Last season they tried numerous options at running back. Some were down to costly injuries, and others just to try to find a winning formula.
For Tampa Bay to produce a mouth-wateringly good cheesecake every week, you feel they need to find a running back that can produce consistently.
It is particularly important if the offensive line is struggling, making handoffs and screen passes a go-to play to keep the defense off guard.
Of the players drafted into the team this summer, the most notable is tight end, OJ Howard. He was an astute pick by the Bucs and is considered by many to be the best tight end that made the draft this year.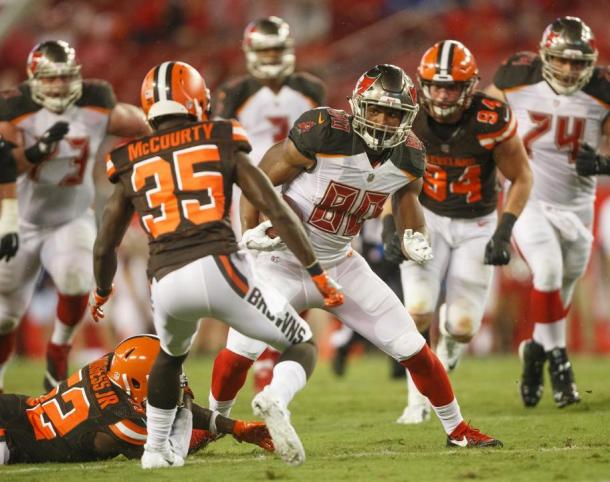 It will be interesting to see how coach Koetter uses the rookie this year. He may put him in mainly as an extra blocker, but we could still see Tampa utilizing a lot more two tight end sets, with Howard and Brate on the field together.
Either way, the Bucs options upfield are scarily good, and if Winston can be given the time, he will find them.
The 2016 draft saw the Bucs take the unusual step of trading up to take kicker Roberto Aguayo – a move ridiculed by many.
It turns out that those who mocked the move were ultimately proved right. The kicker missed nine of his 31 field goal attempts, and two extra points, as he struggled to find any form in the pro league.
His poor form continued in early preseason this year and it was a surprise to no one when he – in front of the watching Hard Knocks viewers – was unceremoniously cut by the Bucs.
They replaced him with veteran Nick Folk, with the 32-year-old former Philadelphia Eagle and Dallas Cowboy hoping to bring more solidity, and consequently points, to the Tampa Bay game.
So the 2017 Tampa Bay Buccaneers have all of the ingredients to have a standout season, but it's how they combine that will determine if they walk away with a prize.