 Once again Cincinnati Bengals linebacker Vontaze Burfict is facing discipline from the NFL. Per ESPN'S Adam Schefter, Burfict is facing a five-game suspension for an illegal hit against Kansas City Chiefs fullback Anthony Sherman during a preseason game August 19th.
The play in question occurred when Burfict hit Sherman in a defenseless position. It is a new rule the NFL has in place this season to protect players who cannot protect themselves.
Burfict is no stranger to trouble. Burfict missed the first three games of the 2016 season for violations of player safety rules, including an illegal hit on Pittsburgh Steelers wide receiver Antonio Brown during the 2015 playoffs.
During his five-year tenure in the NFL, Burfict has been fined almost $800,000 and has been penalized 16 times for unnecessary roughness, personal fouls or roughing the passer.
Burfict will appeal this decision. If the suspension stands, Burfict's lost wages will be more than double the fines he has already paid. Burfict would miss games against the Baltimore Ravens, Houston Texans, Green Bay Packers, Cleveland Browns, and Buffalo Bills.
The Bengals released a statement that said they are "aware of the NFL's letter to Vontaze regarding a play in last weekend's game. The film shows that the hit was legal, that Vontaze engaged his opponent from the front, and that contact was shoulder-to-chest. The Club will support Vontaze in the appeal process."
Productive when in the lineup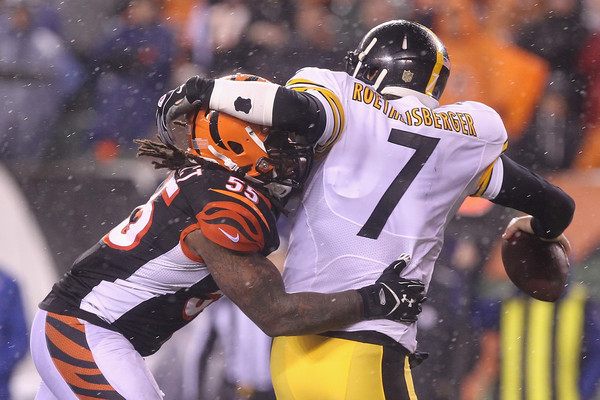 When in the lineup, Burfict makes the Bengals defense better. Burfict has an eye for getting to the ball carrier, usually tackling ball carriers for little to no gain. In coverage, Burfict's play has gotten better in his five years.
Since 2012, Burfict has totaled 333 tackles and seven sacks. He has five interceptions and has 25 passes defended.
Burfict has been selected to the Pro Bowl once (2013), named an All-Pro by the Associated Press in 2013 and named player of the week once (week 11 of the 2013 season).
Next man up
If Burfict misses time, Vincent Rey and Marquis Flowers will try to pick up the slack. Rey, a seven-year veteran for Cincinnati, has experience playing both inside and outside linebacker. Rey has appeared in 98 games, accumulating 236 tackles, six sacks, four interceptions with one returned for a touchdown.
Flowers will be entering his fourth season with the Bengals. Flowers missed the entire 2015 season after injuring his shoulder in the final preseason game. Flowers has made appearances in 32 games, but his playing time has been very limited.