 February 5th, 2017 will live in the minds of the Atlanta Falcons for a long time but don't write them off because of it. There has been talk of the traditional "Super Bowl hangover" after Atlanta's historic season collapsed in Super Bowl LI, but Dan Quinn has created an atmosphere around this team that may break the trend.
The big departure of the offseason came in the form of offensive coordinator Kyle Shanahan departing to become head coach of the San Francisco 49ers. Shanahan's exceptional offensive mind helped Atlanta's offense take their place in history and his departure should see Matt Ryan and the supporting cast take a step back, but his replacement, Steve Sarkisian, should keep Atlanta's offense on the right track to remain one of the league's best.
With the opening of their brand new stadium, the Atlanta Falcons are on a mission to overcome last season's heartbreak and put an end to all the doubt that surrounds them.
Offense Returns
Atlanta's offense made history last season under Shanahan, averaging over 30 points per game, and with the offensive coordinator now gone, they'll be aiming to stay at their high level or perhaps, improve. The Falcons return 9 of 11 starters on offense with Patrick DiMarco signing with the Buffalo Bills in free agency and Chris Chester retiring. Former Seattle Seahawks fullback Derrick Coleman was brought in to replace DiMarco, while Wes Schweitzer and Ben Garland have battled all preseason for the right guard spot.
Led by reigning MVP Matt Ryan and superstar wideout Julio Jones, this Falcons offense is unstoppable at times and can hit opponents in a variety of ways. After a record-setting performance in 2016, the offense's job will be to continue to put up numbers and do their jobs as well as they know. The big mystery will be how Steve Sarkisian replaces one of the best minds in football.
Player to Watch: Austin Hooper. The second year tight end improved as the season went on and now the former Stanford star is the starter in Atlanta, putting him in line for plenty of targets.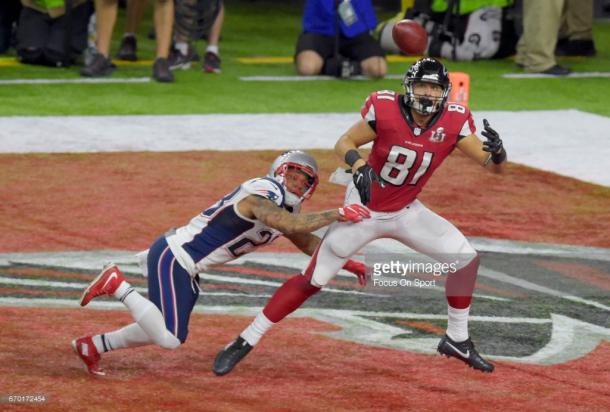 Legion of Boom 2.0?
It's widely known that Dan Quinn had has fingerprints all over Seattle's famous Legion of Boom, but now he is heading into his third season as Falcons head coach and he may be on the verge of creating something similar.
Atlanta's defense notably improved after the bye week last season and this offseason, they added power up front with the signing of Dontari Poe in free agency and drafting Takk McKinley in the first round. As well as the two big names, Jack Crawford, signed in free agency, provides much needed depth on the defensive line. Desmond Trufant missed the second half of last season, including the playoff run, and his return to the Falcons secondary is huge. Atlanta's defense is fast, physical and growing up right before our eyes, something that should worry opposing teams.
While the Falcons defense isn't quite the Legion of Boom, Dan Quinn's project is coming to fruition and the results are extremely promising.
Player to Watch: Duke Riley. Last season's Falcons rookies were exceptional, especially Keanu Neal and Deion Jones. As they continue to grow in a young, explosive defense, Duke Riley has his chance to enjoy a breakout rookie season. The former LSU linebacker reunites with fellow-Tiger Deion Jones.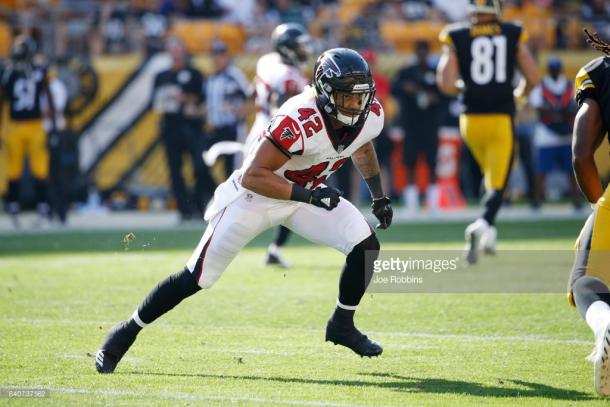 The Road to (Possible) Redemption
Tasked with one of the league's toughest schedules last season, the Falcons surprised everyone and went on to win the NFC Championship. This season, they schedule is easier on paper, but Dan Quinn's team face plenty of tough road tests in the shape of the New England Patriots, Seattle Seahawks and Tampa Bay Buccaneers.
Schedule
Week 1- at Chicago Bears 
Week 2 - Green Bay Packers (Sunday Night Football)
Week 3 - at Detroit Lions
Week 4 - Buffalo Bills
Week 6 - Miami Dolphins
Week 7 - at New England Patriots (Sunday Night Football)
Week 8 - at New York Jets
Week 9 - at Carolina Panthers
Week 10 - Dallas Cowboys
Week 11 - at Seattle Seahawks (Monday Night Football)
Week 12 - Tampa Bay Buccaneers
Week 13 - Minnesota Vikings
Week 14 - New Orleans Saints (Thursday Night Football)
Week 15 - at Tampa Bay Buccaneers (Monday Night Football)
Week 16 - New Orleans Saints
Week 17 - Carolina Panthers
The brand new Mercedes-Benz Stadium will host some fantastic matchups for the Falcons, including a rematch of the NFC Championship in Week 2. With the offense staying on track and the defense raising it's game, the Falcons are more than capable of overcoming a Super Bowl hangover to contend in the playoffs yet again.
Record Prediction: 12-4