 The Carolina Panthers (1-0) opened their 2017 season with a victory over the San Francisco 49ers (0-1). With a final score of 23-3, the Panthers displayed how well they can play when healthy, putting together steady offensive drives and dominating on defense.
This was quarterback Cam Newton's first full game since undergoing surgery on a torn labrum in his throwing shoulder in the offseason and middle linebacker Luke Kuechly's first regular season game since Week 11 of last season when he suffered a concussion. Both players were clearly hoping to start anew this season and led Carolina to a convincing win.
Offensive Report
Both teams stumbled out of the gate on offense, fielding some empty possessions before putting some points on the board. Carolina punted on their first two possessions of the season, while San Francisco punted and then lost a fumble in their own territory.
After receiving the promising field position, the Panthers scored as Newton connected with wide receiver Russell Shepard for a 40-yard touchdown, but neither team could get into a clear rhythm until the second half.
The Panthers made their intentions to utilize running back Christian McCaffrey clear from the start of the game, as the rookie played from start to finish and collected 21 total touches. Despite his modest stat line --- 13 rushes for 47 yards and 5 catches for 38 yards --- the eighth overall pick influenced the game by drawing in the 49ers defense to open up other offensive players. Veteran running back Jonathan Stewart was one of the clear benefactors, totaling 82 total yards and a receiving touchdown.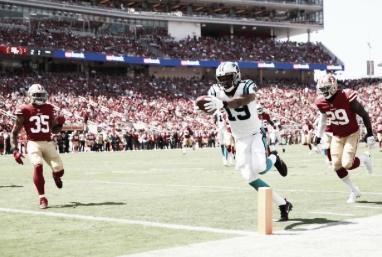 Newton played just one series in the Panthers' preseason games and the former MVP took some possessions to find his stride passing the ball. Aside from the touchdown to Shepard, the six-year veteran was fairly inaccurate in the first half by overthrowing some receivers before under-throwing a deep pass that resulted in an interception to open the second half.
Following that possession, however, Newton found his rhythm by completing some shorter passes and creating longer offensive drives for the rest of the game. He finished with 14-of-25 passes completed for 171 yards and two touchdowns.
With former Atlanta Falcons offensive coordinator Kyle Shanahan as their new head coach, the 49ers were notably aggressive on fourth downs, opting against punting four times throughout the game. San Francisco was only able to convert one of those attempts, however, with the possession eventually leading to their only points in the game: a field goal from kicker Robbie Gould.
Despite fighting a deficit for the entire game, these fourth-down attempts may signal a new mentality Shanahan is bringing to the 49ers to be aggressive when in good field position. Quarterback Brian Hoyer also showed that he can work in Shanahan's offensive scheme during his first game with the team, tallying 24 completions on 35 passes for 166 yards. As a whole, though, San Francisco averaged around four yards a play, which will need to be improved if the team has any hopes of being competitive this season.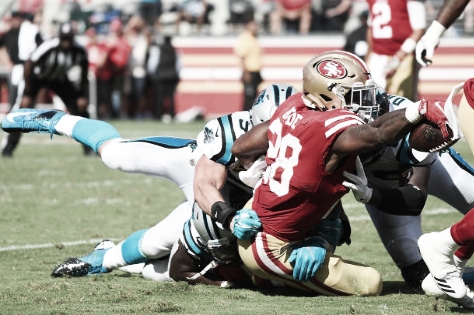 Defensive Report
Despite playing a team that went 2-14 last season, the Panthers' defense showed they have the potential to once again be a top-ten or top-five unit in the NFL. Carolina won this game thanks to their front seven, creating a stifling pass rush and by containing the run.
Running back Carlos Hyde provided some spark to the San Francisco offense early thanks to a combination of deft runs between the tackles and short receptions, but the Panthers countered with aggressive blitzes that held the 49ers to 51 rushing yards.
The front seven also succeeded in pressuring Hoyer often, collecting four sacks, eight total QB hits, and one interception. Kuechly, who intercepted Hoyer's pass in the second quarter, and veteran linebacker Thomas Davis led the defense with seven tackles apiece.
The 49ers defense played held Carolina to 116 rushing yards, which is a lower number for a team whose offense centers around the run game. They also created two takeaways, securing the interception in the second half and recovering a McCaffrey fumble caused by cornerback Rishard Robinson in the fourth quarter.
San Francisco's front seven could wear down the Panthers' offensive line, though, failing to collect a sack and creating only two tackles for losses.
More Game Notes
- Carolina's plan to utilize McCaffrey often appeared to affect the production of other key players in the team's offense. Wide receiver Kelvin Benjamin and star tight end Greg Olsen only received one target apiece in the first half. They finished the game with one reception and two receptions, respectively.
- Despite the veteran offensive players not showing up on the statline, Shepard finished his Panthers' debut in style. The 40-yard touchdown the five-year veteran scored was capped off by his beautiful spin move on the sideline to shake his defender. A standout on special teams with the Tampa Bay Buccaneers last season, Shepard was brought in to provide Carolina with a speedy downfield target after wide receiver Ted Ginn Jr. left in free agency, and he certainly showed his value in the opening game.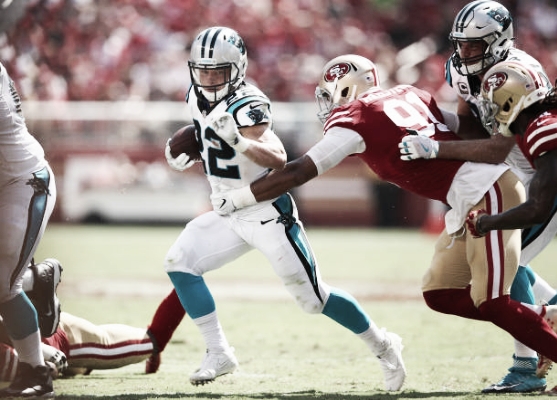 - San Francisco's defense suffered a big loss when rookie linebacker Reuben Foster went down with a lower leg injury in the first quarter. The first-round pick from Alabama had already collected three tackles on the day before twisting his right ankle attempting to tackle McCaffrey. The Panthers scored on the next play after his departure. Despite leaving the game, the team has announced that the x-rays on Foster have come back negative.
- The 49ers were the 8th-best team in terms of penalties last season, but they got off to a rough start this year in that category. San Francisco was flagged ten times for 74 total yards, most of the penalties providing the Panthers with more offensive momentum. In comparison, Carolina was penalized just five times for 40 yards.
- After major turnover on the 49ers roster, the addition of veteran receiver Pierre Garçon appeared to be crucial for leadership. Garçon, however, showed that he still has plenty of production left too by delivering a six reception, 88-yard performance. The 31-year old reunited with Shanahan after spending two seasons together with the Washington Redskins when Shanahan was their offensive coordinator. From today's game, it is clear that Garçon is the 49ers' top receiving option and that he's bringing more than just veteran leadership.
- 16-year veteran Julius Peppers did not play as many snaps for the Panthers as he used to, but the defensive end still made it onto the stats sheet with half of a sack credited to him. The 37-year old made his first appearance in a Carolina uniform since leaving the team in free agency in 2009.
The Panthers will face their former defensive coordinator Sean McDermott next game when they host the Buffalo Bills on Sunday September 17. San Francisco will travel to open up divisional play against the Seattle Seahawks on the same day.