 Sunday Night Football brings us a rematch of last season's NFC Championship as the Atlanta Falcons welcome the Green Bay Packers to their brand new home. Mercedes-Benz Stadium officially hosts it's first ever NFL game in what should be one of the regular season's most exciting matchups.
Both teams head into week two with a 1-0 record after narrow wins during the opening weekend of the season. Atlanta need a sack on 4th and Goal to beat the Chicago Bears 23-16, while Green Bay overcame early offensive problems to beat the Seattle Seahawks by a score of 17-9.
Injury Report
Atlanta Falcons: The Falcons look set to welcome back rookie Brian Hill after he missed week one with an ankle injury. After limited practice at some point this week, Alex Mack and Duke Riley are ready to go for Sunday's game.
The Falcons struggled to get things going on the ground in Week One, making Devonta Freeman and Tevin Coleman even hungrier for the primetime matchup. Julio Jones also had a quiet outing, catching just four passes for 66 yards and after burning Green Bay in last season's NFC Championship, the superstar wideout is licking his lips at Sunday night's matchup.
Green Bay Packers: The Packers' injury report is worrying ahead of Sunday night, especially with three key offensive lineman in doubt. Jason Spriggs is out with a hamstring injury and fellow offensive tackles, David Bakhtiari and Bryan Bulaga, are questionable for Sunday night.
Linebacker Ahmad Brooks is doubtful due to a concussion, and defensive tackles Montravius Adams (ankle) and Mike Daniels (hip) are questionable. It's a lengthy injury report ahead of a big game on Sunday night, a game in which Green Bay need everyone healthy.
What to Watch For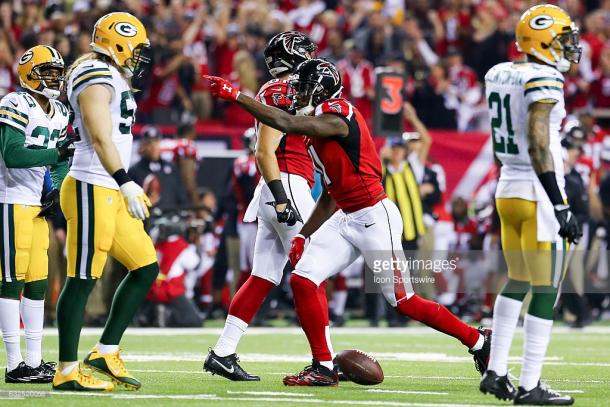 Mercedes-Benz Stadium officially opens it's doors to NFL fans and in the primetime slot, fans all over the world will get a look at the billion dollar stadium. The Falcons will be aiming to kick off life in their new home with a big win over a fellow Super Bowl contender.
Julio Jones exploded for 9 catches, 180 yards and two touchdowns during last season's NFC Championship win over the Packers. After a quiet week one, all eyes will be on Jones to continue his torching of Green Bay's secondary.
The Falcons won both meetings last season, needing a touchdown by Mohamed Sanu with 31 seconds left to beat Green Bay 33-32 in the regular season meeting, before a dominant 44-21 win in the NFC Championship.
If Mike Daniels can go, his ability to get to Matt Ryan will be crucial all night long. After Atlanta's guard pairing of Wes Schweitzer and Andy LeVitre struggled last week, interior pressure will likely be Atlanta's big weakness.
The Falcons have given up the most yards and receptions to running backs since the beginning of last season, making Ty Montgomery a strong candidate to have a big game. If Green Bay can get Montgomery going, they'll be tough to keep up with.
The game is in NBC's primetime slot for Sunday Night Football, starting at 8:30 PM (ET).